Bill O'Reilly Is Being Sued For Defamation By A Woman Who Settled A Harassment Claim
The woman claims O'Reilly disparaged her in the press.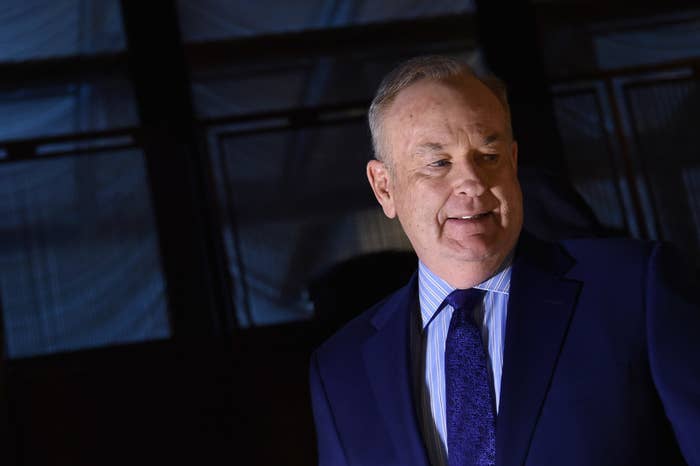 A woman who settled a harassment claim against Bill O'Reilly filed a lawsuit against the former Fox News host, claiming he violated their settlement by disparaging her in the press.
The lawsuit, filed in New York federal court, accuses O'Reilly and Fox News of defamation and breach of contract stemming from a 2002 settlement between them and former Fox News producer Rachel Witlieb Bernstein.
According to the suit, the settlement agreement provided that the parties would not disparage each other and that, if asked, the parties would say that "the matter has been resolved."
Fox News fired its famed host in April amid several sexual harassment allegations against him. O'Reilly has denied the claims.
Prior to his firing, the New York Times reported that O'Reilly and Fox News had paid five women about $13 million to settle complaints of harassment. The Times story mentions Bernstein by name, detailing how O'Reilly "stormed into the newsroom and screamed at a young producer."
Bernstein claims that O'Reilly violated their settlement agreement when he issued a statement to the Times stating, "Just like other prominent and controversial people, I'm vulnerable to lawsuits from individuals who want me to pay them to avoid negative publicity. In my more than 20 years at Fox News Channel, no one has ever filed a complaint about me with the Human Resources Department, even on the anonymous hotline."

Fox News also issued a statement at the time saying that no current or former employee ever filed a complaint through the 21st Century Fox hotline. In her lawsuit, Bernstein states that she repeatedly complained to HR and Fox executives about O'Reilly's alleged mistreatment, adding that Fox News did not have a hotline during her employment with the network.
"This cynical falsehood about a non-existent hotline was made to bolster O'Reilly's claim that the women who received settlements must have fabricated their claims or they would have complained," Nancy Erika Smith, Bernstein's lawyer, said in a statement. "But Ms. Bernstein did complain. There is ample evidence that Fox News, with the complicity of top executives, enabled the abuse of women for many years then silenced them with non-disclosure agreements and non­ disparagement clauses."
O'Reilly's lawyer, Fredric S. Newman, issued a to BuzzFeed News stating that his client never mentioned Bernstein's name publicly.
"As the original New York Times story makes clear, this was absolutely not a case of sexual harassment," Newman's statement reads. "So today's lawsuit has absolutely no merit, and Mr. O'Reilly will respond aggressively in court."
Bernstein also alleges that subsequent comments O'Reilly made to the press — such as him stating that "no one was mistreated on my watch" — portray her as a liar.
"In fact, Mr. O'Reilly is the liar," the lawsuit reads. "He mistreated Ms. Bernstein. She was forced out of her job at Fox News and paid a settlement because of his mistreatment."

Bernstein stated that as a result of O'Reilly's behavior, she has suffered harm to her reputation, severe emotional distress, physical sickness, and loss of income.
Fox News didn't immediately return a request for comment.