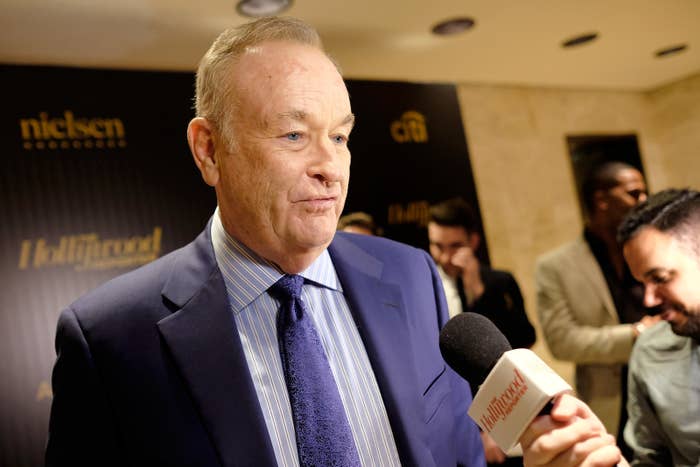 More than 50 advertisers have pulled their commercials from the Fox News show The O'Reilly Factor after several women claimed they were sexually harassed by the program's host, Bill O'Reilly.
Automakers Mercedes-Benz and Hyundai on Monday were the first to announce that they were suspending advertising on the program after the New York Times reported that five women received about $13 million to settle sexual harassment allegations against the 67-year-old O'Reilly, who has denied the claims.
Due to mounting pressure, a wave of other companies, including Allstate, BMW, and Bayer, followed suit, with more than 25 others ditching the long-time host on Wednesday alone.
Fox News addressed the backlash, saying the network is working with advertisers to address their "current concerns" about The O'Reilly Factor.
"At this time, the ad buys of those clients have been re-expressed into other FNC programs," said Paul Rittenberg, Fox News' executive vice president of sales.
O'Reilly, however, has remained mum, continuing to host his show this week with no mention of either the sexual harassment allegations or the growing list of bailing advertisers.
Mercedes-Benz, which was the first to confirm it had reassigned its advertising, called the allegations against the Fox News anchor "disturbing."
"The allegations are disturbing and, given the importance of women in every aspect of our business, we don't feel this is a good environment in which to advertise our products right now," a spokesperson for company told BuzzFeed News.
Hyundai later joined in: "We had upcoming advertising spots on the show but are reallocating them due to the recent and disturbing allegations," the carmaker said in a statement. "As a company we seek to partner with companies and programming that share our values of inclusion and diversity. We will continue to monitor and evaluate the situation as we plan future advertising decisions."
On Wednesday, a fresh crop of advertisers joined the growing list: Invisalign, Propane Council, WeatherTech, AllStar Products, Jenny Craig, MileIQ, Geico, CARFAX, Advil, Subaru, Bamboo HR, Touchnote, Stanley Steemer, Gilead, GoodRx, Amica Insurance, BeenVerified, H&R Block, LegalZoom, Visionworks, Pacific Life, Old Dominion Freight Line, Eli Lily, Southern New Hampshire University, Coldwell Banker Real Estate, and ReddiWip.
BuzzFeed News has reached out to more than 60 companies or organizations whose advertisements appear on O'Reilly's show. These are the companies that have since said they are removing their commercials from the Fox News show:
Mattress Firm said Thursday it that after learning its ads were running on The O'Reilly Factor, "instructed FOX News not to air any future paid or ADU units during the program."
"As an organization, Jenny Craig condemns any and all forms of sexual harassment," the company said in a statement. "We are constantly evaluating our media buys to maximize the efficiency of our corporate investment and effectively reach our target audience. However, we can confirm that we have suspended all ads on The O'Reilly Factor."
CARFAX has also instructed Fox News to remove its advertising from the program, saying "the ongoing controversy over The O'Reilly Factor is a distraction from our mission to help millions of consumers."
Pharmaceutical company GSK confirmed on Tuesday it has temporarily put a hold on spots running on The O'Reilly Factor while it "assesses this situation." Bayer said it too "made the decision to suspend all advertising on the program" immediately and "will be handled as expeditiously as possible."

The Wonderful Company, which sells products like POM Juice and FIJI Water, said it now has "no ad inventory moving forward" and is "committed to a respectful and inclusive workplace environment and insist upon the same from our business partners."
Mitsubishi, Jaguar, and Land Rover also hit the road on Tuesday, stating that it takes the allegations "very seriously and we have decided that we will pull our advertising at the present time. We will continue to monitor this situation as we assess our long-term strategy." BMW of North America also said that it was suspending its advertising.
Lexus, which had told CNN it was going to monitor the situation, said Tuesday it had asked media-buyers to pull inventory from the show.
Wayfair, which sells home goods online, said it moved its spots to other programming "while we assess the situation."

Sanofi Consumer Healthcare, which owns products like Gold Bond and ACT mouthwash, removed ads from the show, saying the company does "not endorse the behavior or opinions of program hosts or the content."
"The controversy around The O'Reilly Factor program and allegations made against Bill O'Reilly are matters that we take seriously and will continue to monitor," a spokesperson said.
Constant Contact, an online marketing company, said that pulled its ads based on a "strong commitment to inclusion, respect and tolerance in the workplace."
Allstate, which also owns Esurance, confirmed it pulled advertisements on Tuesday, saying "inclusivity and support for women are important Allstate values. We are concerned about the issues surrounding the program and we have suspended our advertising."
Ainsworth Pet Nutrition tweeted that it had also removed its ads from the program "because of these recent and disturbing allegations."
Orkin, a pest control company, TrueCar, Voya, and Credit Karma said they were yanking their commercials. Investment firm T. Rowe Price did as well, citing "corporate values."
The chief executive of UNTUCKit, a men's clothing retailer, said the company takes sexual harassment claims very seriously.
"In light of the disturbing allegations, we instructed our media buyer this morning to reallocate our ad dollars to other shows, effective immediately," Aaron Sanandres said. "We will continue to closely monitor the situation, but believe this is the right decision at this time."
The Society for Human Resource Management said on Twitter that it had decided to "cease its advertising on the Fox News Network."

After airing a commercial Tuesday night, Ancestry tweeted that it is in the process of pulling its ads from the show.
It remains to be seen, however, just how long the brands will stay away given that O'Reilly's show is one of the most-viewed on cable television. And, according to iSpot.tv, about 350 companies spent around $46.9 million running ads on the show in just the first quarter of this year.

"Most will be back because of O'Reilly's stellar ratings mixed with his juicy demographic," said Eric Schiffer, a brand expert with Reputation Management Consultants. "The timing of the advertisers' return will depend on the half-life and fire-burning potential of the story."
While a few companies seemed to be walking a tightrope on whether to redirect their advertising dollars, others said they had no plans to do so, or declined to comment.

Angie's List, a crowdsourced business-reviewing site, had initially resisted pulling its ads, telling BuzzFeed News that if they trust members to make their own hiring decisions, "we trust them to make their own media consumption decisions."
That changed on Friday amid unrelenting pressure on social media. The company told media outlets it was pulling its ads, but declined to elaborate.
Rosland Capital, a frequent advertiser on the program, declined to comment.

Trivago, a travel website that also advertises during the Fox News show, it is "constantly reviewing our media buys to ensure we do not support any behavior that contradicts Trivago's corporate values. We are currently reviewing the information available."
Zulily, an online retailer, explained that it places advertisements with networks "based on audience demographics, not on specific programs."
Mike Lindell, inventor and CEO of MyPillow, told BuzzFeed News in a statement that the company purchases a block of ads, which Fox Network decides when to place each week.
"MyPillow is investigating whether it can pull its ads from that time block," Lindell said in a statement.
A spokesperson for Chevrolet said the company had not purchased national advertising on Fox News since the last quarter of 2016, so any airtime may have been purchased by a dealer.
Brokerage firm Ameritrade told BuzzFeed News that it ran advertising once on the show in the last quarter and has no plans to run anything until at least later in the spring. The firm, however, is "monitoring developments in The O'Reilly Factor story and can make "changes to our media buying strategy" later if needed.
Expedia also told BuzzFeed News it is evaluating its media buying in regards to the program.
After the New York Times report, radio host Wendy Walsh on Monday said O'Reilly had promised to make her a network contributor after numerous guest appearances on in 2013. But O'Reilly "got very hostile, very quickly," she said, when she declined his invitation to his hotel room following a dinner at the Bel Air hotel.
Kevin Lord, Fox News' new executive vice president of human resources, reportedly sent this internal memo on Monday urging employees to report concerns about inappropriate behavior to upper management.

This is not the first time Fox News has faced allegations of men using power and influence to elicit sex.

Former Fox News chairman Roger Ailes was forced out last year after an internal investigation found that women faced rampant harassment at the network. A new lawsuit was filed against him earlier Monday.