Bill De Blasio Says He Knows He Sounds Like Donald Trump When He Talks About The Media
But the mayor said he believes Trump doesn't actually mean what he says.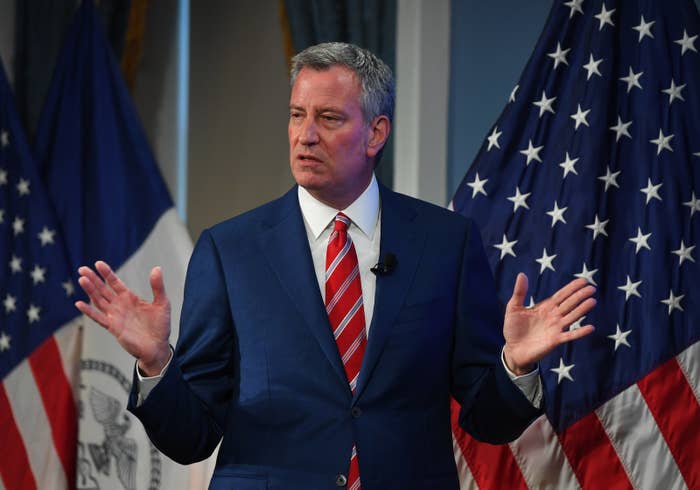 Bill de Blasio acknowledged Friday that his views of the mainstream media sound like Donald Trump's rhetoric about the press — but the New York City mayor said the key difference is that the president doesn't really mean what he says.

In an interview with BuzzFeed News Editor-in-Chief Ben Smith at the Northside Festival in Brooklyn, de Blasio said the mainstream media and some traditional journalism outlets have lost credibility. (You can watch the full interview here.)
"I can't tell you how many people in this city have abandoned mainstream media," the mayor said, saying that reporters and outlets often focus on frivolous controversies instead of substantive issues.
When Smith asked if it gave de Blasio pause that his words sound like Trump's criticisms, the mayor quickly replied, "no."
De Blasio also added that his opinions pre-date the 2016 election, when Trump began blasting the news media that criticized him as "fake" and hasn't stopped since.
"I felt this a long time ago," he said. "Donald Trump doesn't actually mean it. Donald Trump spouts fake populism all day long and gets away with it. He is part of the problem ... He's chummy with all these people. So when he rails against the media it's to fake appeal, a cynical ploy to appeal to a right wing base."

"The bottom line is, a lot of us felt a long time ago. the media ownership trajectory was dangerous to the democratic process."
De Blasio is currently in his own feud with several members of the City Hall press corps — the mayor referenced recent pieces about a Puerto Rican Day parade that turned into a political issue.
De Blasio also seemed to indicates at the festival that any negative coverage of him is just the media focusing on minutiae, and that there are more important issues to tackle. He cited issues people care about such as the cost of higher education or if people want bike lanes in their neighborhoods.
"The thing that fascinates the mainstream media is not the substance," he said. "It's the spectacular, the scandalous, or the flavor of the moment."
The wider problem, de Blasio said, is that much of the mainstream media is owned by a few wealthy, powerful people. "We actually need to undermine the mega-concentration of media ownership in the hands of a few," he said.
He went on to say that corporate media organizations — such as News Corp, which is led by Rupert Murdoch — don't challenge corporate power structures and urged reporters to "go challenge Wall Street."
"Rupert Murdoch is a right-wing media baron who is consistently trying to undermine progressive governments and progressive movements all over the world," he said. "It is a purely ideological enterprise driven by vast amounts of money to keep a bad status quo in place and in fact make it worse."
"Anyone who thinks that's objective journalism is kidding themselves," he said.
De Blasio said he prefers broadcast media as it tends to be "more straightforward and more substantive."
Listen to this conversation by subscribing to NewsFeed with @BuzzFeedBen on Apple Podcasts, Stitcher, Google Play, Spotify, iHeartRadio, or wherever you find your podcasts.