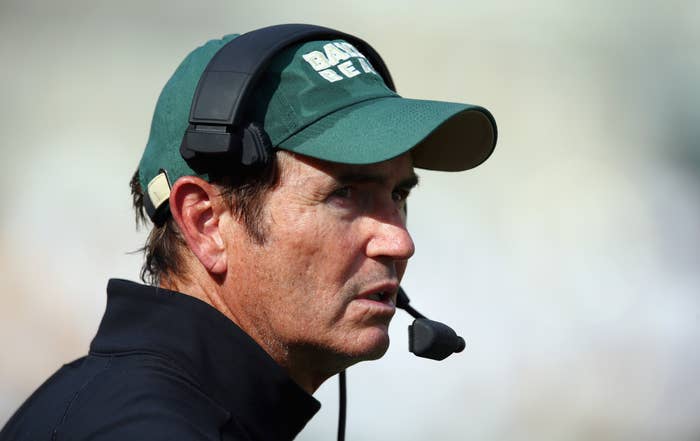 Baylor University on Thursday announced a massive shakeup of top officials after a scathing report by an outside law firm on the university's handling and concealment of sexual assaults by the football team was released.
Baylor has been accused of failing to properly respond to claims of sexual assaults against members of the football team reported by at least six female students from 2009 to 2016.

Head football coach Art Briles has been fired, or in university terms, "placed on indefinite leave with intent to terminate." Briles has been with Baylor since 2008.
Baylor University President Ken Starr — who led the investigation into President Bill Clinton that led to his impeachment vote in the House of Representatives — will "transition to role of Chancellor and remains professor at Baylor University Law School." Dr. David Garland will step in as interim University President — he previously served as interim president from 2008 to 2010.
Athletic Director Ian McCaw was "sanctioned and placed on probation" at the time. He later resigned.
A Findings of Fact report by law firm Pepper Hamilton said "Institutional failures at every level of Baylor's administration directly impacted the response to individual cases and the Baylor community as a whole."
Pepper Hamilton found that in response to allegations of sexual assaults and domestic violence by football players, "football coaches or staff met directly with a complainant and/or a parent of a complainant and did not report the misconduct."
"Football staff conducted their own untrained internal inquiries, outside of policy, which improperly discredited complainants and denied them the right to a fair, impartial and informed investigation, interim measures or processes promised under University policy," Pepper Hamilton found. "In some cases, internal steps gave the illusion of responsiveness to complainants but failed to provide a meaningful institutional response under Title IX."
Some players accused of violence against women at the school were "dismissed for unspecified team violations and assisted them in transferring to other schools."
Had the alleged incidents been reported to the proper authorities, they would have found a Title IX department without effective training in handling complaints.
"The administrators tasked with implementing Title IX prior to November of 2014 had a limited understanding of the dynamics of sexual violence and existing barriers to reporting on Baylor's campus," the report states.
The role of Title IX Coordinator was added to the already-existing duties for senior administrators at Baylor until November 2014. When a full-time Title IX coordinator was hired at Baylor, along with two investigators, " they were not adequately trained in the dynamics of sexual and gender-based harassment and violence, dating violence, domestic violence, stalking, the neurobiological impacts of trauma, the evaluation of credibility, consent and the role of alcohol as it relates to consent and alcohol-facilitated sexual assault."

The Title IX department operated under the belief that "sexual violence 'doesn't happen here.'" Complainants were treated by Title IX administrators in a way "that could be perceived as victim blaming."
"Pepper also found examples of actions by University administrators that directly discouraged complainants from reporting or participating in student conduct processes, or that contributed to or accommodated a hostile environment," the report states.
"In one instance, those actions constituted retaliation against a complainant for reporting sexual assault."

In March, Jasmin Hernandez filed a lawsuit against Baylor claiming university officials did not properly handle her 2012 report that she was raped by Tevin Elliot, a then-member of the Baylor football team.
Elliot was convicted in 2014 of raping Hernandez, and he is now serving a 20-year sentence. During the trial two other former Baylor students testified that Elliot also sexually assaulted them.
In August 2015, former Baylor football player Sam Ukwuachu was found guilty of sexually assaulting a female student athlete in 2013. He was sentenced to 180 days in jail and ordered to perform 400 hours of community service.
Ukwuachu was released in October 2015 after posting a $100,000 appeal bond.
Last month, Shawn Oakman, a former Baylor football player and NFL draft prospect was arrested on suspicion of raping a woman. He reportedly told police the sexual encounter was consensual.
Last week, ESPN reported that Waco police records revealed additional allegations against Baylor football players of violence, including incidents of sexual assaults and domestic violence.
"According to the police documents, at least some Baylor officials, including coaches, knew about many of the incidents, and most players did not miss playing time for disciplinary reasons," ESPN reported.
In a statement, Richard Willis, chair of the Baylor Board of Regents said the school was "horrified" by the investigation's findings:
We were horrified by the extent of these acts of sexual violence on our campus. This investigation revealed the University's mishandling of reports in what should have been a supportive, responsive and caring environment for students. The depth to which these acts occurred shocked and outraged us. Our students and their families deserve more, and we have committed our full attention to improving our processes, establishing accountability and ensuring appropriate actions are taken to support former, current and future students.

Ron Murff, chair-elect of the Baylor Board of Regents said:
We, as the governing Board of this University, offer our apologies to the many who sought help from the University. We are deeply sorry for the harm that survivors have endured. Baylor's mission to educate men and women for worldwide leadership and service by integrating academic excellence and Christian commitment within a caring community remains our primary imperative. The Board has taken decisive action to ensure the University's priorities are aligned with our unyielding commitment to that mission.

In response to the report's findings, Baylor will establish an "Executive-Level Task Force on Implementation" to "address deficiencies and process failures" at the university.
The Title IX department that was found to have critically mishandled cases of sexual assault on campus will have "[clarified] roles and responsibilities within the office," along with a focus on increased resources and infrastructure for the department.
Baylor's athletic department will undergo "a wide range of changes" following the report, though Baylor's announcement does not mention specific changes to take place beyond an "integration" of the "operations of the Athletics department" into "the mainstream operations of the University" and a "review [of] policies and protocols regarding transfers and recruits."
A Summary of Board Actions "calls on Baylor Nation to pray for healing for the victims of sexual
assault at Baylor, for wisdom as to all these matters for all of the leaders, faculty and
staff at Baylor, and for each member of the Baylor community to treat one another
with dignity and respect as beloved children of God."
Read Pepper Hamilton's public findings of fact below: