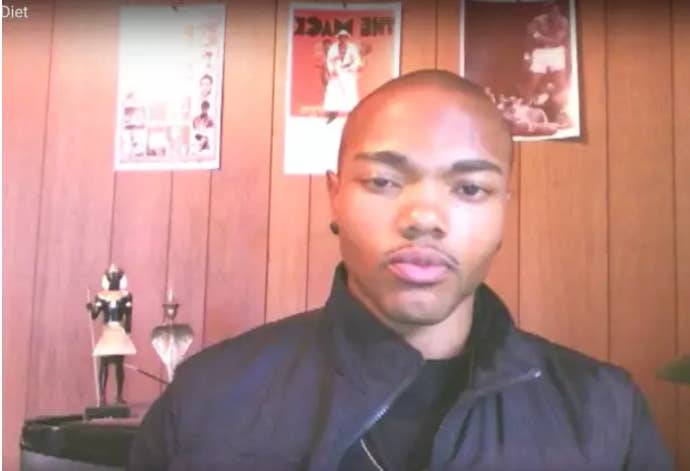 The gunman who shot and killed three Louisiana police officers in 2016 had searched online for the home addresses and phone numbers of two white officers involved in the fatal shooting of a black man two weeks earlier.
He never acted on the research, but it was just one detail in a chilling investigative report that East Baton Rouge Parish District Attorney Hillar Moore released on Friday regarding the deadly shooting on July 17, when Gavin Long fatally ambushed three police officers less than two weeks after authorities fatally shot Alton Sterling outside a convenience stores in Baton Rouge.
Long stalked police officers, authorities said, moving methodically around buildings to kill as many cops as possible just one mile from Baton Rouge police headquarters.
"There's no doubt whatsoever that these officers were intentionally targeted and assassinated," Louisiana State Police Col. Mike Edmonson said at the time. "It was a calculated act against those who worked to protect this community every single day."

In addition to the three officers killed in the attack, three others were injured. Long was shot and killed by responding officers.
At the time of the shooting, Long had methamphetamine and alcohol in his system, Moore said.
As part of the report, the district attorney also released a number of videos, including surveillance camera footage that captured the incident, as well as a visual simulation of the shooting.
In a suicide note found in his vehicle, Long said "the way the current system is set up, it protects all cops whether good or bad, right or wrong, instead of punishing bad cops and holding them accountable for their actions."

According to the investigative report, Long had searched online for the home addresses and phone numbers of the white officers involved in Sterling's shooting just weeks earlier.
"We believe that he was ready to die this day," Moore said during a news conference Friday, according to the Associated Press. "He believes that protests are worthless and that action needs to be taken, not protests."
In the suicide note found his white Chevrolet Malibu rental, Long talked about the "destruction" he must inflict upon police officers.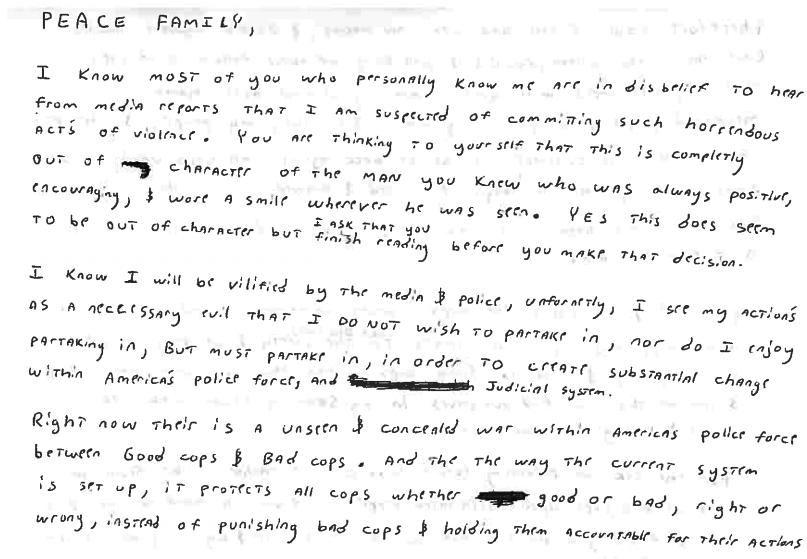 "I must bring the same destruction that bad cops continue to inflict upon my people, upon bad cops as well as good cops, in the hopes that the good cops (which are the majority) will be able to stand together to enact justice & punishment against bad cops," Long wrote. "My people, and the people in general will continue to strike back against all cops until we see that bad cops are no longer protected and allowed to flourish."

Long also wrote that for those who knew him, his actions would appear "out of character," but that they were "a necessary evil ... in order to create substantial change within America's police force, and judicial system."
BuzzFeed News had previously reported that Long had sent a three-page letter to an Ohio rapper less than an hour before he opened fire in Baton Rouge. The note sent to the rapper appears to match the suicide note the district attorney released Friday.
Long signed his note "Cosmo" — a name he legally took in 2015, and used to record several videos posted to the YouTube channel "Convos with Cosmo."

In one of the videos, Long said he was in Dallas, Texas, three days after 12 police officers were shot — five of them fatally — during protests over the killings of two black men by police in Minnesota and Louisiana.
According to the investigative report, Long said in the video that "100% of revolutions, of victims fighting their oppressors ... have been successful through fighting back, through bloodshed."
The report states that Long went on to say that he "doesn't believe protests are ever successful because 'revenue and blood' are the only things that get through to oppressors."