Baltimore Police Arrest 16 Protesters Occupying City Hall
The activists were protesting the decision to appoint the city's interim police commissioner, Kevin Davis, to the position permanently.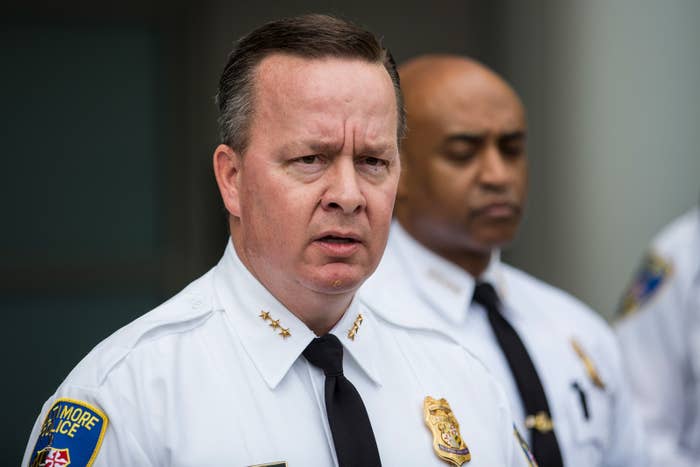 Baltimore police arrested 16 protesters, including three juveniles, who occupied City Hall Wednesday night and stayed there into Thursday morning, refusing to leave while officials were holding a hearing to appoint the interim Baltimore Police Commissioner to the position permanently, police said.
Protesters initially gathered inside City Hall Wednesday evening. At least 30 protesters were still there after midnight and most did not disperse until after 3 a.m., according to the Baltimore Sun. By 4:45 a.m., at least 16 people who were still inside City Hall were arrested and charged with trespassing.

"After hours of communication and warnings, a small number of protesters inside of City Hall decided to leave the building," Baltimore Police said in a statement. "The remaining protesters refused to leave the building. As a direct result of their failure to comply, the remaining protesters have been arrested and charged with trespassing. There are no reported injuries at this time to any protesters or officers."
"It is our duty to fight for our freedom," protesters shouted to police officers, according to the Baltimore Sun. "We have nothing to lose but our chains."
A city council subcommittee voted Wednesday to appoint Kevin Davis as permanent police commissioner. The appointment would have Davis finishing out the remaining five years on former commissioner Anthony Batts's term. Batts was fired by mayor Stephanie Rawlings-Blake after major protests and riots broke out in the city following the death of Freddie Gray, a black man who died in police custody earlier this year.
Several members of the Baltimore Uprising coalition occupied the balcony overlooking the meeting room and demanded that Davis and Rawlings-Blake meet a list of demands, including investment in education and changes in police policies.
Activists changed "All night, all day, we fight for Freddie Gray," and "no justice, no peace," as the subcommittee was meeting to appoint Davis, according to the Baltimore Sun.
The appointment was approved and will now go before the city council for a vote on Monday.