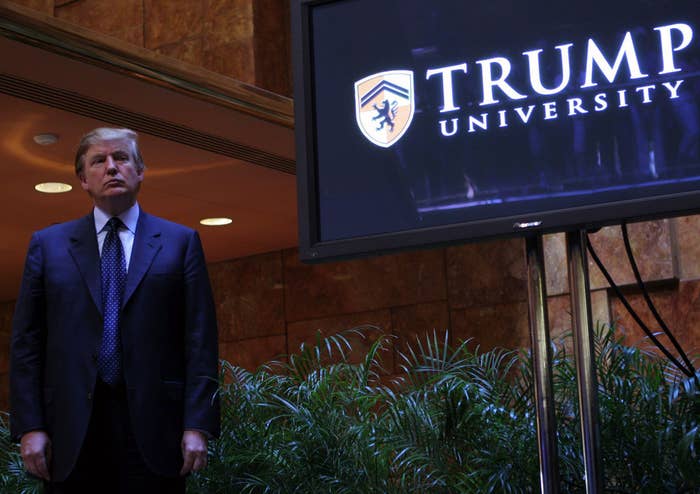 When Tala Makaeff was first introduced to Trump University in 2008, the California resident was skeptical of spending $35,000 for a program that promised to train, educate, and mentor entrepreneurs on achieving financial independence through real estate investing.
Tiffany Brinkman, a speaker at Trump University, persuaded Makaeff to sign up by guaranteeing her first real estate deal would be big enough to pay off her school debt, according to a lawsuit Makaeff filed in California in 2010.
Makaeff, from Corona Del Mar, was also promised a three-day "Field Mentorship" excursion with real estate experts. The outing was one of the biggest selling points of the program.
Instead, Makaeff said she spent two days looking at real estate properties — which she said she could have done with a realtor for no cost — and half a day at a local Home Depot.
Makaeff filed a class action lawsuit against Trump University, alleging the-profit college lured students in with the Trump name, his reputation as a real estate mogul, his wealth, and the popularity of his reality show, The Apprentice. (All statements in this article are from Makaeff or two other lawsuits.)
"In fact, rather than serving its students as a university or college, Trump University is more like an infomercial, selling non-accredited products, such as sales workshops, luring customers in with the name and reputation of its founder and Chairman, billionaire land mogul Donald J. Trump," the lawsuit reads.
Earlier this week, Makaeff filed a motion to be removed as a plaintiff citing stress, heath problems, and family loss, according to the San Diego Union Tribune.
The plaintiffs's and Trump's lawyers did not immediately respond to requests for comment. BuzzFeed News also reached out to the Trump campaign for comment.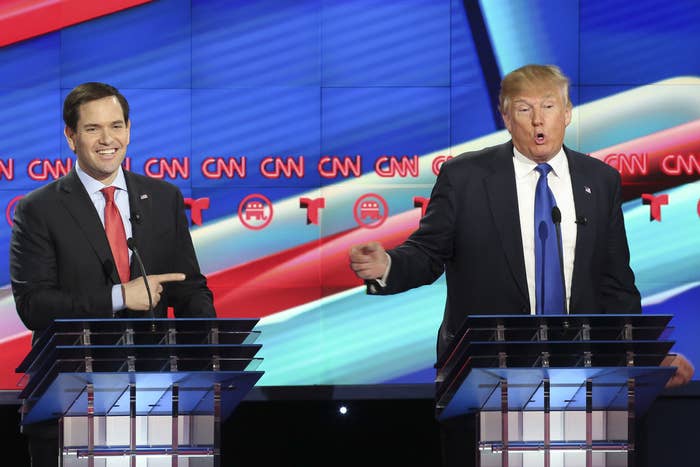 Legal proceedings against Trump University were thrust back in to the spotlight during Thursday's Republican debate. Marco Rubio referenced fraud allegations against the "fake university," claiming that Trump "lied to the students."
"There are people that borrowed $36,000 to go to Trump University, and they're suing him now," Rubio said. "And you know what they got? They got to take a picture with a cardboard cutout of Donald Trump."
According to the lawsuit, Trump University, which was founded in 2004, advertised on Facebook, online, and on the radio that students would "learn form the master – Donald Trump."
Makaeff alleged she ultimately spent close to $60,000 on Trump University programs and seminars, because, as she said the program advertised, "there's no shortcut to success."
Citing Trump University students from across the country – including ones from Michigan, Florida, and Georgia – the lawsuit claims that each seminar's goal was to upsell students to the next, more costly session.
The program had a 100% satisfaction guarantee, according to the lawsuit. But when disappointed students asked for a refund, they claim they never received their money back.
Trump University has been accused of fraudulent activity in at least two other lawsuits, filed by New York State Attorney General Eric Schneiderman and a separate class action lawsuit filed by Art Cohen still pending in California.
Four months after the Better Business Bureau gave Trump University a D-minus rating, in 2010, New York State Department of Education sent Trump a letter claiming the use of the word "university" is misleading, according to the lawsuit. The name was changed to Trump Entrepreneur Initiative.
In 2013, New York State Attorney General Eric Schneiderman filed a lawsuit claiming Trump University ran a "bait and switch" scheme, stating that advertisements for the program were "replete with false claims."
"More than 5,000 people across the country who paid Donald Trump $40 million to teach them his hard sell tactics got a hard lesson in bait-and-switch," Schneiderman said in a statement at the time. "Mr. Trump used his celebrity status and personally appeared in commercials making false promises to convince people to spend tens of thousands of dollars they couldn't afford for lessons they never got. No one, no matter how rich or popular they are, has a right to scam hard working New Yorkers. Anyone who does should expect to be held accountable."
Most of the allegations from Schneiderman's lawsuit are still pending in State Supreme Court, his spokesperson, Matt Mittenhal, told BuzzFeed News.
"We will continue to pursue our claims against Mr. Trump in court on behalf of the people he defrauded," Mittenthal said.
No trial date has been set in Makaeff's case, but the final pretrial conference is scheduled for May 6, court records show. And as Yahoo first reported, Trump is named on the witness list, which means he could possibly testify.
It us unclear when the trial would begin. But if it starts in May, it could overlap with GOP primary elections in Nebraska, West Virginia, Oregon and Washington State.
The witness list from both sides lists 72 people, and Trump's lawyer identified 965 trial exhibits he plans on using in the trial including PowerPoint presentations, emails, letters, and course curriculums.