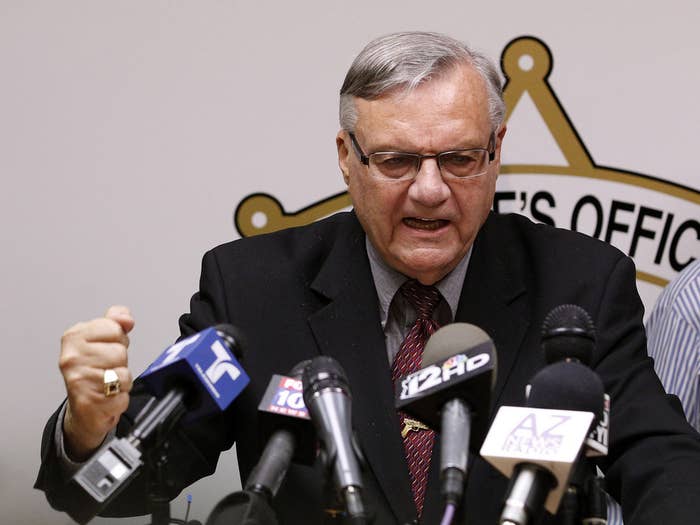 A federal judge found Arizona' Maricopa County Sheriff Joe Arpaio in contempt of court Friday for disobeying orders in a racial profiling case.
The court's finding stems from a 2013 ruling in which U.S. District Judge Murray Snow ruled that Arpaio — who calls himself "America's Toughest Sheriff" — and Maricopa County Sheriff deputies racially profiled and made unlawful traffic stops of Latinos.
Judge Snow ordered Arpaio to end these practices and had a court monitor ensure the sheriff obeyed his orders.
On Friday, Snow ruled that Arpaio and the deputies "engaged in multiple acts of misconduct, dishonesty, and bad faith with respect to the Plaintiff class and the protection of its rights."
"They have demonstrated a persistent disregard for the orders of this Court, as well as an intention to violate and manipulate the laws and policies regulating their conduct," Snow wrote in a 162-page ruling Friday.
Cecillia Wang, director of the ACLU's Immigrants' Rights Project, who brought on the original lawsuit in 2007, said Arpaio's "recalcitrance ends here."
"Strong remedies are needed to protect the community's rights, starting with internal investigations that root out and punish misconduct," Wang said in a statement. "Willing or not, the sheriff will be made to comply with the law."
Arpaio acknowledged that "it's a pretty big deal" he did not comply with Snow's orders, according to the ruling.
In a statement to BuzzFeed News, attorneys for the Maricopa County Sheriff's Department said that they disagreed "with some of the courts findings" but will continue working with the court-appointed monitor. The attorneys also said they planned to file a formal response in the future.
A hearing is set for May 31 to determine if the six-term sheriff will face criminal contempt charges, which could lead to fines or jail time. The civil contempt of court finding does not disqualify Arpaio from holding office.
Lawyers who brought the case against Arpaio claim that at least 190 people — though the number could be higher — were pulled over in violation of the court order. Lawyers said Arpaio violated Snow's order to stop immigration patrols because he wanted to look tough on immigration during an election year, according to the Associated Press.
Arpaio's office did not immediately return a request for comment.