Australian police have confirmed the gunman of the siege at a Sydney café is Man Haron Monis, also known as "Sheikh Haron." The notorious 49-year-old self-proclaimed sheikh is originally from Iran but traveled to Australia in 1996 as a refugee.
Monis has a long history of run-ins with authorities in Australia. Monis is most notably known for sending harassing letters to the families of fallen Australian solders fighting in Afghanistan. Monis disapproved of Australian troops in Afghanistan and, along with his partner, Amirah Droudis, sent letters to deceased soldiers' families from 2007 to 2009.
He pleaded guilty to 12 charges of using postal service in a menacing, harassing, and offensive way and was sentenced to 300 hours of community service, according to the Daily Telegraph. Monis claimed through his lawyers to be a peace activist and chained himself to the courthouse, waving a small Australian flag, to protest the charges.
In November 2013, Monis was charged as an accessory — before and after — to the murder of his ex-wife Noleen Hayson Pal. Monis' partner, Droudis, was formally charged with Pal's murder, in which her body had been stabbed multiple times and set on fire. Monis and Pal were reportedly in a custody battle at the time. Monis claimed he was framed by the Iranian Secret Police and ASIO, Australia's domestic spy agency. A month later both Monis and Droudis were granted bail, The Australian reported.
According to The Telegraph, prosecutors said Monis constructed an elaborate alibi, including faking a heart attack and a car crash the day of the murder. Monis also allegedly filmed a clock to deliberately show his whereabouts at the time of the murder.
Most recently, in April of this year, Monis was charged with indecent and sexual assault of a woman in 2002, according to the Sydney Morning Herald. During a court appearance in October, he was charged an additional 40 charges of indecent and sexual assault relating to six other women. His next court date relating to the sexual assault charges was scheduled for February 2015.
Monis had been protesting his treatment by the Australian government as recently as Nov. 12, according to this video he uploaded to YouTube.
He also created a Twitter account in early November to spread his views.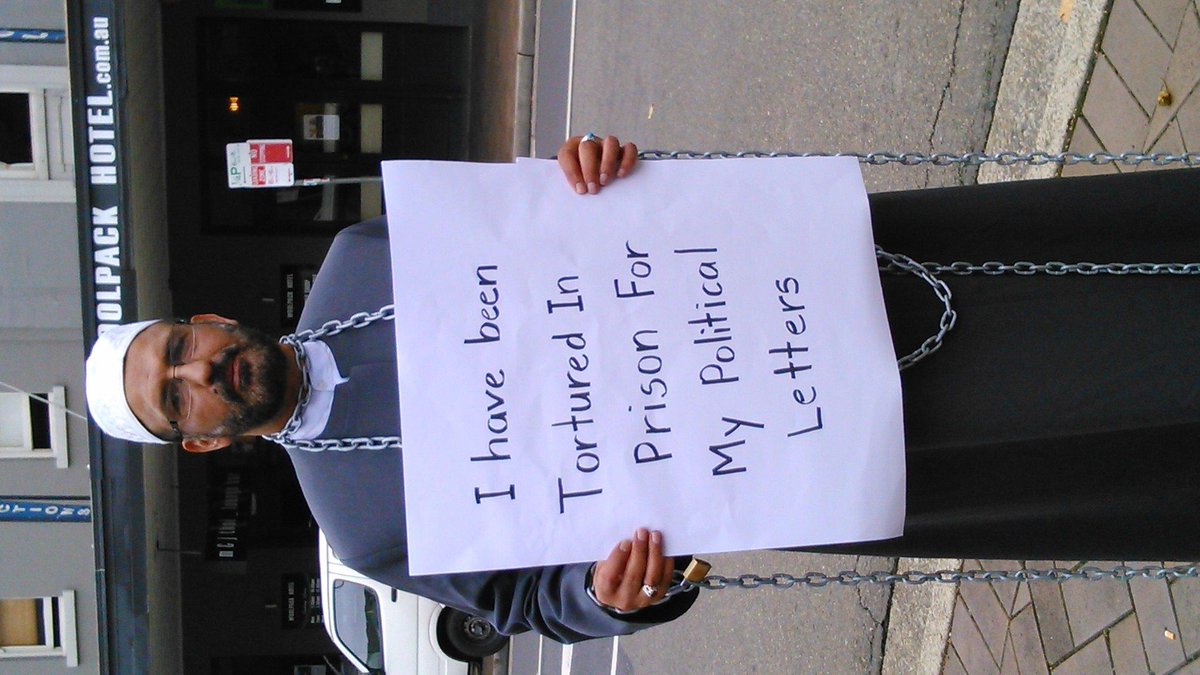 Earlier this month Monis posted on what appears to be his own personal website: "I used to be a Rafidi, but not anymore. Now I am a Muslim, Alhamdu Lillah."

On Dec. 14, the day of the siege, he wrote a chilling message on his site:
"Islam is the religion of peace, that's why Muslims fight against the oppression and terrorism of USA and its allies including UK and Australia. If we stay silent towards the criminals we cannot have a peaceful society. The more you fight with crime, the more peaceful you are. Islam wants peace on the Earth, that's why Muslims want to stop terrorism of America and its allies. When you speak out against crime you have taken the step towards peace."