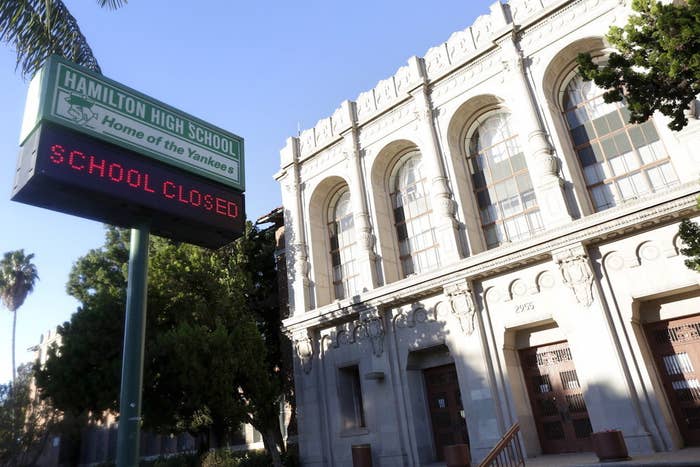 All Los Angeles public schools were closed Tuesday after the district received an emailed threat that officials in New York as well as California later called a "hoax," possibly from a fan of the Showtime hit Homeland.
Los Angeles Unified Supt. Ramon C. Cortines did not reveal specifically what the email contained, but said the decision to close down the second largest school district in the nation was not made lightly.
He also cited the recent terror attack in San Bernardino, which claimed the lives of 14 people.
"This is a rare threat — we get threats all the time," Cortines told reporters. "I think the circumstances in the neighboring San Bernardino, what has happened in the nation, what happened internationally, I as superintendent will not take the chance with the life of a student."
After 12 hours of investigation, school and city officials announced campuses would reopen on Wednesday. Los Angeles Mayor Eric Garcetti said the threat was determined to be "not credible," but insisted it was inappropriate to say it was a hoax without knowing the identity or motivation of the sender.
U.S. Rep. Adam Schiff, a member of the House intelligence committee who represents Burbank, California, earlier in the day said a preliminary assessment revealed the threat was a hoax or "something designed to disrupt school districts in large cities."
Citing an school district official, Reuters reported that the email threat was sent to a school board member from an IP address in Frankfurt, Germany. L.A. Police Chief Charlie Beck later added that the email had been routed through an IP address in Germany, but was likely sent from an individual closer to Los Angeles.
And while Los Angeles officials cautioned that they were still trying to determine the origin of the threat, Beck said the author mentioned explosive devices, assault rifles, and "machine pistols."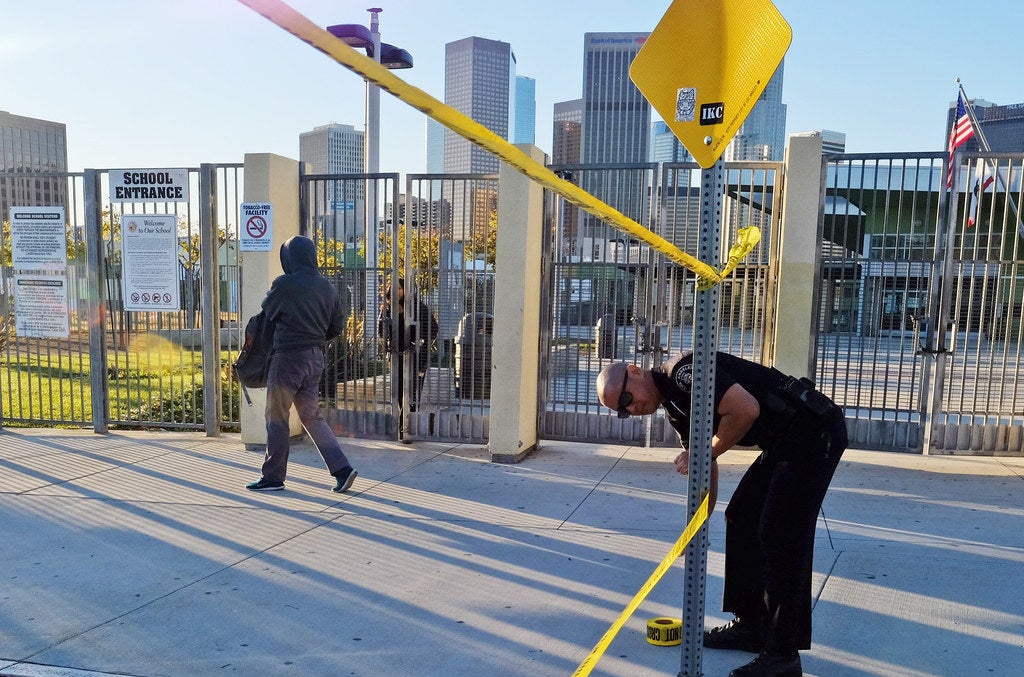 Not long after the L.A. press briefing, New York Police Commissioner Bill Bratton and Mayor Bill de Blasio said their school system — and others in the nation — received what "appears to be the same email, generic email," but determined it was a hoax.
Bratton added that the email was sent from someone who "may have been a Homeland fan" because it "mirrors recent episodes" of the Showtime hit.
"This is not a credible threat," Bratton said, noting that "Allah" was not capitalized in the message, something that an author purporting to be Muslim would never do.
He went on to criticize the decision to close schools in Los Angeles as a "significant overreaction."
Doing the same thing in New York, de Blasio said, would have been a "disservice to the nation, particularly since the threat was "so generic, so outlandish."
But Los Angeles officials balked at de Blasio's comments, pointing out they did not have as much information as their New York counterparts when they received the email around 10 p.m. local time Monday.
"The safety of our children is the priority of this city," Beck said. "It is all of our priorities. If you knew what the superintendent and the school board know this morning at 5:30 when the decision had to be made, would you have sent your child to school?"
The email was sent from madbomber@cock.li, confirmed Vincent Canfield, who has been hosting the site since 2013. The site is home to more than 27,000 cock.li email accounts.
"Cock.li has many uses by many people, some cock-related, some not," Canfield told BuzzFeed News.
Jokes aside, Canfield said cock.li emails have a reputation for being "throwaway accounts" — but the range of uses includes posting to mailing lists, online banking, or paying utility bills.
"I'm always startled by how many people rely on cock.li for legitimate uses," he said.
"In general people just use it for E-mail like you'd use anything else. It just comes from a funny domain name."
The site has received three subpoenas before, including one on Dec. 9 related to a threatening email sent to multiple faculty at Edinboro University in Pennsylvania. Canfield said the site records registering time, IP address information, as well as the last seven days of IMPA and SMTP access logs. Canfield said that information has been provided to investigators in relation to the threat to Los Angeles and New York schools.
In a message to the cock.li news mailing list, Canfield described the Los Angeles school closure as an administration problem. New York schools did not find the threat credible, he noted, which shows how subjective such decisions are.
"We live in an age where anonymous messages can be sent with extreme ease (not just through cock.li)," Canfield wrote. "When someone uses a meme E-mail provider to threaten your organization, pulling the plug on all students and wasting over 1,800 combined YEARS of student-classroom time is a PR stunt and another example of officials employing security theater to make their students and parents feel safe."
"All of this over from an E-mail from a meme email provider," he added.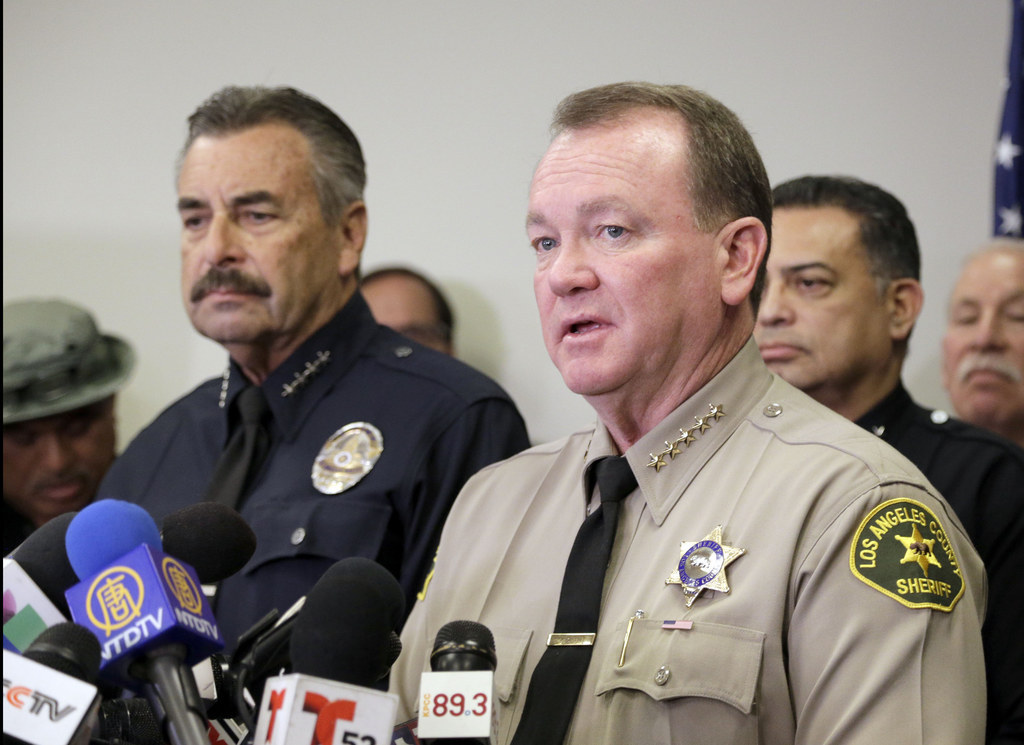 News that the LAUSD decided to close its more than 1,000 schools seemed to affect neighboring school districts as well.
Some parents decided to keep their kids at home, even those who do not attend LAUSD schools, impacting attendance in the entire Los Angeles area.
Officials in the Downey Unified School District, for example, said attendance was "significantly lower than normal."
Numbers were not immediately available Tuesday afternoon, but district spokeswoman Ashley Greaney told BuzzFeed News that school officials noticed the lower attendance.
Some parents from the Santa Monica-Malibu Unified School District also seemed to have kept their children at home Tuesday after the threat, spokeswoman Gail Pinsker told BuzzFeed News.
Officials in Los Angeles, meanwhile, defended their response as erring on the side of caution.
Beck called it "irresponsible to criticize" the decision to close the schools, adding that it is easy to make judgments "when you have no responsibility for the outcome of that decision."
U.S. Rep. Brad Sherman, a senior member of the House Foreign Affairs Committee, told the Los Angeles Times that he reviewed the email sent to the L.A. school board and "the only thing we know is that the email was sent by an evil person."
Sherman also said that the "author claims to be an extremist Muslim who has teamed up with local jihadists." The text of the email, however, "does not demonstrate that the author has studied Islam or has any particular understanding of Islam."
School board vice president George McKenna acknowledged that shutting down more than 900 schools and other facilities was "extreme," but reiterated the importance of keeping students safe.
Asked about the differing opinions, White House Press Secretary Josh Earnest deferred to local officials.
"I'm not going to second guess decisions made by local law enforcement officials," he said.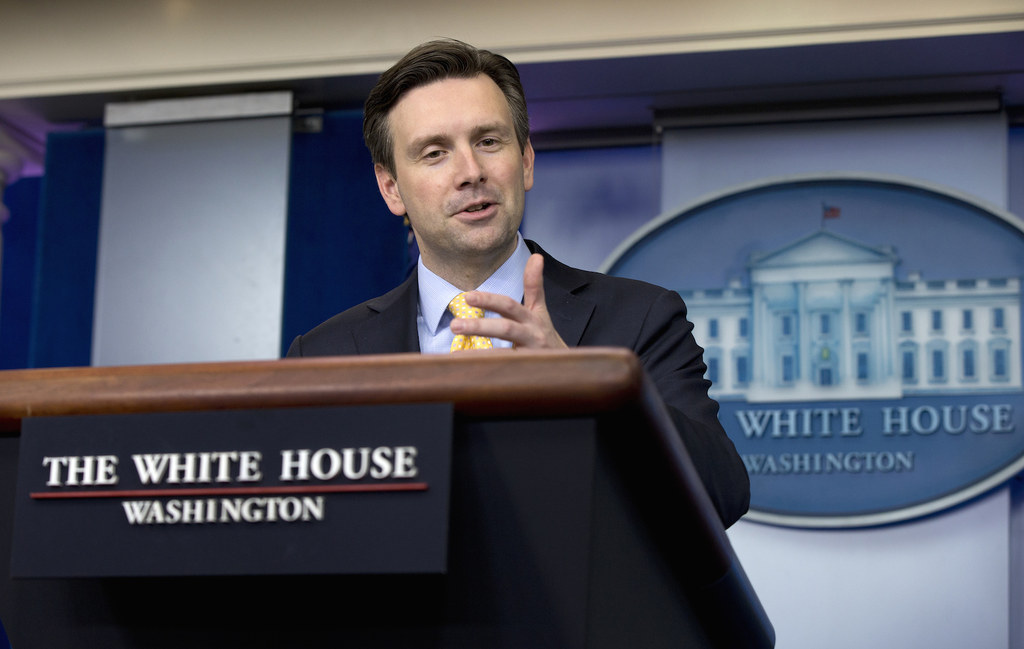 According to the district, L.A. Unified enrolls more than 640,000 students in kindergarten through 12th grade at over 900 schools and 187 public charter schools. Its boundaries include more than 720 square miles.
Keeping those children home for a day robbed the district of about $29 million in state funding, state superintendent Tom Torlarkson said.
Given the nature of the emergency, he said he would recommend the funding be returned to the district.
"We're nearly 100 percent certain that we can take the steps to restore those funds to the district," he said.
Officials said they searched 1,531 school sites to make sure they were clear to reopen on Wednesday. Fourteen law enforcement agencies were involved in the response, and officers were escorting administrators as they checked each campus for anything suspicious.
"It is important that I take the precaution based on what has happened recently and what has happened in the past," Cortines said. "There was not threat made to buses. They were returned because we're not picking up students.
"We do get individual threats, we do evacuate schools, we do lock down schools ... and do not release students until we notify parents. What we are doing today is no different than what we always do, but we're doing this in a mass way."
Chief Beck said the threat was received late Monday night. By 6:25 a.m. Tuesday, the superintendent had notified local administrators and principals that all schools would be closed. Parents began to receive messages over the next hour.
Students who had already arrived at school when the alert was issued Tuesday morning — many of them to start taking their finals — were supervised as parents scrambled to pick them up and make accommodations for the day.
Not long after the message that schools were closed was sent, a 17-year-old boy was struck by a truck and killed near his high school. The teen was hit by a city service truck near Los Angeles International Charter High School around 7:30 a.m., the Los Angeles Times reported.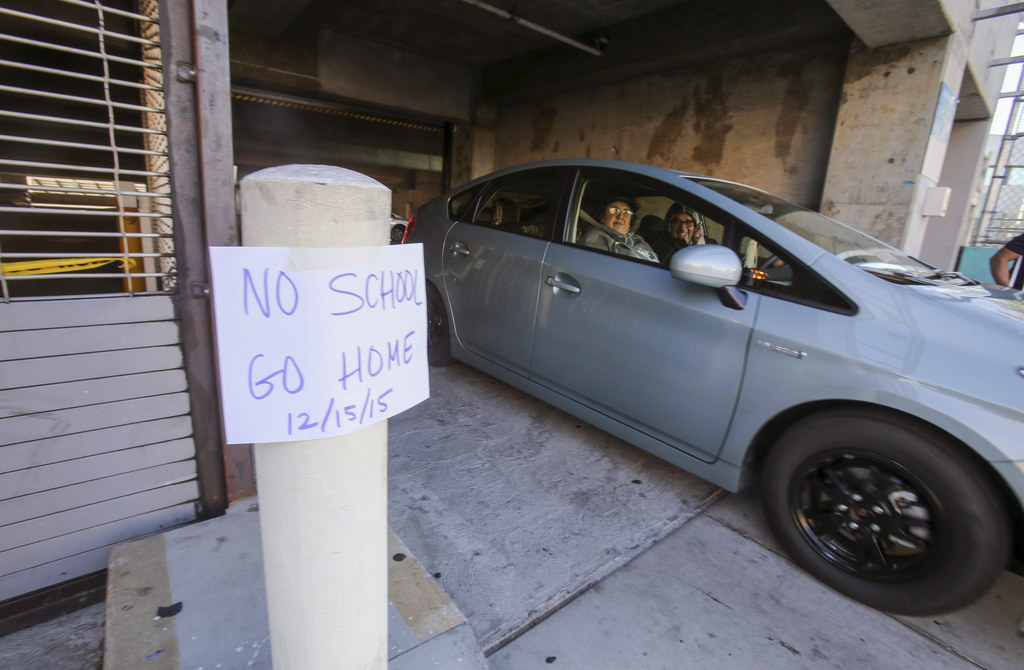 Britni Danielle, an L.A.-based journalist, told BuzzFeed News she received an automated email from her 10-year-old son's charter school stating a "level 1 terrorist threat."
The email, obtained by BuzzFeed News, states:
THERE IS A LEVEL 1 TERRORIST THREAT. Due to this, all LAUSD schools are closed including CPA. Please do not come to the school or send your child. ALL SCHOOLS IN LAUSD including traditional and Charter are closed. A statement will be released before the end of the day.
An LAPD spokesperson told BuzzFeed News that it was "not the highest level," but puts "people on high alert."
Danielle, whose son is a 4th grader at Community Prep Academy, said she also received automated phone calls and text messages from the school warning her of the threat. Her parents also work at separate middle schools in LAUSD and were told to go home, she added.
"As a parent and former LAUSD teacher, I'm extremely concerned by this action because closing ALL of the schools indicates a very serious threat," Danielle told BuzzFeed News in an email.
While she has experienced lockdowns during her six years as a reacher, "to close over 900 schools and send all 640,000 students home is unheard of."
"While I'm concerned that this will only further encourage people looking to cause terror, or embolden political leaders who already use problematic rhetoric about terrorism (and cause us to overreact to that rhetoric), as a parent I understand, and appreciate, the district's cautionary step," Danielle said.
Students who arrived early, only to be sent home, seemed to take the shutdown in stride.
Parents, meanwhile, reacted to the news on social media, expressing concerns about the safety of their children.
Some wondered how to explain the situation to their children without scaring them.
Some parents from L.A. County were worried about sending their children to school despite the threat being limited to LAUSD schools.