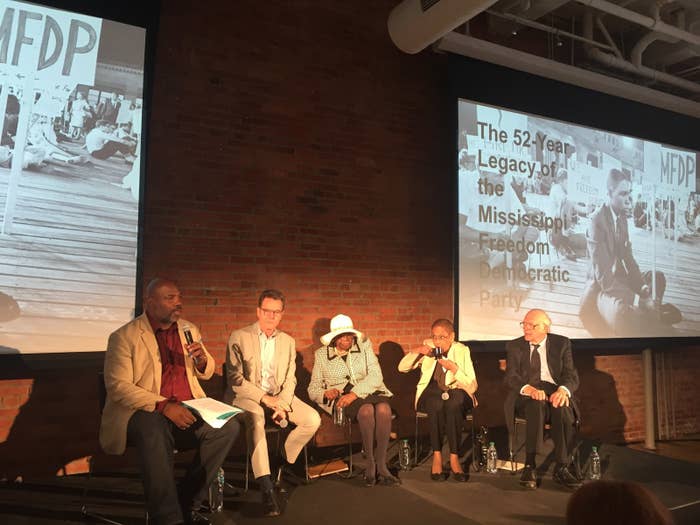 Airbnb co-hosted an event during the Democratic National Convention Tuesday honoring 1960s political activists who fought for civil rights. And though the company is currently facing a racial discrimination crisis, it maintained an extremely low profile at the event.
The panel discussion honoring the members of the Mississippi Freedom Democratic Party — which opposed the all-white Democratic delegation from Mississippi during the 1964 convention — was moderated by New Yorker contributor Jelani Cobb. The panel also featured Reverend Ed King, U.S. Rep. Eleanor Norton, Emma Sanders, who helped organize MDFP, and Breaking Bad actor Bryan Cranston, who is playing President Lyndon Johnson in All the Way on Broadway.
Other than a teal-colored sign to the right of the stage depicting the Airbnb logo, little connection was made to the company or the issues it faces.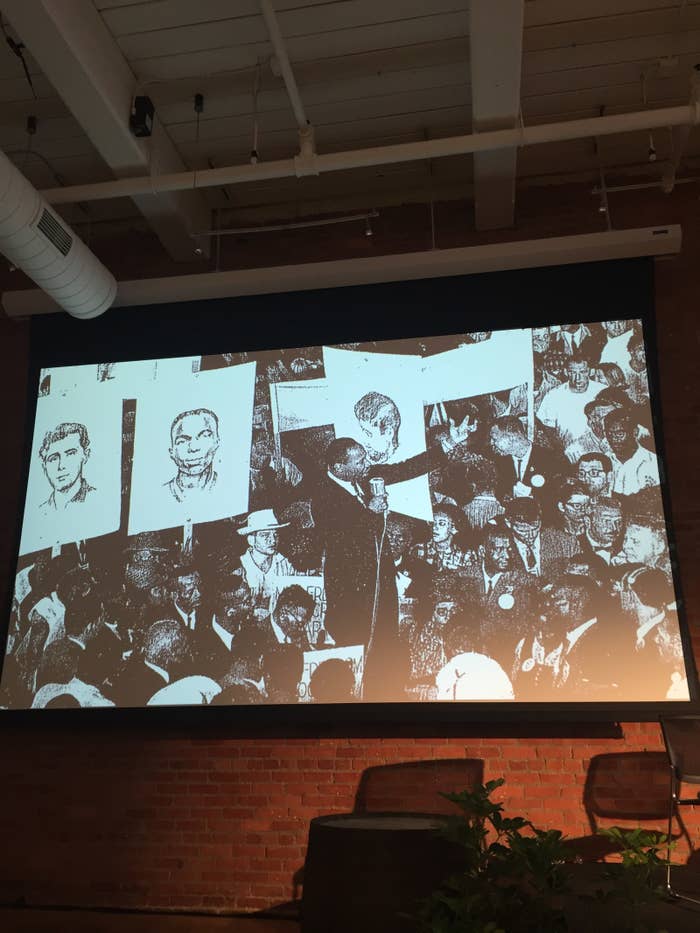 In May, a black man filed a class action lawsuit against Airbnb claiming the company violated the Fair Housing Act by failing to protect him from discrimination when a host rejected him because of his race.

Last month, Airbnb hired Laura Murphy, a former head of the ACLU's Washington legislative office, as an outside adviser to investigate racism claims. She said Tuesday the company is conducting a 90-day review of any discriminatory practices and that the results should be announced by Labor Day.
(No other Airbnb executives spoke at the panel. Earlier, Airbnb Global Head of Policy and Public Affairs Chris Lehane spoke at a separate event about polling data.)
But little was said about the allegations against Airbnb at Tuesday's event. The panelists recounted their work as civil rights leaders and called on the younger generations to be vocal about the struggles they face.

Chris Randle, a Capitol Hill staffer who works on the House Judiciary Committee — he brought his cousin to the event — said Tuesday's panel could be seen as an attempt to fix Airbnb's reputation, adding "but I don't think that's a bad thing."
Randle said he's happy to see Airbnb doing some outreach when they could have chosen to not respond to the issue. "This could be part of their PR strategy, but we're having a conversation about civil rights, and that's a good thing," he said. "I like that they're reaching out to communities of color."
Evon Burton, a Philadelphia resident, said it was a good move for Airbnb to host the event amid the controversy it faces.
"If it was an intentional move, I'm glad it wasn't cheesy," Burton told BuzzFeed News. "I'm glad it was a serious discussion and not a cheesy 'we love black people' event."
Arlene Catlett, also a Philadelphia resident, said she didn't care if this was an attempt to restore the company's public image because it was an opportunity to learn directly from people involved with the civil rights movement.
"You're always going to find people who don't follow the rules," she said of Airbnb hosts who discriminate when using the service.
Airbnb CEO Brian Chesky has said the company has zero tolerance for racism. This month he admitted the company has been slow to address discrimination.
"We were proud to support an event honoring the MFDP and the event was always planned to focus on civil rights leaders and their work," Airbnb said in a statement.