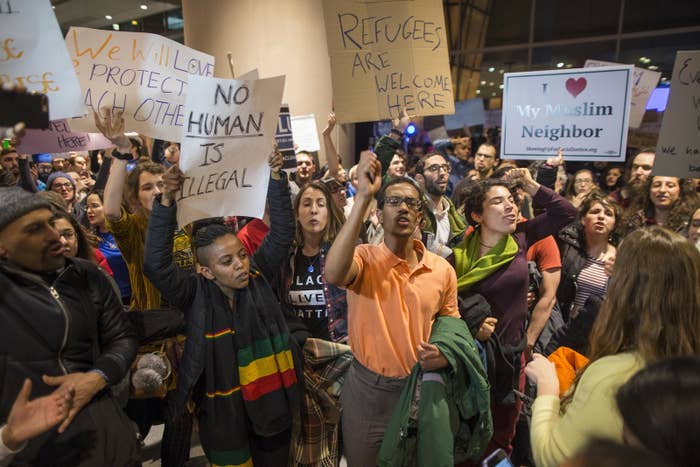 Two Syrian brothers and their families were forced to board a flight to Qatar, less than two hours after arriving at Philadelphia International Airport, a lawyer for the ACLU Pennsylvania told BuzzFeed News.
Two Syrian couples — two brothers and their wives — as well as the teenage children of one couple boarded a flight from Lebanon to Qatar and then to Philadelphia on F-4 visas, which are given to people with family members who are US citizens. Once they arrived in Philadelphia, though, they were detained and denied entry into the country.
On Friday, President Donald Trump suspended the entire US refugee program for 120 days — refugees from war-torn Syria being banned indefinitely. Trump's executive order also blocks all people from Syria, Iraq, Iran, Sudan, Somalia, Libya, and Yemen from entering the US for 90 days.

While the order does not mention Muslims or Islam, during his signing ceremony at the Pentagon Friday, Trump said he is establishing "new vetting measures" to keep "radical Islamic terrorists" out of the US. The Syrian family is Christian Orthodox.
Part of Trump's executive order gives refugees who are part of a religious minority — meaning, in many cases Christians — priority admission into the United States.
"These particular family members were not refugees," Molly Tack-Hooper, a staff attorney for the ACLU Pennsylvania told BuzzFeed News, adding that they had secured visas. "Their religion did not affect them. They were banned just because they're Syrian."

The family — who are not native English speakers — were not given access to lawyers or allowed to call their relatives from the Philadelphia airport, Tack-Hooper said. They also had to pay for their plane tickets back to Qatar.

While the six family members were detained, their relatives, who already live in Pennsylvania, were en route to pick them up from the airport, Sarah Assali, the niece of the two brothers told BuzzFeed News.
"My dad left to go pick them up, and half an hour into the drive, he got a call from a customs agent who told him not to bother coming because they wouldn't be let out," Assali said.
The US-based relatives had long been planning for their family's arrival. They bought them a house in Allentown, remodeled it, and fully furnished it, Assali said.
"My mom was preparing lunch," Assali said of Saturday morning. "She had gone food shopping and was preparing chicken."
In 2013, the Assali family was able to bring one relative — the eldest son of one of the couples traveling on Saturday — to the United States, Assali said. Last month, they welcomed the brothers' sister and her daughter to Pennsylvania.
"It's angering, it's frustrating and it hurts to know my family has to go through this," Assali told BuzzFeed News. "We kept trying to call the airport, but they wouldn't tell us any details."
ACLU lawyers were also unable to contact the family until they were on the plane back to Qatar.
"We are now working with a big team of lawyers and family in the US to try to figure out what avenues we might be able to pursue to get them authorized back," Tack-Hooper said.

Philadelphia mayor Jim Kenney released a statement Saturday saying he is "sickened" by the family's detention.
"By several accounts, these families waited months to obtain the proper documentation so they could come to our country legally," he said in a statement. "And still, they were sent back to a war-torn nation that has used chemical warfare against its own people. The Trump administration very well may have just given these families a death sentence."
The six family members has safely arrived in Damascus Sunday afternoon, Assali said.
"These days have been surreal," she said. "Our whole world has been turned upside down. I would have never expected to be talking to reporters. We were expecting our family to arrive, to have a nice lunch together, and go on with our lives."