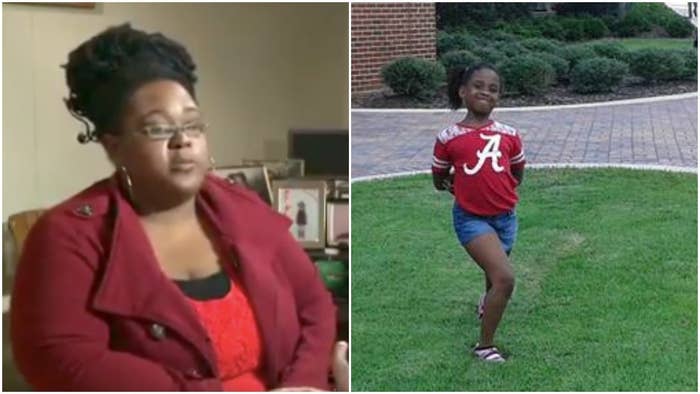 An Alabama mother is blaming her 9-year-old daughter's school for failing to protect the fourth grader from bullies whom she said caused the young girl to kill herself.

Jasmine Adams said her daughter McKenzie was the target of racial taunts and bullying from her classmates at US Jones Elementary School in Demopolis, Alabama. On Dec. 3, the young girl killed herself inside her Linden, Alabama, home.
McKenzie's aunt, Eddwina Harris, told BuzzFeed News her niece was a "silly girl" who loved to draw and ride bikes
"She was fun, she was smart, she loved math and science and loved to dance around the house," Harris said.
When McKenzie told her family she was being bullied at school, Harris said the family talked about it, prayed about it, and reported it to school officials and teachers.
Jasmine Adams told CBS This Morning that children in her daughter's fourth-grade class "called her the n-word and the b-word" and that the name-calling stemmed from McKenzie being best friends with a white boy whom she rode to and from school with every day.
"She was being bullied the entire school year, with words such as 'kill yourself,' 'you think you're white because you ride with that white boy,' 'you ugly,' 'black bitch,' 'just die,'" Harris, told the Tuscaloosa News.
Jasmine Adams told CBS that she alerted officials at the school that McKenzie was the target of name-calling. She said school administrators told her they'd keep an eye on the girl — something she says they never did.

"You have my child eight hours a day, so that means we have to trust you to do the right thing when it comes to the safety of our child and they didn't do that," she told CBS. "They didn't do it and it hurts."
Alex Braswell, an attorney for the Demopolis City Board of Education, told the Tuscaloosa News that "there have been no findings of any reports of bullying by either the student or family."

Braswell did not respond to BuzzFeed News' request for comment.
McKenzie's family members insist school officials were aware of the bullying.
Harris said that in early November, there was an incident in school that led to her niece being written up.
"There was an incident where a little boy and McKenzie were written up," Harris told BuzzFeed News. "He called her a 'nigger' and a 'bitch' and she called him a 'bitch' back. She was standing up to her bully."

McKenzie's funeral will be on Saturday at her elementary school, Harris announced in a Facebook post.

Harris has also set up a GoFundMe campaign to raise money for The McKenzie Foundation, to "serve as a source to stop the bullying nation wide."
Harris told BuzzFeed News that her hope with the foundation is to provide resources to children being bullied but also the bullies themselves.
"It's time to get the help for these bullies so that everybody can be healed because it's a healing process that needs to be taking place," Harris said.
The National Suicide Prevention Lifeline is 1-800-273-8255. Other international suicide helplines can be found at befrienders.org.