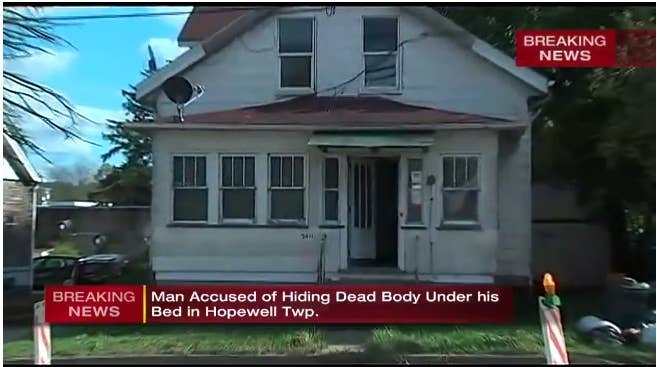 A Pennsylvania man was charged with abuse of a corpse after police said they found a decomposing body in a garbage bag under his bed.
Police received a tip about a dead body at Donald Teaford's house, according to a criminal complaint obtained by BuzzFeed News. When officers arrived, they were met with two open windows and a "heavy smell of perfume."
Officers said when they looked under the bed they saw a garbage bag with a boot hanging out of it. There was a knife next to the body, police said, which was covered by DVDs and a purse, in an attempt to mask it from plain view.
Police determined that Teaford had to lift the bed frame, box spring, and mattress to place the body on the floor, according to the criminal complaint.
The man who tipped off the police said Teaford slept on the bed with the corpse underneath it for three weeks, according to the criminal complaint.
Local media have identified the victim as 34-year-old Justin Cogan.
The tipster said Teaford and the victim took heroin together, police said, adding that Teaford's girlfriend had previously died of an overdose on the same bed in the apartment.
Teaford, who is known to the area as a panhandler, according to the complaint, was arrested and held on $100,000 bail.