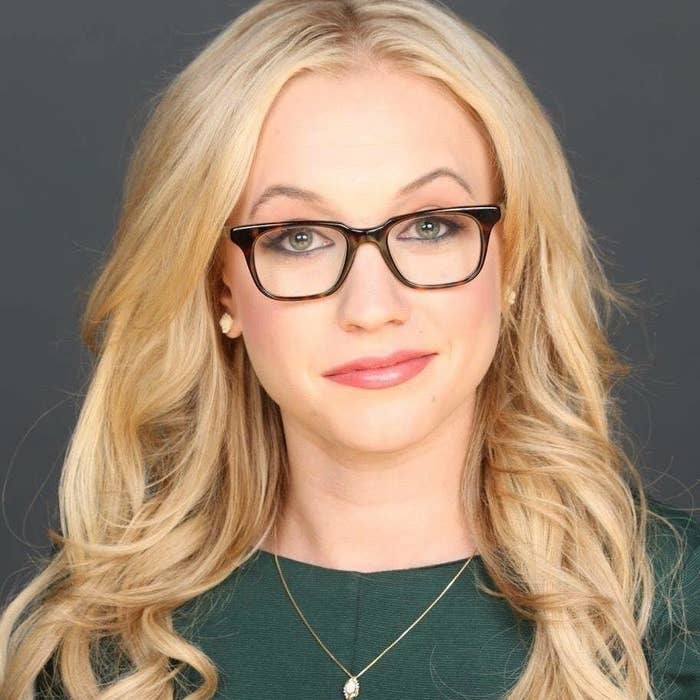 Fox News host Kat Timpf said she was attacked by a man who poured a large bottle of water on her head during an event in Brooklyn Monday night.
Timpf, cohost of Fox News Specialists, was at an event for Ben Kissel's campaign for Brooklyn borough president and was scheduled to give a talk on criminal justice reform. She told BuzzFeed News she was waiting for her turn to speak when a man approached her, tapped her shoulder, and dumped a 1.5 liter water bottle on her head.
"He looked at me right in the eyes, very angry, and he then splashed the rest of [the water] in my face," Timpf told BuzzFeed News, adding that it was a "humiliating and scary" experience.
The Fox News Specialists cohost also fired off a string of tweets Monday night saying she was "shocked," "stunned," and has "never seen a more disgusting insane cruel climate than the one we're in now."

"It's disgusting, I'm disgusted, and everyone needs to do better than this infantile bullshit because I for one have had it with senseless hostility," she tweeted.

Timpf, who identifies as a libertarian, said she is often the recipient of hate mail and threats on Twitter due to her political views.
"I'm not trying to minimize how horrible that is [getting threats online], but I can always turn off my phone and get away from it," she said, calling Monday's incident a "clearly targeted" attack.
"We're people, you know? I shouldn't have to be afraid to go out, I shouldn't have to worry," she added. "It could have been something else other than water."
Timpf said she contacted the police and gave a description of the man — who fled right after he doused her with water. She said there's security video footage of the incident, adding that she is unsure if she wants to release it.
"I know there are people out there who will delight in seeing this happen to me," she told BuzzFeed News. "I'm hesitant to release the footage because some people will watch and be happy."
A New York police spokesperson confirmed Timpf's complaint and said officers are reviewing the security camera footage.
Carolina Hidalgo, who was on stage speaking at the time of the incident, told BuzzFeed News she saw the man dump water on Timpf's head.
"There was a lot confusion in the crowd as it was pretty shocking to everyone," she said. "I don't see why anyone would do something like that."
Kissel, who is running for Brooklyn borough president, told BuzzFeed News the whole incident was "unnerving."

"It's one thing to troll people on Twitter, but now people are acting out in reality," he said.
On Facebook, his campaign added that physical assault "does not belong in our political discourse at any time, no matter what your beliefs."