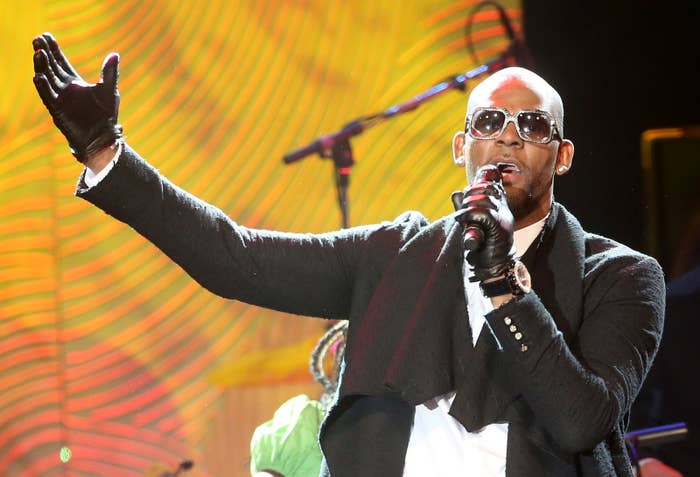 A county commissioner in Georgia on Friday called for a full criminal investigation into R. Kelly over allegations the singer is sexually exploiting young women and holding them against their will.
Citing new evidence uncovered by law enforcement, John Eaves — the chairman of the Fulton County Commission who is running for mayor of Atlanta — announced that an investigative file produced by Johns Creek Police Department has been handed over to the district attorney.
Eaves called on the district attorney to "investigate the matter and leave no stone unturned."
"Today, I am asking District Attorney Paul Howard and his investigative officers and prosecutors to fully review the report of the John Creek Police and follow every lead — no matter where it leads, or who it implicates — and bring those persons to swift justice," Eaves said in a statement.
BuzzFeed News exclusively reported that police have been told Kelly is allegedly holding several women — including ones he told he'd take under his wing to advance their music careers — in his Duluth, Georgia, "guest house" or at his Chicago recording studio.
Three former members of Kelly's inner circle told BuzzFeed News that he "controls every aspect of their lives: dictating what they eat, how they dress, when they bathe, when they sleep, and how they engage in sexual encounters that he records."
R. Kelly denied the allegations in BuzzFeed News' report, and one woman said she was fine.

In a statement Friday, attorneys for R. Kelly said the singer was "outraged" by county officials targeting his business interests and now, for possible investigation.
The Board made it clear last week that they wish to prevent Mr. Kelly's Atlanta-area concert, though they do not have the authority to do so and are contractually obligated to honor their own agreements.

Today, the Board chairman tried again to interfere with the concert and assist others in that effort by calling for an investigation after proper authorities, who actually in possession of the facts, had stated just last week that they looked into the allegations and launched no investigation.

The allegations against Mr. Kelly are false and ill-motived. He again denies any and all wrongdoing.

It is unlawful for the government to interfere with the right of its citizens to lawfully do business, and public servants should not target individual citizens for their own politically motivated purposes. Mr. Kelly's fans are looking forward to his August 25th show and he will be there as scheduled.
Eaves said he has not read the contents of the investigative file compiled by law enforcement, but said he is encouraging the district attorney to launch a full investigation because no one is above the law.
"We will not allow our young girls and young women to be preyed upon by predators or anyone who aims to brainwash and strip them of their human dignity and their right to be free," he added.
Johns Creek Police Lt. Chris Byers told AJC.com that they handed over the file to the district attorney, but "there is no new evidence in the closed investigation."

"We gave them everything [we] had." Byers said. "We let them know what was going on due to the high profile nature of the incident and figured they would be getting calls about it."

The district attorney acknowledged receiving the file, adding "we will proceed appropriately after review."
Fulton County officials earlier announced that they want to ban R. Kelly from performing a concert later this month, and Eaves spoke about growing pressure from the community to cancel the performance.

Live Nation, which holds exclusive rights to program the Wolf Creek Amphitheater, said the show will move forward despite objections.