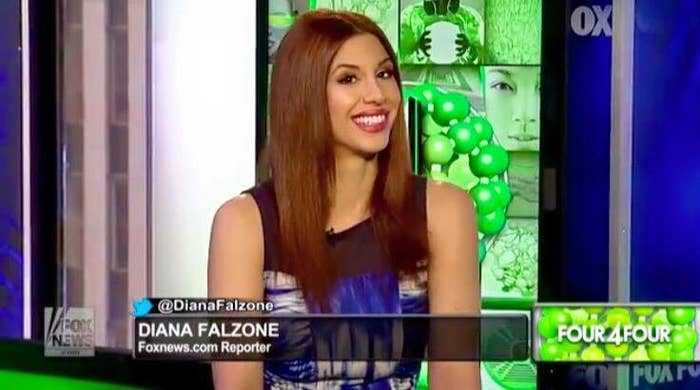 Fox News reporter Diana Falzone filed a lawsuit Monday against the network claiming she was sidelined from appearing on-air after writing an article detailing a medical condition which led to her infertility.
Falzone, host of Fox411 and other FoxNews.com shows, alleges that three days after her company-approved article titled "Women Should Never Suffer in Silence" ran in January, she was informed by her manager that she would never again be permitted to host her own show, conduct her own interviews, or even do voiceovers.
In the article, Falzone shared that she suffered from endometriosis — a condition where the tissue that normally lines the inside of the uterus actually grows outside of the uterus. This can cause severe pain and inflammation.
Shortly after the article was published, Falzone's supervisor told her the "second floor" — which houses the offices of Fox News executives — permanently banned her from appearing on air.
"The male-dominated senior management of Fox News obviously objected to the
fact that a female on-air host had disclosed that she suffers from a women's reproductive health condition, which, in their eyes, detracted from her sex appeal and made her less desirable," the lawsuit states.
Falzone also says she asked for an explanation, but her supervisor allegedly told her to look for another job.
"The issues raised in Diana Falzone's lawsuit are a concern for all women," Falzone's attorney, Nancy Erika Smith, said in a statement. "Fox News never banned her male counterparts who have discussed their personal health issues on air. Indeed, those men saw their careers advance."
Falzone claims her career has been significantly damaged since she was banned from the air and that the stress caused by her removal has exacerbated her medical condition.
Falzone's lawsuit, filed on the basis of gender and disability discrimination, comes as the embattled network faces mounting claims of sexual harassment and racial discrimination.

Last month, top-rated host Bill O'Reilly was fired over sexual harassment claims and last summer, and former network chief Roger Ailes was ousted for the same reasons. Both men have vehemently denied the allegations.
Last week, Fox News anchor and reporter Kelly Wright joined 12 other current and former employees in a lawsuit against the cable news network, claiming they endured repeated racial discrimination and harassment for years.
Fox News did not immediately respond to a request for comment.
Later on Monday, Fox News confirmed its co-president, Bill Shine, was leaving the company.
"This is a significant day for all at FOX News. Bill has played a huge role in building Fox News to its present position as the nation's biggest and most important cable channel in the history of the industry," Rupert Murdoch said in a statement.

Falzone, on Monday, tweeted a motivational quote about fighting for one's rights.