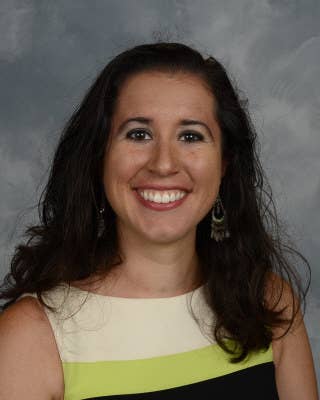 A Florida middle school teacher is being investigated by her employer after reports she hosted a white supremacist podcast and used Twitter to share anti-Semitic conspiracy theories and suggest that Muslims be eradicated from the planet.
HuffPost first reported Saturday that Dayanna Volitich, a social studies teacher at Crystal River Middle School, used the pseudonym "Tiana Dalichov" to secretly host a podcast titled Unapologetic, in which she recently argued that some races are smarter than others.
The Citrus County School District issued a statement that Volitich "has been removed from the classroom" while its human resources department conducts an investigation.
According to the description of Unapologetic's pilot episode on TuneIn, an online audio-streaming service, the podcast aims to cut "through the myths and misconceptions of the modern cultural and political jungle" and "covers taboo topics that will take you on a ride you'll ever be able to forget."
In a recent episode of the podcast, Dalichov identified herself as a public schoolteacher and prided herself on bringing her beliefs into the classroom.
In the Feb. 26 episode, she said she "had a couple of instances where parents were concerned," including a parent who emailed her school's principal to express worry that she was "injecting political bias" in her teaching.
She said on the podcast that when the principal confronted her about the parent's email, she lied, saying it was untrue.
"She believed me and backed off," she said.
On the same episode, Dalichov agreed with a guest who dismissed the idea that "a kid from Nigeria and a kid who came from Sweden are supposed to learn exactly the same." She went on to say that "science" has shown some races are smarter than others.

She also agreed with a guest who said that more white supremacists need to become teachers in public schools.
"They don't have to be vocal about their views, but get in there," a guest said on the show. "Be more covert and just start taking over those places."
"Right," Dalichov said. "I'm absolutely one of them."
Volitich also reportedly used a Twitter handle with the same pseudonym. The account has since been deleted, but HuffPost took screenshots of its tweets, which include the statements that Islam "legitimizes" terrorist behavior and that terrorist attacks will continue "until we eradicate [Muslims] from the face of the earth."
Other tweets say that "it isn't supremacist or hateful to prefer your own people over others," and that "systemic racism and white privilege aren't real."
The account has praised and retweeted neo-Nazis and white supremacists on Twitter, including David Duke, the former grand wizard of the Ku Klux Klan.

In its statement, the Citrus County School District said it was "made aware of a concerning podcast by a Huffington Post reporter" on Friday, March 2.
"The Human Resources department was notified and an investigation was initiated immediately," the statement continues. "The teacher has been removed from the classroom and the investigation is ongoing. Pursuant to Florida Statute an open investigation and materials related to it are exempt from public record and cannot be discussed until the investigation is complete."
Volitich did not immediately respond to BuzzFeed News' request for comment. BuzzFeed News has not been able to independently confirm HuffPost's report.