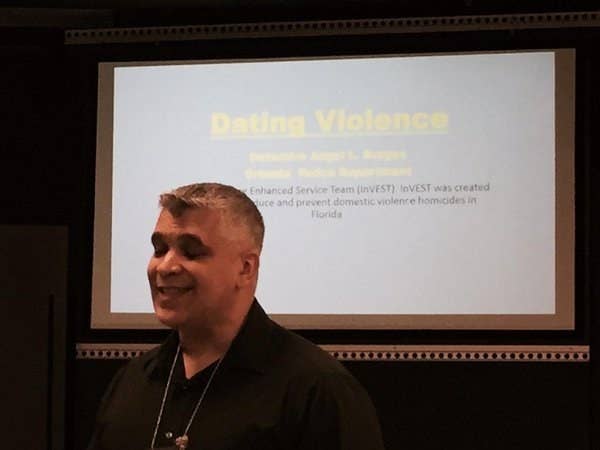 An Orlando Police Department detective accused of forcing a woman to perform oral sex on him while he was on duty will not face criminal charges, prosecutors said.

Chief Assistant State Attorney Deborah Barra sent a letter to Orlando Police Chief John Mina on Tuesday saying "there is sufficient evidence to prove without a reasonable doubt that sexual activity took place," between Det. Angel Burgos and his accuser — but there was no proof the activity was "coerced or forced."
The case stems from a December 2016 complaint filed by an Orlando woman alleging Burgos forced her to perform oral sex on him while he groped her breasts inside his unmarked police vehicle.
Burgos's lawyer, Jason Bankowitz, didn't immediately respond to a request for comment. The following account is taken from the Florida Department of Law Enforcement investigative summary, which includes the woman's statement, as well as a BuzzFeed News interview with the woman.
On Dec. 15, 2016 Burgos arrived at the victim's house around 9 a.m. in an unmarked police vehicle, and asked the woman to join him in the car parked outside her home. The two knew each other from a previous case the woman was involved with that Burgos was assigned to investigate.

"He was an officer, I didn't think much of it, I trusted him," the woman, who asked her name not be used, told BuzzFeed News.
Inside, Burgos and the woman talked until he began telling her how beautiful she is and kissed her, while unzipping his pants and exposing his penis. When Burgos asked the woman to put her hand on his penis, she declined, and he then touched himself with one hand while squeezing the woman's breasts with his other hand.
"I was in a vulnerable position, I felt alone and isolated," the woman told BuzzFeed News. "You have someone who is in a position of power, you trust them ... he took advantage of his position."
The woman said he pleaded with her to "jerk him off," but she continued to say no, until he grabbed her left hand and forced it onto his penis. When she pulled away, she said Burgos grabbed her by the back of her head and pushed her toward his lap.

The woman said she pulled away, telling him she did not want to do that — Burgos told her to "live in the moment."
"I didn't want to do it," the woman said in her police interview. "I didn't like the way he was acting about it. I didn't like how he was turning. He wasn't the same person. He started turning into this horny guy as opposed to the man that I respected."
Burgos forcefully pushed her head toward his penis again, telling her to "be quiet" and, again, to "live in the moment." The woman gave Burgos oral sex for about 30 seconds, but pulled away once she felt his grip loosen.
Once she stopped, she said Burgos stroked his penis until he ejaculated into a microfiber towel he removed from the center console of his car.
The woman got out and returned to her house. She said Burgos later yelled at her over the phone and asked whether she was going to report him, telling her to not contact him again.
"I was not sure who to talk to," the woman told BuzzFeed News. "Who can I talk to about the situation, what do I tell them? At the time I was thinking in my head, Are they going to try and blame me for this?"
The woman contacted the police department's internal affairs unit and an investigation was launched by the Florida Department of Law Enforcement.
"I was still very upset," she told BuzzFeed News about when she contacted law enforcement. "This was all still very fresh — it was just a week later. I was scared, hurt and confused."
According to the FDLE report, through his lawyer, Burgos declined to give them a statement regarding the incident.
As part of the investigation, the FDLE special agent assigned to the case obtained a search warrant for Burgos' house and his car, and recovered the shirt, pants, belt, and tie he was wearing during the alleged assault, as well as two microfiber towels.
The woman's DNA — a sample of which she had provided the special agent — was found on the outside of Burgos's pants, according to the lab results.
In January 2017, the FDLE submitted its investigative summary to the Office of the State's Attorney, who this week, declined to press charges.
The Orlando Police Department is now conducting an internal investigation to determine whether any policy violations occurred, a police spokesperson told BuzzFeed News.
Burgos, an18-year veteran of the police department, has been stripped of his badge and gun and continues to work in a desk assignment, the spokesperson said.