On Feb. 14, twenty-five days after the inauguration of Donald Trump, Jeanette Vizguerra walked into a Unitarian church in Denver. She doesn't plan to walk out anytime soon.
The Mexico-born mother of four has lived in the United States for 20 years, and has been fighting a deportation order for the past eight.
But even before Feb. 20, when the Department of Homeland Security announced aggressive new guidelines giving US Immigration and Customs Enforcement (ICE) sweeping authority to arrest and expedite the deportation of undocumented immigrants — including parents of children arriving as unaccompanied minors — Vizguerra had been worried.
In the weeks following the inauguration, hundreds of immigrants had been arrested in nationwide ICE raids, including Guadalupe García de Rayos, an undocumented mother of two, who was detained and deported in Phoenix, and 23-year-old DREAMer Daniel Ramirez Medina, who was arrested in Des Moines, Washington. As rumors and confusion sent immigrant communities across the country into a panic, Vizguerra decided not to chance it. She was due for a routine check-in with ICE, just like García de Rayos was when she was detained, so instead Vizguerra did what she's helped others do in the past: She moved into the First Unitarian church with her children. She and her family will stay there indefinitely, in makeshift quarters, relying on parish volunteers for food and support. In other words, she sought sanctuary.
Sanctuary: The word has been popping up with regularity in headlines ever since Donald Trump began threatening to withhold federal funding from so-called "sanctuary cities." That threat has yet to materialize, in part — as Adrian Carrasquillo points out — because even the Department of Homeland Security (DHS) can't agree on what, exactly, "sanctuary city" means. It's a confusing term in general; a catchall whose nuances are easily elided.
The new sanctuary movement is growing as fast as the hurricane winds of the news cycle. More than 700 churches nationwide have stepped out of the shadows to publicly declare themselves places of asylum, while at the same time, in other communities, sanctuary efforts are heading back underground. Advocates are forming "sanctuary coalitions" in cities across the country — setting up safe houses, organizing legal workshops to help undocumented immigrants learn their rights, and, like Chicago's Lincoln United Methodist Church, hustling to collect donations and volunteers. But while that kind of visibility has been key to accruing power and political capital in the past, soon it may not be enough.

There are not just sanctuary cities — metropolitan areas with a policy of noncooperation with immigration authorities — but sanctuary campuses, which would adopt policies to protect immigrant students such as refusing to allow police or ICE agents on campus without a warrant. And there is also a nascent "sanctuary restaurants" movement, whose members have described their businesses safe spaces with a "zero tolerance policy for sexism, racism, or xenophobia." Organizers are careful to note that the "sanctuary restaurants" designation is by no means anything with legal teeth, and that restaurateurs have no way to protect immigrants, documented or not, beyond offering support and resources. But then again, neither do sanctuaries in cities, on campus, or in churches. So in this urgent moment, what does sanctuary actually mean in practice?
People have been claiming sanctuary in churches for years — including during the Obama administration. But there is actually no such thing as an enforceable right to sanctuary. A 2011 ICE policy designates churches (and mosques, synagogues, and temples) as "sensitive locations" in which enforcement actions should be avoided — but it's just a policy, not a law, and it equally applies to schools, hospitals, and ceremonial events such as weddings and parades. But the boundaries of those sensitive locations are pretty rigid. On Feb. 8, a dozen ICE agents surprised and arrested at least two men as they were leaving a church shelter in Fairfax County, Virginia. An ICE spokesperson defended their actions by noting to local media that the arrests happened across the street from the church, not on church property.

In this urgent moment, what does sanctuary actually mean in practice?
In medieval Europe, criminals on the lam were routinely given asylum behind the thick stone walls of the Christian church, but that was the Middle Ages. The framing of churches as a contemporary site of sanctuary didn't actually happen until the 1980s, when a pan-denominational network of churches throughout the country began providing Central American refugees safe passage to new homes in the north. In the '80s, says Emma Lozano, pastor of Lincoln United Methodist Church and founder of the immigrant rights group Centro Sin Fronteras, "sanctuary was for people who were fleeing the violence and madness in El Salvador and Nicaragua, and churches opened themselves up for them. But it was also on the down low. Nobody really knew that they were there."
Lozano dates the emergence of sanctuary from the shadows to the high-profile case of one of her parishioners: Elvira Arellano. Arellano came to the US from Michoacán, Mexico, in 1997. Facing deportation in 2006 — almost five years after being detained in an ICE sweep at O'Hare International Airport where she worked cleaning planes — she took refuge in Lincoln's sister church, Adalberto United Methodist, a few miles north in the Chicago neighborhood Humboldt Park. She lived there for a year with her son, Saul, supported and protected by Lozano and others. Eventually, she landed alongside radical Shiite cleric Muqtada al-Sadr and actor Sacha Baron Cohen as Time magazine's "person of the year," and became the defiant face of the new sanctuary movement.
Her defiance was among the early actions that brought the cause of sanctuary into the light in the mid-2000s, and paved the way for other undocumented immigrants to live openly, like Larissa Martinez, the Yale-bound high school valedictorian who revealed her immigration status in her graduation speech last year, or the thousands of other young people who have rallied under the slogan "undocumented and unafraid." By hiding in plain sight at Adalberto, Arellano aimed to send a message that she was not a threat. "I am a mom and a worker," she told Time in 2006, "not a terrorist."
In 2012, in an initiative borne out of the '80s sanctuary movement, the Chicago City Council passed the Welcoming City ordinance, designating Chicago a "sanctuary city." But as the new sanctuary movement grows ever more urgent in communities of faith, what that designation signifies on the civic level is still confusing.

On the street, "sanctuary city" simply means that the city has promised not to actively participate in federal efforts to identify and detain undocumented immigrants. For example, if a Chicago police officer stops you for running red light, he's not supposed to ask about your immigration status — let alone turn your name over to the feds. But there are exceptions — in cases where a person has a felony conviction, warrant, or is pending felony prosecution, or if they are a known gang member. And the protections that are promised vary from jurisdiction to jurisdiction. Sanctuary, as practiced by municipalities, is defined by what the city won't do rather than what it will or can — and if that police officer decides to ask for your papers anyway, there's really nothing that can stop them from doing so.
In 2007, after leaving the relative safety of the church, Elvira Arellano was arrested in Los Angeles and deported. But after seven years in Mexico, where she became an international activist for migrants rights, she returned to Chicago. Three days after the inauguration, in late January, she introduced Fourth District Democratic Rep. Luis Gutierrez at a town hall held at Lincoln United. Hundreds of people packed the church in Chicago's Pilsen neighborhood, and an overflow of the crowd clustered around a video monitor in the basement. The audio crackled and cut out as one speaker after another testified, in both English and Spanish, to the fear the new administration had fanned in them anew. Propped aslant in a window was a cardboard sign with a pointed message: "Make America Mexico Again."
Despite creeping gentrification, Pilsen remains heavily Latinx. And with a Mexican population second only to that of LA, Pilsen's also the heart of the Mexican-American community in Chicago, and by extension, across the Midwest. Gutierrez, who's Puerto Rican, has represented the district since 1993. A ferocious orator known affectionately as "El Gallito," or "little fighting rooster," he was one of the first elected lawmakers in Washington to announce in no uncertain terms that he was boycotting the inauguration ceremony; instead, he marched with his family at the Women's March the following day. He hadn't cooled off by the time he took the mic in Chicago, two days later.
The intended effect of the sanctuary city designation aligns with that of the faith-based sanctuary movement: to protect the community at large.
"He says he's going after criminals! Do these look like criminals to you?" Gutierrez gestured to the crowd, which cheered with vigor.
"They are doctors and engineers and policemen and students! And this community," he continued, "will defend and protect them with every fiber we have in our body!"
The intended effect of the sanctuary city designation aligns with that of the faith-based sanctuary movement: to protect the community at large. When undocumented immigrants publicly seek sanctuary in churches, they are both drawing attention to their cause and protecting family and neighbors from federal agents who might come knocking on their doors in the process of a search. Similarly, by declaring itself a "sanctuary city," Chicago claims to be making it safe, or safer at least, for undocumented immigrants to live visibly and truthfully in the world. They are able to seek out city services, for example, without worrying that their immigration status will be questioned. They could, hypothetically, even call the police.
But still, many long for clarity. "The Mayor has repeatedly re-affirmed in recent weeks that Chicago is a sanctuary city," my friend Chicago playwright David Isaacson wrote to his alderwoman last week, as rumors of ICE raids and immigration checkpoints on the CTA swept across the city. "But I remain unaware of any tangible actions to back up his words. Is the city monitoring ICE activity to see if there is an upsurge? Are they working in the 50th Ward and across to city to make immigrants aware of legal protections? … Our immigrants are not feeling a sense of sanctuary."
David hasn't heard back from his alderwoman yet.
But before Trump was even in office, Chicago Mayor Rahm Emanuel announced the creation of a $1 million "legal protection fund" for immigrants in need of legal assistance. "I want [immigrants] to know that the city of Chicago — your children, you, and your family — are safe, secure, and supported," he told the media at a press conference in early December. "We're gonna put resources to ensuring that you're safe, secure, and supported. It builds on all of the other things we've done as a welcoming city."
Activists like Tania Unzueta, legal and policy director for the Chicago-based Latinx/Chicanx advocacy group Mijente, don't think that's nearly enough. A leader of the "undocumented and unafraid" movement, she forcefully argued that the bar for what "sanctuary" means has been set too low, in an op-ed for Univision and later in a report available at Mijente's website. True sanctuary, wrote Unzueta, must be more than symbolic and good PR. "For sanctuary efforts to achieve their stated goal of establishing real protections for city residents," she wrote, they need to be reframed in the context of state racism and police violence, and must expand to protect not just Latinx immigrants but African-Americans, Muslims, and anyone else at risk of harassment, violence, or arrest.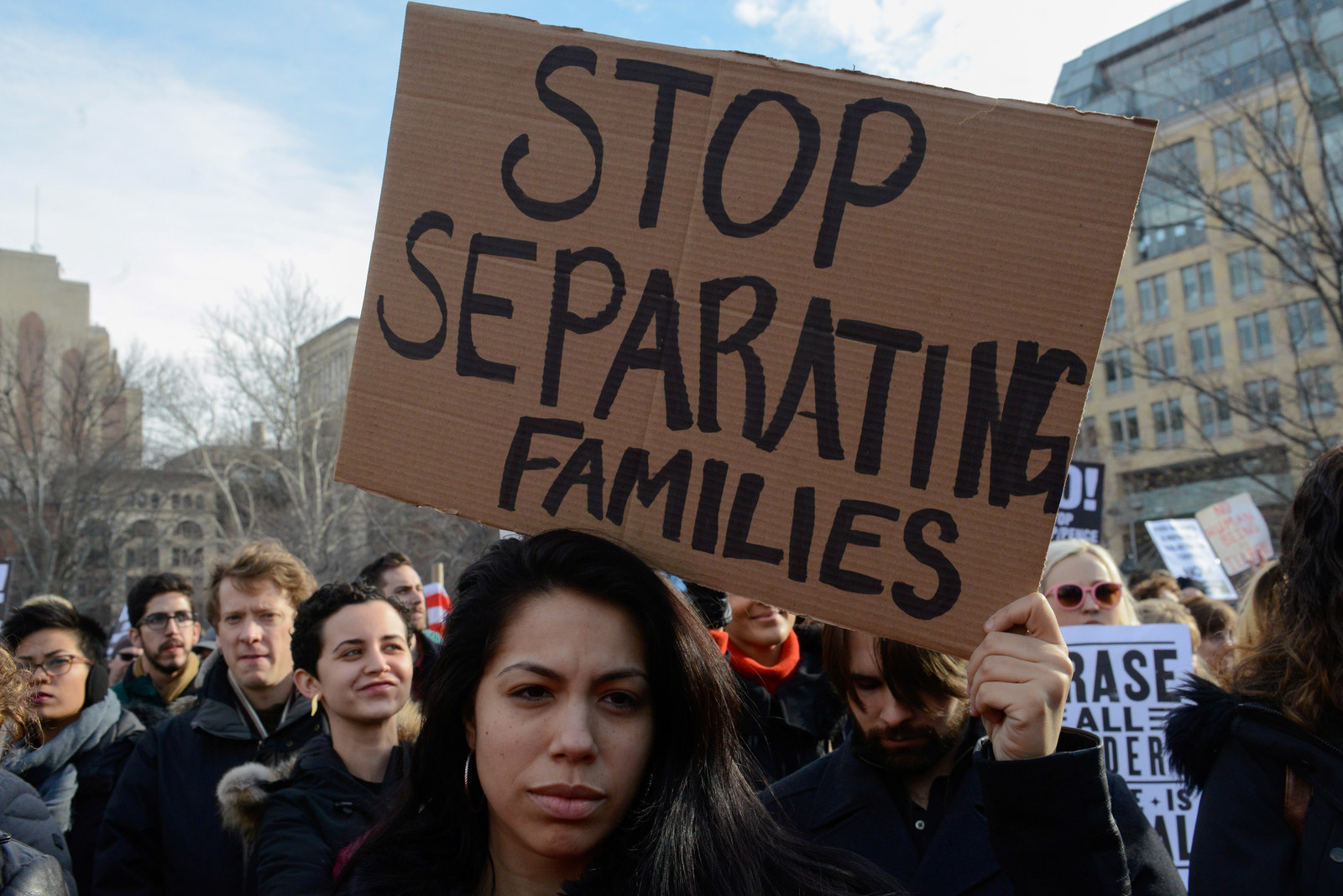 "Lopez? Hernandez? Castillo?"
In mid-February, three weeks after Inauguration Day, the basement at Lincoln United Methodist Church was again packed — this time for a free legal clinic. It's a weekly thing, but attendance has spiked more than 20% since Jan. 20. As volunteer lawyers called out the names of people waiting for help with deportation orders or renewing DACA paperwork, a small, striped cat stalked the room, suffering the grasping pats of restless children.
An off-duty security guard monitored the door; another one, with a concealed-carry permit, was upstairs. They were new additions, ever since the discovery earlier in the week that a white supremacist arrested for vandalizing a Chicago synagogue with swastikas and smashing a window was the same man who had crashed a church Bible study group two months earlier.
The church — like churches across Chicago and the country — was getting ready to take people in. They were putting in showers in the basement, and marshalling a battalion of volunteer lawyers. "I think people are taking this too passive — we should've been way ahead of this," Emma Lozano says. "But churches are equally as bureaucratic as anywhere else. ... I think our churches need to step it up, and they need to read their Bibles and they need to get on it."
Asked if she can divorce the concept of sanctuary from its political and religious context, she pauses.
"You know how there's the eye of the hurricane? You could be surrounded by the storm but there's a place where it's quiet and it's tranquil, where you can still think. Where you can prepare yourself and meet with people, and come up with a strategy for defense and secure yourself. That's what I think sanctuary really is."
In early February Maria Castro, a community activist and organizer with Arizona's People United for Justice, and more than 100 others physically blocked a van to try and prevent the deportation of García de Rayos, the mother of two who had been arrested in Phoenix. Clearly, offering sanctuary may soon not just entail protecting the bodies of those at risk, but putting one's own body on the line. In a recent interview, Castro explained her actions: "This is a moment where we need to pick ourselves up and choose where we are standing. We can't sit down anymore."
Martha Bayne is a writer and editor based in Chicago, and senior editor with Belt Publishing, producing independent books and journalism for the Rust Belt. Her work has appeared in the Chicago Tribune, Crain's Chicago Business, the Chicago Reader, the Baffler, the Rumpus, Latterly magazine, and other outlets.