Why Cable News Blew The Coverage Of Wendy Davis' Filibuster
Texas state Sen. Wendy Davis' filibuster of a restrictive abortion law blew up on social media, but cable news networks ignored the buzz and stuck with rebroadcasts of earlier shows. Orlando TV news anchor Mark Joyella on why the cable networks dropped the ball.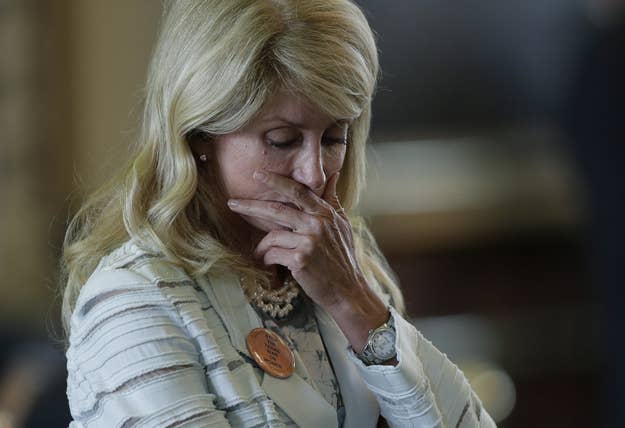 We obsess in news about what viewers want. Will they respond to subtle wood notes in an otherwise sleek glass news set? Which would news viewers think is more suitably urgent, a blue or red graphics package?
Producers and managers dissect the precise language in a news tease like a piece of critical, calculated poetry: Which words, in which order, said with exactly what kind of inflection, will get an audience to stay watching into the next quarter hour?
And then there was last night. A Texas state senator, Wendy Davis, sparked a fire that should have been easily visible from the upper reaches of the media stratosphere gathered at 30 Rock, the Time Warner Center, and 1211 Sixth Avenue.
It wasn't just that a story was happening — an important story, about politics, and process, and filled with surprisingly rich characters. It was more than that. It was a glaring example of something news executives need to think about instead of spending another two hours wondering if the morning-show host needs a better haircut: The audience was already following the story they wanted to watch. All you had to do was get in on it.
No need for promos, outdoor advertising, or Facebook keywords. They were just sitting there, bitching on Twitter that the only way to follow the story was online — thanks to a legislative feed put up by a nonprofit, the Texas Tribune, and streamed to YouTube.
At one point near midnight last night, 182,000 people were watching the maneuvering of state legislators. State politics. A filibuster. As news executives would describe it, ratings poison.
But it wasn't. It was gold. And with CNN, MSNBC, and Fox News in re-airs, the audience assembled all by itself around their devices — watching a 4-inch video box and tweeting madly about what they were seeing.
This graph shows just how fast the story blew up on Twitter: hitting a peak of 5,776 tweets per minute. According to Twitter, the #standwithwendy hashtag had 400,000 global mentions Tuesday. (Cable news execs: That's "trending," right?)
Clearly, a hot hashtag and rolling columns on TweetDeck don't quite translate into something that America is passionately interested in. America at large was probably watching America's Got Talent. But for cable news — 180,000 viewers, that's a win.
On Monday night, 180,000 viewers (let's assume for the hell of it that everyone on the stream was within the key demo of 25–54, which surely they were not…but just for fun) at 11 p.m. ET would have beaten Chris Hayes on MSNBC (98,000), Anderson Cooper on CNN (113,000), and Showbiz on HLN (149,000). O'Reilly would still have won, with 287,000 in the demo.
But still. This was an audience that cable news folks should have wanted to serve.
You can't plan, program, or promote for this. You just have to be smart enough — and flexible enough — to jump when it happens. Those people who watched the YouTube feed? You think they would've rather watched it on their flat-screen — perhaps even with some helpful analysis and a few live reports from the Texas state Capitol? That number could've been far larger.
But everybody ignored it and stayed with rebroadcasts. And so the audience went elsewhere. They went online, and while they bitched about cable news skipping the moment, it was a moment.
And next time, when people are crystal clear about what they want, and you don't give it to them, they might not even notice you're not there.
Mark Joyella is an anchor/reporter at Orlando's ABC television station, WFTV. He also maintains a blog,standupkid.tumblr.com.