Area of Expertise is a column on niche interests, personal passions, and other things we might know or care a little too much about.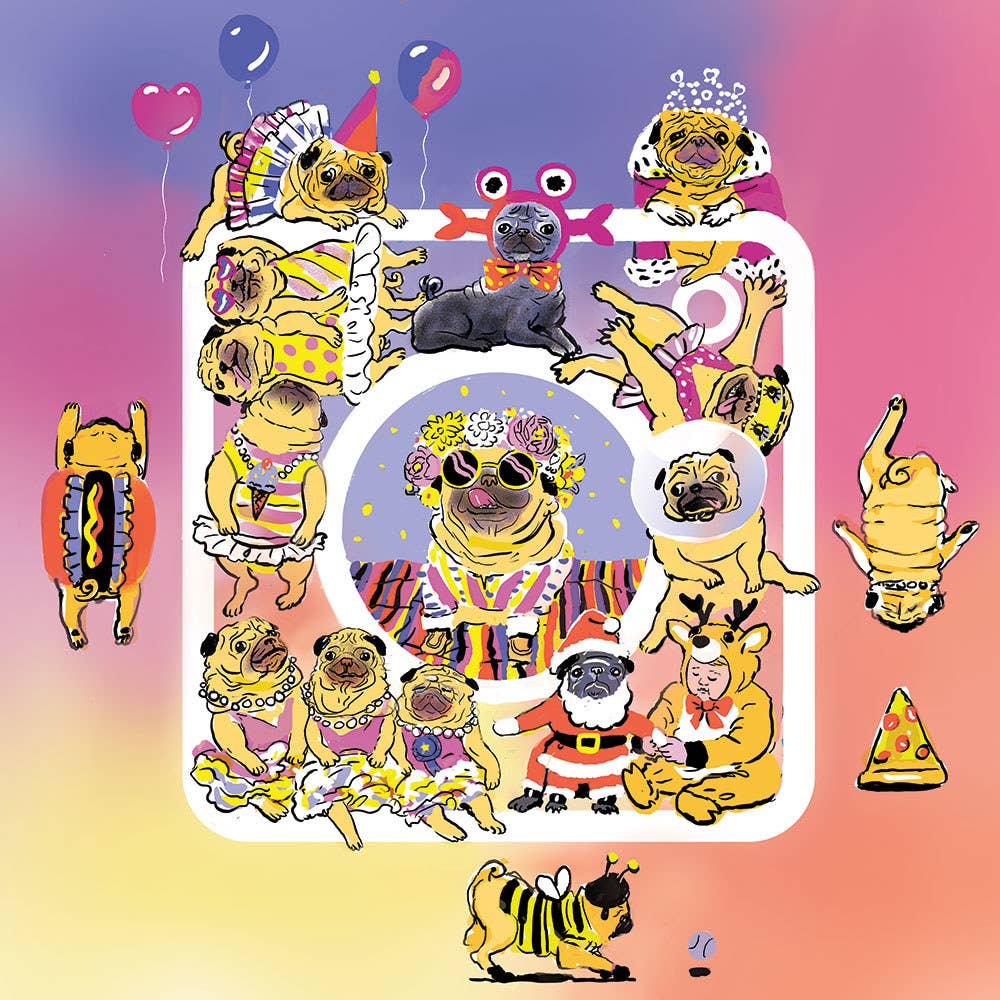 I know a small corner of the internet that is safe and good and pure, a place I go to when the world seems horrible and mean (often): my dog Bizzy's Instagram feed. Bizzy mostly follows other pugs on Instagram, with a few non-pug dog pals mixed in, too. No humans. Bizzy is not a participant in many things: She is a good girl but a bad traveler, and she's anxious and breathes too wheezily to be a regular at any dog runs. But she's very good at receiving belly rubs and faving photos (with a little help from me) and living vicariously through a core group of pugs with significant followings in a thriving online community that is commonly known as Pugstagram.

You may have heard of the most famous Instagram pug, Doug the Pug. He's constantly posing with celebrities and appearing in movie trailers and doing other elaborate bits. Bless him, but Bizzy and I are not here for that. Doug is unknowable, a pug cipher who is always on, always performing for his 3.5 million (!) followers. Doug is the Tom Cruise of pugs; his life feels too produced to be authentic.
No, the heart of Pugstagram is Hamilton the Pug, a spokespug for the Shelter Pet Project who loves his little bro, Rufus, and who loves his plush Grover but hates Mondays. Rescued from an Ohio shelter, Ham has lived in New York City for the past five years. I loved him before I met my husband and we adopted our own dog; I loved him before Lin-Manuel Miranda would recontextualize the name Hamilton forever. When the internet is bringing me down (nearly always), I check in on Ham and Ru. Each Insta photo of Hamilton is like a cuteness capsule that I believe would do wonders for mental health if it were ingestible. That I have a pug of my own now, who is also very photogenic, does not diminish my enjoyment of Ham's regal bearing.
Hamilton was my entrée into a world of a community of pugs who are mostly semi-famous, with, say, fewer than 100,000 followers. But they are very big deals in their own world; most are VIPs at Chewy and influencers on the BarkBox payroll, and many sell their own merch. But their owners are clearly not making zillions off of them. Yes, the pugs are content, internet commodities, but they still feel like they're pets first: funny little bunkeys (a pug is a combination of a bunny and a monkey) who live in real homes and eat real meals and demand treats always. And their fundraisers are great. Hamilton and Rufus will often post personalized messages if you donate to their favorite animal charities, like when they aided me in wishing my husband a happy Valentine's Day.

Bizzy and I love to admire the glamorous lifestyle of the Pugstagram crew from afar. Owners and pugs have weekends in the Hamptons together; they have barkday parties where elaborate treats are served. They love celebrating Shark Week and the royal wedding, and all of the holidays. When they team up, it's Avengers-level blockbuster material, but even on their own they're all superheroes.
Charlie, aka the Black Pug, refers to his human baby sister as his "puppy." He licks her tiny little feet; she squeals with delight. She summons the motor skills to pet him, he tolerates it. This is the kind of content that could put the entire wellness industry out of business, given the right distribution. The Pugdashians are like the Menudo of Pugstagram: The members sometimes change, but their act remains cohesive and charismatic. The Pugdashians are fancy bitches (obviously I say this with love) but much less focused on commerce than their namesakes are, and much more about body positivity and napping. Surf Gidget is a white pug (very rare) who is talented at surfing (also very rare). Minnie and Max are part of a pug crew that they call the #brachpack. (This is a pun on the word "brachycephalic," which refers to smooshy-faced dogs.)
There are more, so many more, and their owners systematically plan meetups in big cities. Gatherings have included Pugs Take Boston, where they hosted a pug prom, Pugs Take Vegas, and Pugs Take DC. Soon, the pugs will gather to take Philly. These meetups are like the Golden Globes of Pugstagram — all of your favorites are there, in so many different combinations. "Holy shit, Wellington and Ham are hugging each other" or "Minnie and Max know Saty!"
The behind-the-scenes shots from these meetups are excellent reminders of how well curated Insta feeds are and how many people it takes to set up just one shot. We don't often see angry barking, or pooping, or shedding, which any pug owner knows is its own plague. That's why the outtakes are so refreshing — they remind us that pugs are not perfect all the time. These dogs, no matter how many cute little outfits they own, are only human.
Pugstagram is not always pure escapist pleasure. There is nothing quite as dark as scrolling through your dog's Instagram feed for a quick pick-me-up and discovering that one of your favorites has, as their owners like to say euphemistically, crossed the rainbow bridge. I admit to crying in the street, or on the train, or once, in a work meeting, because these losses feel personal. When the Pugdashians' foremost diva, Cuppy, passed away, I called my husband in a panic. Last summer also brought the loss of dear, beautiful Chubbs, and sweet, gorgeous Violet. It was almost too much to handle.
But Pugstagram is a place of healing and regrowth. No little pug could ever replace Cuppy, but Sissy, Tilly, and the newest Pugdashian addition, Natty, make a great team. And even though Chubbs' owner left her name on her Insta account, there's a new tiny black pug in her photos; meet Saty. Last year Hamilton wore a pin of Violet to mourn her, but this year Violet's brother Timmy ate vanilla ice cream in honor of her memory. On Pugstagram, dogs' lives are meant to be celebrated. So in that spirit, here is a moment of pure joy: the time Bizzy finally met Ham and Ru, about a year ago.
There will be more sad days. There will be sorrow. I will try to do my best to learn the lessons Pugstagram has taught me, and smile because it happened, rub Bizzy's belly, and then have some ice cream. ●

Maris Kreizman's writing has appeared in the New York Times, the LA Times, Vanity Fair, Vulture, Esquire, GQ, OUT Magazine, and more.