A banner placed in front of the Swiss Ambassador to Venezuela's house is the cause of what may be the highest-profile tiff over golf balls in diplomatic history.
The Swiss ambassador's house is next to the posh Caracas Country Club in one of the wealthiest areas of the city. And it's golf course has become something of a nuisance to the Swiss diplomat.
Although Swiss Ambassador Sabine Ulmann declined to comment to Reuters, Venezuela's Golf Association took the issue really seriously.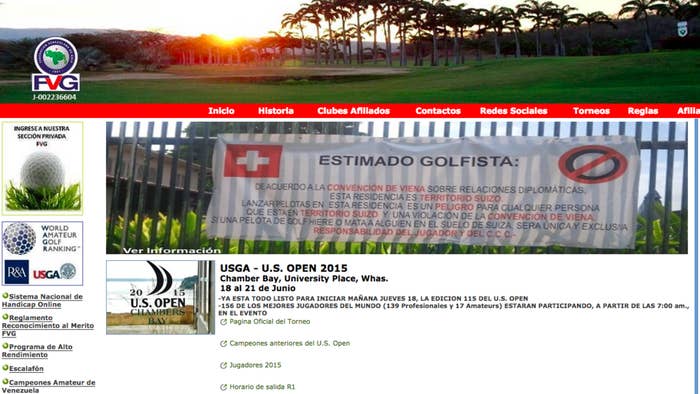 In a statement published by the Golf Federation, the organization said it is "astonished" by the sign.
Whoever wrote that banner has not checked the Vienna Convention properly because [the convention] does not say that diplomatic foreign houses are indeed Swiss territory, but what [Vienna's convention] states is that these houses shouldn't be violated and that they should be protected by the welcoming state.
Although the tone of the banner does not make clear whether it's a joke, the Caracas Country Club's statement gave five reasons why golfers had nothing to do with hurting diplomatic relations.
"We would like to suggest — for Switzerland to preserve the high prestige the country has internationally — to remove as soon as possible the disconcerting banner we are talking about," the Caracas Country Club asks.
On Twitter, Venezuelans are referring to this episode as a "diplomatic war" between Switzerland and Venezuela.
"Glad our international conventions are being exercised for the good," someone commented on Facebook.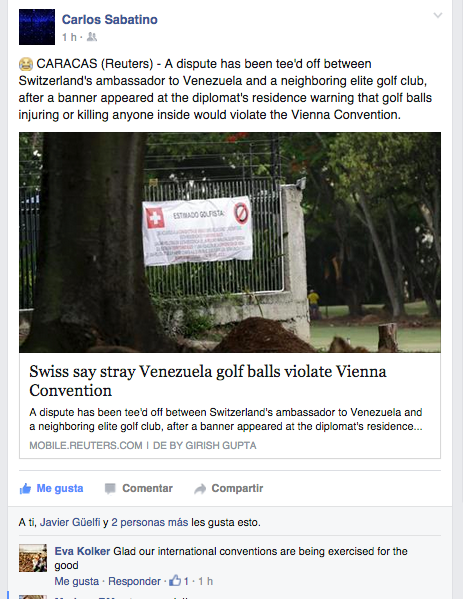 "Golf balls generate problems between Switzerland and Venezuela."
Some even talked about the "golf war." (We aren't sure if they meant for it to be a pun on "Gulf War," but we appreciate it nonetheless.)