World's Largest Hedge Fund To Get Even Bigger
Ray Dalio's Bridgewater Associates, the world's largest hedge fund, appears to be ramping up its hiring activity. Some say the firm plans to double its head count before its move to a new headquarters.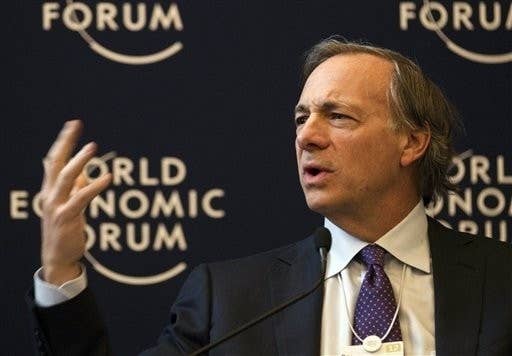 The world's largest hedge fund, Bridgewater Associates, is going on a hiring spree, with at least one internal recruiter telling prospects that the $140 billion fund is attempting to double its head count.
The rumblings of recruitment activity come nearly a year after Bridgewater announced plans to open a 750,000-square-foot office and by 2017 move its headquarters to Stamford, Connecticut, from Westport. At the time, the hedge fund said it would add 750 to 1,000 "high-level jobs" in order to qualify for as much as $115 million in incentives. That's a fraction of the new campus' $750 million price tag.
Bridgewater isn't hurting for cash, however. Last year, founder Ray Dalio and his firm took in $2 billion in management fees, despite mediocre performance. In fact, the firm's flagship Pure Alpha fund was up a mere 0.8% from 2011 to 2012. Still, the fund has averaged 14% returns every year prior dating back to 1991, which is why in the hedge fund world, Dalio is still king.
In recent weeks, a flurry of recruiting activity has emerged from the firm for positions that range from research to investment to consulting jobs, according to sources familiar with the situation or who have been approached by headhunters for the fund. On its careers website, Bridgewater currently lists 68 open positions dating back to November of last year.
An outside representative for the firm declined to comment.
Candidates who have been approached or are being considered for a job at Bridgewater might first want to take our quiz: Hedge Fund Handbook or Kinky Sex Advice to see what they are getting into.
Update - 2:50 p.m.: An outside representative for Bridgewater declined to comment.
Recruiting letter used by Bridgewater in recent weeks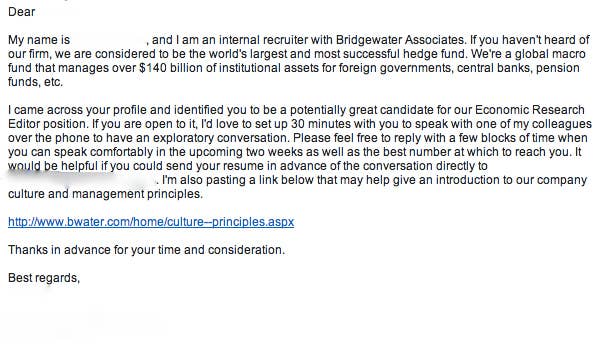 One of the openings on Bridgewater's careers site: