Why A Struggling Brooklyn Hipster Art Haven Had Its Crowd-Funding Campaign Shut Down
The crowd-funding site Fundrise did not believe that investments in recently shuttered Bushwick art collective 3rd Ward were a safe bet.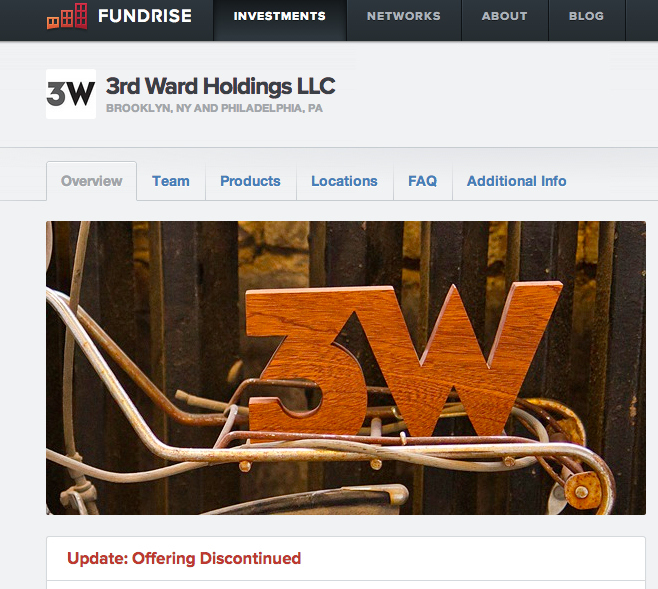 Staff and members of 3rd Ward were shocked to learn yesterday afternoon that the Brooklyn art collective would shut its doors that evening, offering no membership refunds and a limited window for artists renting space there to go back for their materials.
In a strange twist, the Brooklyn artist haven and hipster bastion was clinging to hope of righting its financial ship (which had been set astray by falling revenue, an expensive new space in Philadelphia and a culinary endeavor) with a crowd-funding campaign aimed exclusively at "accredited investors" — or people probably unlikely to attend a $10 weekly Drink and Draw night at the Bushwick warehouse space.
Just what is an accredited investor? The Securities and Exchange Commission identifies this individual as anyone with $1 million in net worth outside of one's primary residence, a $200,000 annual earner, or someone with a $300,000 joint income with a spouse. The fact that 3rd Ward set its sights so high is the result of a new SEC ruling that companies that publicly market can only solicit investments from such people.
And with accredited investors in its pocket, 3rd Ward's founder and president Jason Goodman thought he'd have the momentum to raise the $1.5 million needed to keep 3rd Ward afloat in just one week.
That is, until Fundrise decided to pull the plug on 3rd Ward's offering, deeming it too risky for accredited investors. It posted this message on 3rd Ward's Fundrise site:
Due to the fact that 3rd Ward has shut down operations, we have discontinued this offering.

At Fundrise our goal is to democratize access to local investment opportunities that otherwise would not be available.

If an opportunity for investment that sufficiently protects investors emerges, we will reach back out to those who have indicated an interest.
As for the investors who already contributed money, the members of 3rd Ward and the general public who shelled out around $450+ per multi-week class, many of which were still in session, they'll have to see if 3rd Ward can draw up a plan to get them their money back.