What Went Wrong For Rosetta Stone
A second activist hedge fund has bought up a large stake in the struggling language-learning company. Here's why the two activists say change is needed — and fast.
Two of the three largest investors in Rosetta Stone have declared their intent to take action at the struggling language-learning company, which, according to John Lewis, founder of the activist hedge fund Osmium Partners, shows that something is in dire need of change.
Fresh off a major victory at JDate and Christian Mingle parent Spark Networks, where he replaced four members of the board and forced the resignation of longtime CEO Greg Liberman last month, Lewis has taken a nearly 10% stake with the intent to agitate for change at Rosetta Stone. Osmium has aligned with Nierenberg Investment management, now Rosetta's third largest investor with a 7.9% stake, to force a management change at the company, and the firms are taking their grievances public.
In three separate filings with the Securities and Exchange Commission over the summer, Nierenberg laid out its case for what needs to change at Rosetta Stone. And on Tuesday, Lewis spoke at 2014 New York Value Investing Congress to share his insights. Here's what he thinks went wrong:
A lack of focus.
Nierenberg believes Rosetta Stone is trying to take on too many endeavors at once.
"We do not think that the focus at RST is tight enough. We believe, instead, that the company is undertaking too many initiatives simultaneously," Nierenberg wrote in its first filing earlier this summer after announcing it would take action to replace the board at Rosetta Stone. "We fear that RST's 'initiative overload' may be causing sub-optimal execution and impairing free cash flow. We find it difficult to believe, for example, that all of the many product, pricing, distribution, and channel initiatives being pursued in RST's North American consumer (NAC) business are equally worthy."
Continuing to miss earnings and a plummeting stock price.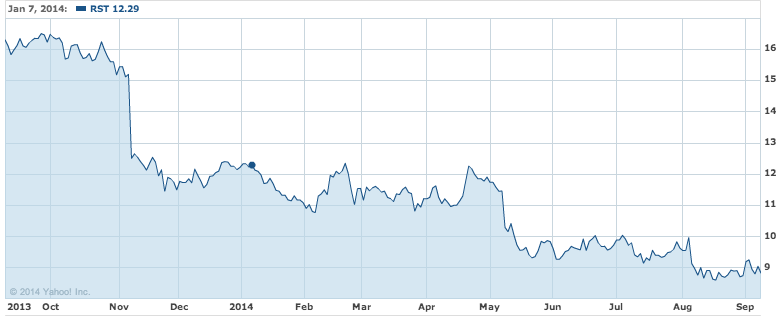 Rosetta Stone's stock has been nearly cut in half in the last year, due in large part to a shrinking user base in North America, a segment for which sales were down 35% year over year in the second quarter of 2014. At the VIC, Lewis said Rosetta Stone should be trading at a $22 per share stock. Shares of Rosetta Stone currently trade around $8.95 each.
The Duolingo problem.
Rosetta Stone is also failing to compete with competitors, Osmium has contended. Multiple studies have found Duolingo more effective than Rosetta Stone.
Huge spending on advertising and marketing — specifically expensive videos.
This, according to Osmium's Lewis, is one of the most egregious issues facing shareholders of Rosetta Stone, as he says the company, valued today at $145 million, has spent nearly $1 billion on research and development and marketing and advertising in the last five years. Lewis questions the value of some of these initiatives, like teaming up with Vice's sports department to create videos that send athletes to far-flung locales to promote the brand. Rosetta Stone, which advertises heavily on basic cable and the radio, also released a nearly three-minute video featuring a huge cast and special effects, that it has since taken down from YouTube.
The move signals the company could be at least partially open to taking advice from its shareholders.
"We welcome the input of all of our investors and certainly value their perspectives," a representative told BuzzFeed News. "We believe these investors have the long-term interests of Rosetta Stone at heart, and we look forward to their constructive input as we continue to execute on the company's growth strategies."
Both activists are pushing for a change — and fast.
"There is no sense of urgency, and credibility issue on all of these fronts," Lewis said at the VIC earlier this week, a sentiment Nierenberg echoed in an Aug. 19 filing announcing its allegiance with Osmium.
"We believe that time is not the friend of any challenged company," Nierenberg wrote. "Investor sentiment is crystallizing about the urgency for change at Rosetta Stone."