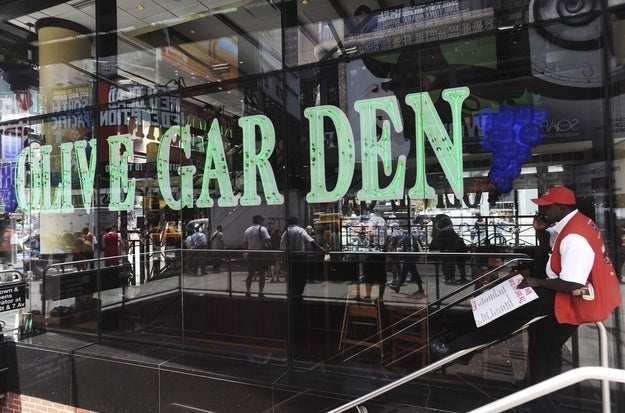 Not even the breadsticks, it appears, can save Olive Garden from financial turmoil. And its sister chain under parent company Darden Restaurants' umbrella, Red Lobster, doesn't appear to be faring much better. That's why a hedge fund has launched an activist campaign to break up the company.
Barington Capital Group, which holds a 2% stake in Darden, is pushing management to separate into three companies: one consisting of the struggling, or in the hedge fund's words, "mature" Olive Garden and Red Lobster chains; another featuring its up-and-coming, "higher-growth" restaurants like The Capital Grille and Longhorn Steakhouse, among others; and a third that houses its real estate holdings.
In an 85-page presentation released Tuesday, Barington outlines its case, a majority of which details how the sagging financials and weakened brands of Olive Garden and Red Lobster are dragging down Darden as a whole. It's a fascinating look at two high-flying casual-dining franchises that have fallen on hard times. Here's a breakdown of what's going so wrong at Olive Garden and Red Lobster and how Barington plans to save them:
Of the 2,138 restaurants Darden operates in the U.S., 823 are Olive Gardens and 705 are Red Lobsters, with the two brands accounting for $6.2 billion of its nearly $8.7 billion in revenue.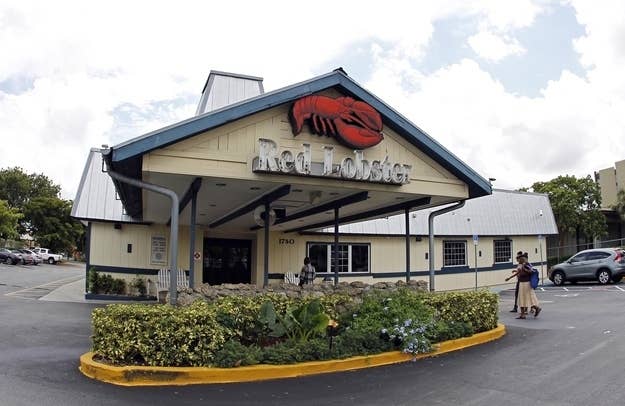 Barington thinks it can take Darden's stock from the mid-$40s to between $71 and $80 per share by breaking the company into two brand-specific groups and creating a third group to leverage the company's estimated $4 billion real estate portfolio.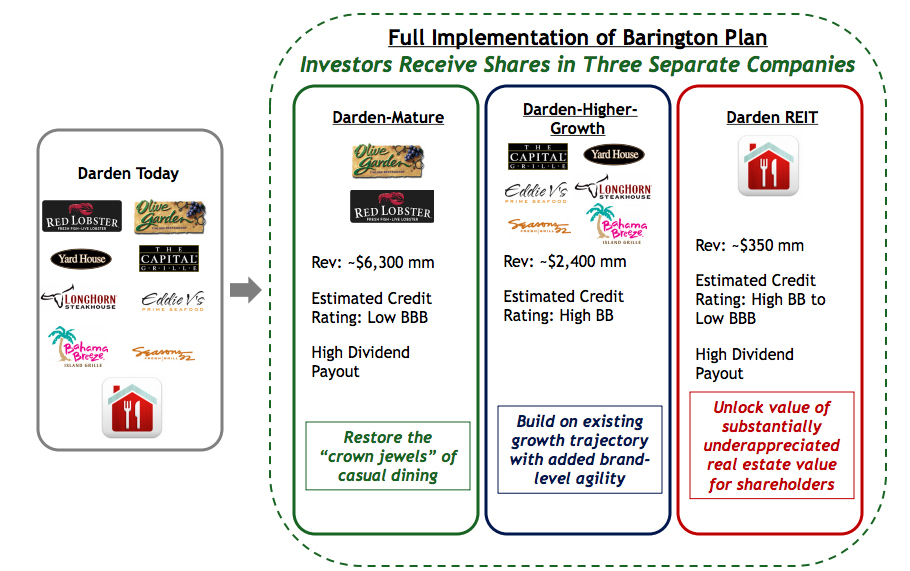 The idea behind the brand breakup stems from the fact that Olive Garden and Red Lobster are "mature" brands that are not showing the fast growth of other Darden brands. In fact, the two restaurants have been seriously underperforming in recent quarters.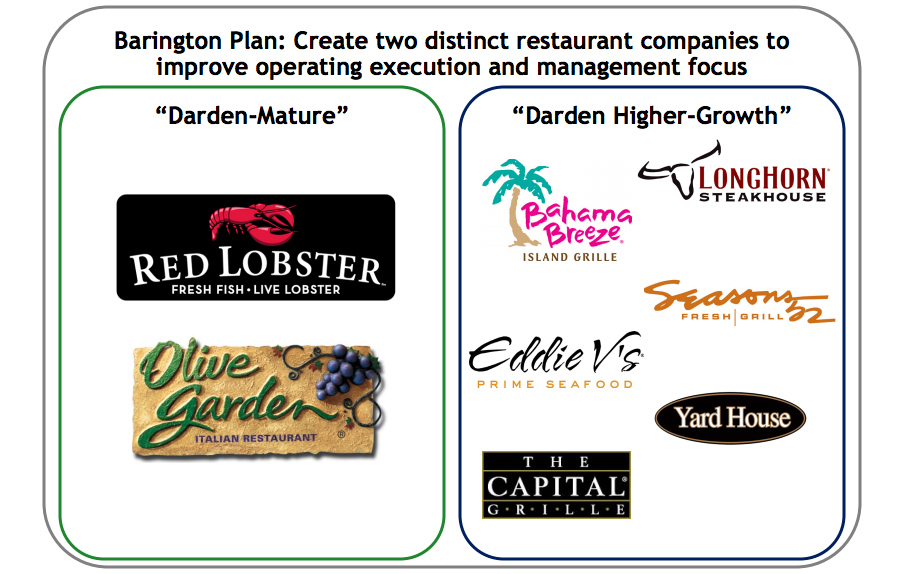 When you look at three-year revenue growth, Olive Garden and Red Lobster trail other Darden brands and the group as a whole by a wide margin, with Olive Garden actually showing declining revenue in the last two years.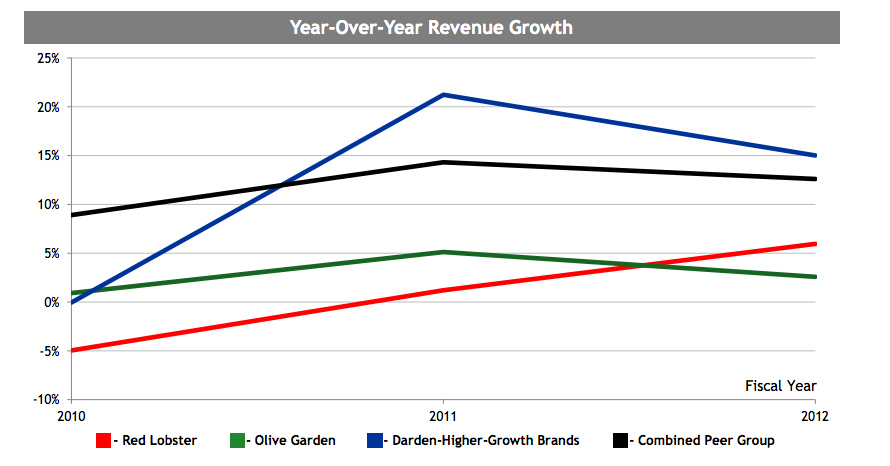 Moreover, the one-year average same-store sales growth figures show both Red Lobster and Olive Garden losing money.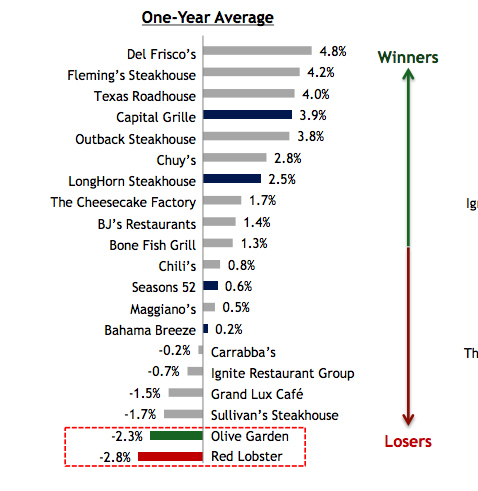 Part of the problem is that Red Lobster and Olive Garden customers aren't going for the chains' price promotions, like the $7.99 RLunch at the former and the 2 for $25 dinner at the latter.

As a result, these core brands have been in decline at Darden with a falling guest count and average check price.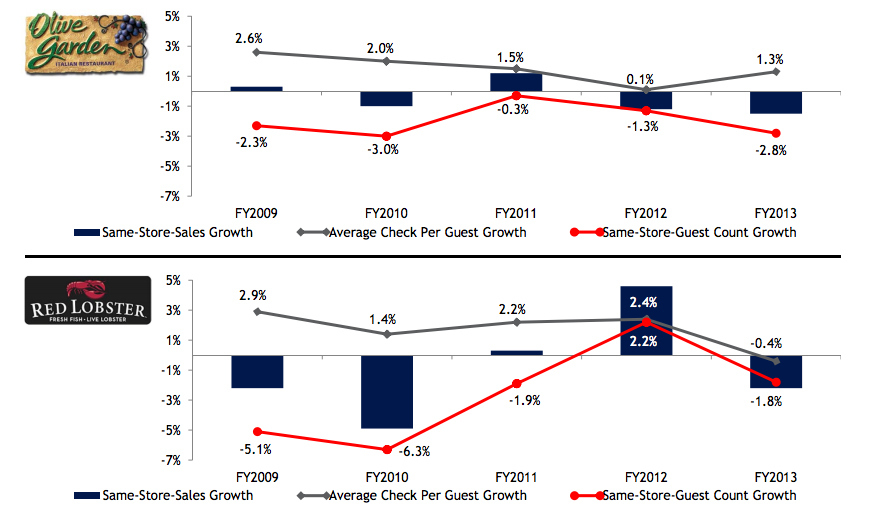 Another problem, according to Barington, is Darden's portfolio has too wide a range of average check-per-guest prices, with Olive Garden on one end of the spectrum at $16.50 and Eddie V's Prime Seafood on the other at $88.
The Barington presentation also alleges Darden lost focus on its core brands, marketing such ill-conceived products like Olive Garden's "Italiano Burger" this month.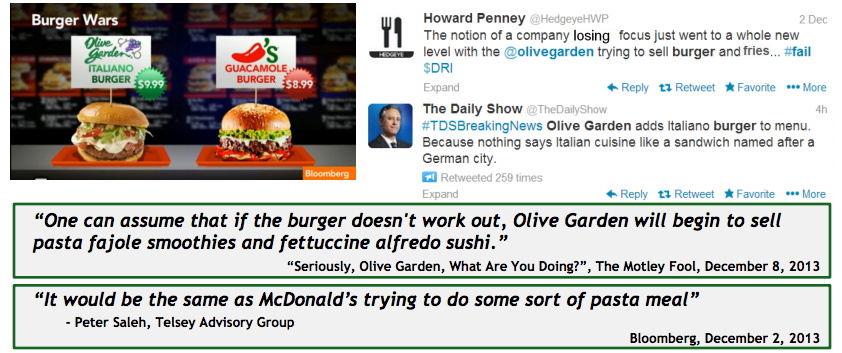 There have also been a number of changes at the top of each brand: Olive Garden has had four CEOs in 11 years, and Red Lobster has had three in nine years.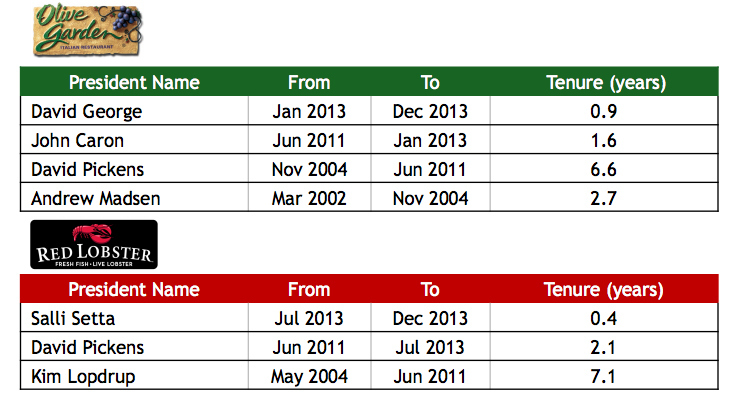 Barington's plan for Darden? Focused management to help rebuild Olive Garden and Red Lobster.
The chains, which Barington calls "among the largest casual-dining brands in the U.S.," demand a focused management's attention, and shouldn't be lumped in with other, disparate brands, thus leveraging the potential to put Olive Garden and Red Lobster back on top.
Update - Dec. 19, 11:45 a.m., ET: Darden has decided to spin out the Red Lobster brand
The restaurant group announced this morning that it would spin out Red Lobster and slow the expansion of its Olive Garden brand. Darden also said it was open to selling Red Lobster entirely.