How Ford's New F-150 Could Change The Pickup Truck Game
Ford announced the newest version of the world's best-selling pickup truck earlier this week, and the newer, lighter model could drive prices up and fuel the gains that pickup truck sales generally have already seen in recent months.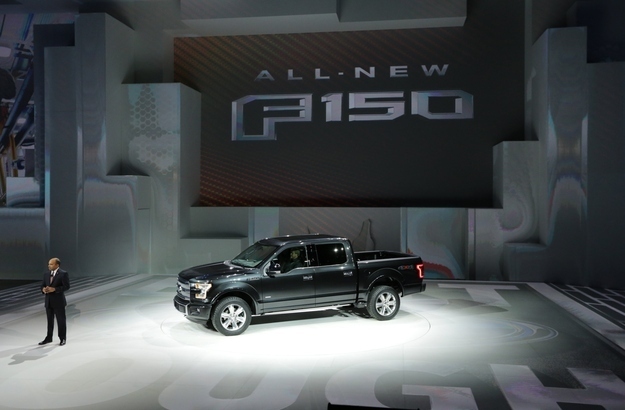 When Ford rocked the auto world earlier this week with its introduction of a complete redesign of the F-150, the world's top-selling pickup truck, the buzz out of the North American International Auto Show in Detroit focused on the model's new high-strength steel frame and increased fuel efficiency. But in a market where pickup truck sales are poised to see significant gains, Ford may in fact have introduced a higher priced model that people will actually pay for, analysts say.
"If we continue to be right on where pickup truck demand is going, which is 13% of total vehicle sales, it will likely mean that Ford will be more capacity constrained, which isn't a bad place to be because you could focus on a higher price point," said Itay Michaeli, an analyst at Citi covering Ford. "If the market's large enough, Ford could potentially be able to focus on the higher cost, and they should be able to find a pretty profitable place in the market."
New F-150s currently run customers in the high-$30,000 range, which outpaces competing models from General Motors and Dodge Ram, and is the best-selling pickup truck in the world, with about 37% to 38% market share. The capacity constraint that Ford could face, even with a higher cost vehicle, partially stems from the fact that people who buy pickup trucks tend to stick with their brand and model for life.
"This is maybe the most brand loyal segment," said Matt Stover, an analyst at Guggenheim who also covers Ford.
But in making purchasing decisions, those in the market for a pickup truck take fuel efficiency into account almost more than any other factor. Since the focus of the new F-150 design is on increasing miles per gallon — which it has substantially, pushing its average up into the high 20s — more customers may flock to Ford's line, thus increasing the potential for capacity issues.
"The big story is delivering a fuel-efficient truck to the loyal buyer," Stover said. "They're not capacity constrained, but they're getting close. They have the ability to sell more, but not dramatically more."
Correction: Ford's redesigned F-150 pickup truck has a high-strength steel frame. An earlier version of this story said it had a light-weight aluminum frame.