There Were More IPOs In 2013 Than The Boom Year Of 2007
Sure Twitter IPOed with bells on, but 260 other companies held their initial public offerings in the U.S. this year.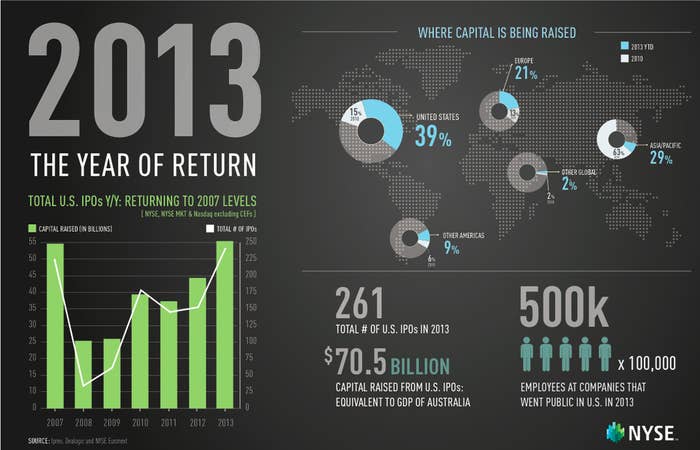 In what's being called a "renaissance" year for initial public offerings in the U.S., more companies held their initial public offerings in 2013 than in any year since the recession. But even more striking is the fact that this year's total of 261 IPOs in the U.S. passes that of 2007, the boom year for the markets before the the economy plunged into the throes of the great recession the following year.
According to data compiled by the New York Stock Exchange, U.S. IPOs on its exchange and the Nasdaq, including monsters like Twitter and Hilton, and others like Sea World, Potbelly, and The Container Store, raised a total of $56 billion in capital. Moreover, the companies that went public this year had more than 500,000 employees and made up 39% of global capital raised by IPOs — the biggest proportion of total money generated by a long shot.
In a statement, Scott Cutler, executive VP and head of global listings at the NYSE attributed the rise in IPOs this year to the passage of the Jumpstart Our Small Business Startups Act, which among other things, allowed for confidential filing of IPO documents making it easier for companies to go public.