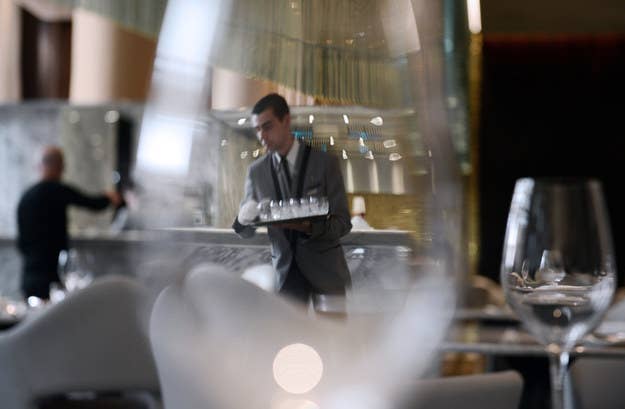 Late last year, when Commune Hotels CEO Niki Leondakis was looking for a chef for the restaurant of her most recent hotel, the Thompson Miami Beach, she wanted to go local. First she enlisted Michelle Bernstein, a chef with a huge Miami foodie following to open the Thompson's inaugural restaurant Seagrape. Next, she turned to a different kind of local celebrity chef — Dale Talde.
Talde isn't from Miami, but the Top Chef star is a local favorite to many of the people Leondakis knew frequent Miami Beach: New Yorkers.
"We brought in Dale Talde from Brooklyn in Miami because the corridor between New York and Miami was so strong," Leondakis said at a conference in New York Tuesday. "That way they experience the Miami version of their local community."
Talde's spot at the Thompson Miami Beach, slated to open this summer, is another reminder of where many hoteliers pin their revenue hopes for new properties these days: a buzzy restaurant and bar scene.
"Owners won't tolerate food and beverage losses anymore, they don't have to, and they know that," Leondakis said. "In urban settings at smaller hotels, less than 10% of the revenues in the restaurant are coming from the hotel, because there's so much local traffic. If you do it right, you're not just providing a great experience for your hotel guests, but for the local community, and if the locals are there, that's where the hotel guests want to be."
Long an afterthought, a hotel's restaurants and bars are growing more important to its overall revenue stream, as the proliferation of social media and online review sites like TripAdvisor or Yelp have bred a more sophisticated kind of customer.
"Consumers are smarter," said James Gersten, president and CEO of BR Guest Hospitality, which owns a few dozen restaurants and partners with hotels in New York, Las Vegas, and Atlantic City. "Because of celebrity chefs, the Food Network and social media, you have to be so much more on point to attract consumers, both travelers and the locals. Because of social media, consumers want to feel like they're in the right space in the right market."
Oftentimes, those who know best are celebrity chefs, Food Network Stars like Bobby Flay, Emeril Lagasse, Michael Symon, and many others, all of whom have multiple hotel restaurants across the country. Then there's ultra-hyped local chefs with a strong following, like Talde opening at the Thompson and Mario Carbone of Parm in New York, who recently opened the much hyped Dirty French restaurant in the Lower East Side's Ludlow Hotel. A connection to those big names can squeeze more money from guests, even outside of lunch and dinner time.
"Consumers are more willing to pay more for a product that's affiliated with a celebrity chef," said Mark Weiss, a senior vice president of food and beverage for Loews Hotels. "You can get $3 or $4 more for eggs at breakfast in the morning if they're associated with a big name."
For Gersten, upping the hotel food game is a big part of returning the industry to what he believes is bygone golden era.
"Magic can really happen in hotel environments," Gersten said. "It's the old school European environment we want to get back to, where the best things are happening in hotels instead of the worst things. We're hoping to bring back the Grand Budapest Hotel feeling through the restaurant."