Yahoo Should Consider A Deal With AOL, Says Hedge Fund
The activist hedge fund grabbing headlines recently for its engagement with Olive Garden took a "significant" stake in Yahoo and sent a letter to CEO Marissa Mayer encouraging her to consider a possible merger with AOL.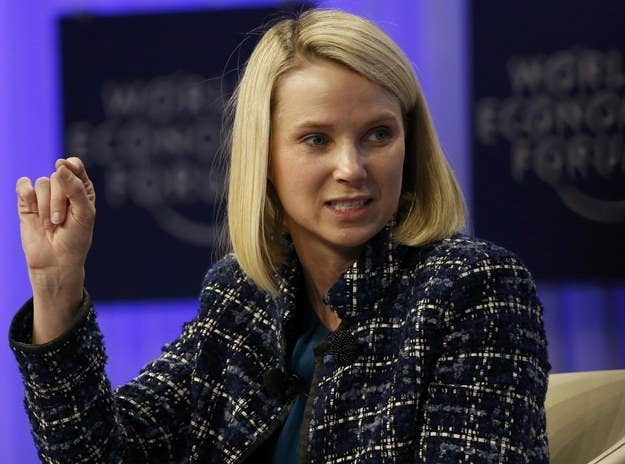 Update 5:25 p.m. eastern time — Yahoo has responded to the letter with a statement, included below.
Here we go again.
Another large investor is calling for the possible merger of Yahoo and AOL, and has taken a "significant stake" in the former to pressure management into a deal. Starboard Value, most recently grabbing headlines for waging an increasingly aggressive campaign to unseat the entire board of Olive Garden parent Darden Restaurants, announced Friday that it had taken the stake in Yahoo and sent a letter to CEO Marissa Mayer offering its thoughts on why a merger with AOL would be in shareholders' best interest.
This isn't the first time the Yahoo-AOL merger idea has been recommended. Last week AOL shares spiked on speculation over whether the company was an attractive acquisition target for Yahoo, based on an analyst note.
"We are committed, as an organization, to acting in the best interests of the Company and all of its shareholders," CEO Marissa Mayer said in response to the letter as part of a statement from the company provided to BuzzFeed News. "We have maintained, and will continue to maintain, an open dialogue with all of our shareholders. As part of our regular evaluation of Yahoo's strategic initiatives to drive sustainable shareholder value, we will review Starboard's letter carefully and look forward to discussing it with them."
Starboard knows at thing or two about AOL's business, as well. Back in late 2011, when AOL's stock was trading around $13 per share, the hedge fund took what grew to be a 5.3% stake in the company and successfully agitated for change at the company, including the $1.1 billion sale of 800 AOL patents to Microsoft and the closing of its money-losing Patch business. And although Starboard ended up losing the proxy contest with AOL, the stock price tripled during Starboard's engagement, and has since risen to around $45 per share.
AOL and Yahoo, at their core, produce online content across a variety of verticals. Most recently, Yahoo has hired high-profile personalities like the New York Times' David Pogue, as well as Katie Couric, as part of its new strategy around "digital magazines."
Starboard's letter asserts a deal with AOL could create cost saving synergies of up to $1 billion, as well as unlock shareholder value of between $11 billion and $17 billion over time. The hedge fund also wants to slow what it calls Yahoo's "aggressive" acquisition strategy that has seen $1.3 billion in deals since the second quarter of 2012.
"Going forward, we have great confidence in the strength of our business. The management team and the Board of Directors remain committed to building value for all shareholders through the continued execution of our strategy, investing in products that will drive sustainable growth: search, communications, digital magazines and video. We continue to leverage our portfolio of world-class products which include Yahoo Search, Mail, News, Sports, Flickr, Tumblr, and advertising solutions among others," Mayer said. "Additionally, we will continue to focus on evaluating various capital allocation initiatives, an update to which we plan to provide on our third quarter earnings call."
This also isn't Yahoo's first bout with an aggressive activist hedge fund.
Billionaire investor Carl Icahn fought his way onto the Yahoo board in 2008 after the company passed on a deal to sell to Microsoft for $47.5 billion. Icahn left the board 18 months later, saying then-CEO Carol Bartz was doing "a great job" in her role.
And in 2012, Dan Loeb of Third Point Partners successfully agitated for a seat on the company's board, and ultimately spearheaded a campaign to replace then-CEO Scott Thompson with Mayer.
Shortly after Mayer began her new role, Yahoo closed a $7.6 billion buyback deal with Alibaba, which it bought for $1 billion in 2005. Still, some shareholders are skeptical that buying AOL would add value to the company.
"There's no way [Yahoo is] worth negative money," one Yahoo shareholder told BuzzFeed News. "They have enough money to be able to work something out and do something bold. The simple question is, 'do we think that Yahoo's problem is they do not have enough scale?' If that's the problem, buying AOL makes sense. I don't think that's the problem. It's not a scale issue, Yahoo still has enough scale to do interesting things, and adding more impressions to the top of the pile isn't gonna help their CPMs or sell-through rates."
And after Alibaba went public last week, Yahoo received a huge infusion of cash as part of its stake in the company, half of which it has pledged to return to shareholders. However, now that the Chinese e-commerce giant has gone public, eyes are once again on Mayer and her turnaround of Yahoo. For the past several years, the company's online advertising business has stagnated, and while Mayer has been able to sate shareholders by returning value from the company's Alibaba stake, she still has to find a future for Yahoo after Alibaba.
Shares of Yahoo, which opened trading Friday at $39.01 each jumped more than $1.65 each as news of Starboard's letter broke, and have climbed beyond the $40.60 mark. In fact, merger rumors have typically been the only reliable way to cause sharp increases in Yahoo's share price in recent years given the underlying troubles the business has run into during Mayer's tenure.
Shares of AOL have spiked as well on the news, trading up by around $3.50 each to $46.15 per share.
Representatives from Starboard and AOL have not yet responded to requests for comment.