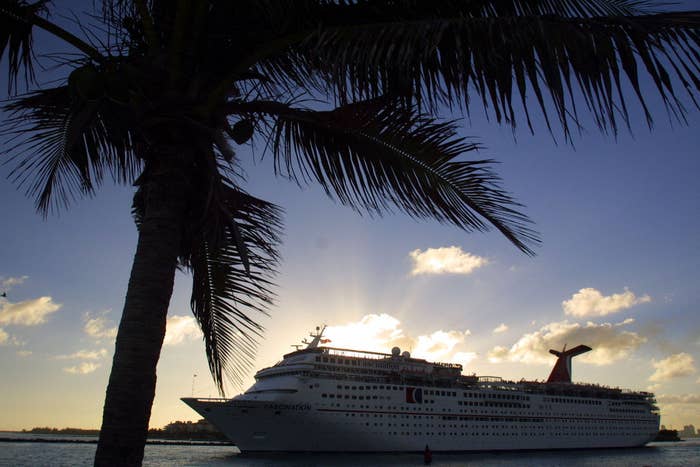 Today, Carnival Cruise Lines is announcing a new kind of ocean-based vacation: "social impact travel", where socially conscious types cruise the Caribbean performing community service for the needy.
These acts of aquatic do-gooding will be done through a new Carnival subsidiary called "fathom," a brand name whose "roots refer to a pair of outstretched arms, symbolizing the company's fundamental premise that travel can create good in the world," the company said.
A trip with fathom cost $1,540 per person, aboard a 710-person ship. Its maiden voyage will be to the Dominican Republic, "a country known for its spectacular beauty but also a country with great needs among its people," Carnival said. Once there, passengers will perform "social impact" activities.
"This is not a cruise," Tara Russell, CEO of fathom, told BuzzFeed News. "It's a social impact travel experience that happens at sea on a small repurposed ship. The cost is 'impact inclusive', and covers lodging, food and all the impact experiences on board and three impact activity days on the ground."
What, exactly, is an "impact activity?" According to Russell, the options will focus on educational, environmental, and economic improvement projects, such as helping a women's co-op pick cacao plants, practicing "conversational English" with school children, and building a a clay water filter.
"We make it really easy for a traveler to plug in and have a meaningful impact experience," Russell said. "We want them to see themselves as a giver of themselves on the trip."
Changing the world doesn't just happen on dry land. At sea, "products with a purpose" will be offered for sale onboard, with the company hoping shopping for such products will drive the average spend per passenger up to around the $2,000 mark. And there won't be any Broadway-style entertainment or casinos on the fathom ship — cruisers will get Dominican-inspired food, music, and film.
"The travel at sea time is really focused on a really cultural experience," Russell said. The company estimates that 80% of the people who book a fathom social impact experience at sea will have never been on a traditional cruise.
Fathom says this new kind of cruise-that's-not-a-cruise will "cater to a vastly underserved market of consumers who want to have a positive impact on people's lives but are not sure where to begin."
Who might that be? Russell said the company is going after three categories: "purpose-driven millennials", "mindful families', and "the bewildered and aware." The latter group, according to the company, refers to people, generally older, who may have just lost a loved one or become empty nesters, typically give to charity, but are "hungry for more of an experience."