Shares Of Russia's Two Largest Banks Are Down Significantly, Could Dip Even Lower
"If Russia starts firing bullets, this morning's slide is nothing."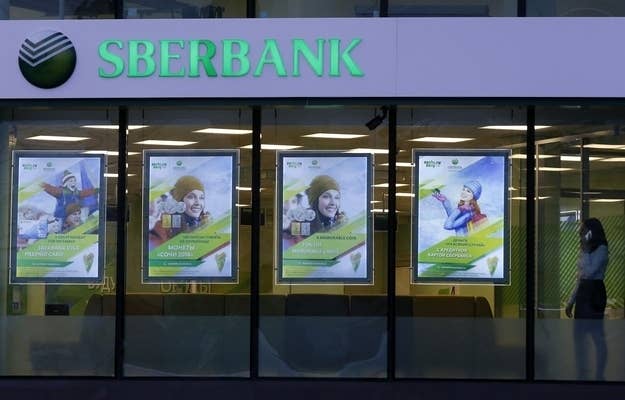 Shares of Russia's two largest banks are down considerably Monday after a weekend of escalating aggression by the Russian military in Crimea. And industry observers say they could dip even lower if the reported 6,000 Russian troops who have swarmed the peninsula further escalate a threat of violence in Ukraine.
Sberbank, the largest bank in Russia with 15.8 trillion rubles, or about $432 billion in assets, opened Monday at $8.69 per share, down from its Friday close of $10.17. As of Monday afternoon, shares were down 12%, trading just below the $9 mark.
It was a similar story for VTB, the second largest bank in Russia with assets of 5.2 trillion rubles, or $142 billion, which saw its stock plunge more than 10% to $1.97 at opening on Monday, down from a Friday close of $2.30 per share.
The hit to the two banks' stocks is part of a larger picture of turmoil in Russia's financial sector. On Monday, the Russian stock market was down 11% while the country's central bank hiked interest rates to quell the outflow of money from its financial system. The Russian media has already dubbed the situation "Black Monday," and industry observers believe the picture could get even more grim, especially if Russian forces open fire in Ukraine.
"I think that if Russia starts firing bullets, this morning's slide is nothing," said William Browder, a vocal opponent of Vladimir Putin and CEO of Hermitage Capital Management, a hedge fund focusing on Russian and emerging markets investment. "You will see much bigger downside on these and other stocks. I would be a seller [of} all Russian assets at these price levels."
The share price nosedive on the heels of the military escalation in Crimea is only the latest in a string of hits to the two banks' bottom lines in the last two months. In January, JPMorgan cut correspondent banking ties with Sberbank and VTB due to a lack of transparency at the two banks, essentially hindering their ability to move U.S. dollars between accounts.
What's more, a major mid-January sell-off of emerging markets stocks resulted in institutional investors fleeing shares of Sberbank. Around that time, one investor alone, Atlanta-based Herndon Capital Management, sold off all of the 627,484 shares it owned of Sberbank as of Dec. 31, 2013, according to Kenneth Holley, the firm's Chief Investment Officer.
"That was a general move away from emerging markets," Holley said. As for other Russian assets in its portfolio, Holley said the firm is going to wait and see how the current military situation in Russia unfolds in making the decision to sell off shares down the road. "We own a little bit of Lukoil. I don't know if anybody sees anything too clearly at this point."