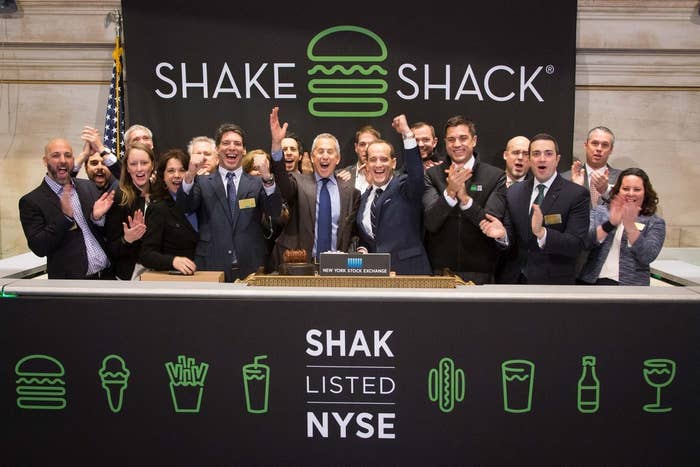 Shake Shack, the gourmet burger chain that started out of a hut in New York City's Madison Square Park, is now a $1.7 billion company — all based on just 36 restaurants in the U.S. and another 27 overseas.
Celebrity restauranteur Danny Meyer's lauded fast casual hotspot held its initial public offering on the New York Stock Exchange Friday, and the response from investors suggested much confidence that the chain will eventually grow into a major presence across the U.S. Aggressive trading led to the opening price spiking to $47 per share, more than double Shake Shack's pricing of early shares at $21 each the night before.
After Meyer and his team rang the NYSE's opening bell, which included chanting and cheerleaders throughout the exchange's cavernous trading floor, the air of the room filled with anticipation as the trading price for shares of Shake Shack rose into the high $20s, then through the $30s and approached the $50 mark. By 3p.m., the stock was up by 130%, an opening day rally more reminiscent of a late 90s tech company than a burger chain.
Meanwhile, the street outside the exchange filled with the smell of Shake Shack's beloved burgers, which it was serving to the public free of charge out of a pair of food trucks it had lined up on Exchange Place. The trucks would later roam the city handing out free burgers to celebrate the IPO.
Inside the exchange, reporters and NYSE employees toasted the Shake Shack crew with burgers and cups of frozen custard as traders negotiated the stock's opening price. As the numbers on trading monitors grew higher, multiple IPO attendees remarked on the stock's huge "pop", or spike in price.
"This is insane!" one trader exclaimed. "It's like the GoPro of burgers!"
(Last June, GoPro went public on the Nasdaq with the stock popping by a more modest 31% on opening day.)
A frazzled assistant ran a cup of custard over to Meyer, who was beyond thrilled with the day's events, especially after the stock's huge pop netted him an estimated $400 million windfall. Shares of Shake Shack have continued to stay in the $48 dollar range throughout most of Friday and into the afternoon.
All morning, the floor buzzed about how high Shake Shack had climbed ahead of and even after its $47 per share opening. Some worried about a crash later in the day, as shares had climbed to unsustainable heights ahead of opening. Indeed, a buzzy restaurant brand declining in value after a manic opening day is not out of the realm of possibility — other names in the space, like Noodles & Company and Potbelly, have failed to maintain their high opening day share prices after only a few days or weeks of trading.
As for what's next in the fast casual food business, one restaurant industry analyst told BuzzFeed News that after Chipotle and other ethnic food concepts like Zoe's Kitchen and Noodles & Company, burgers represent only the tip of the iceberg.
"These concepts continue to grow very strongly," said Bonnie Riggs, restaurant industry analyst at consultancy NPD Group. "They've done an outstanding job in satisfying consumers need to place your order and get freshly prepared, good tasting food that they feel is reasonable and affordable."
Investors can now buy shares in fast casual food covering categories including Mexican, sandwiches, burgers and noodles, but many other popular concepts have yet to hit the markets. Riggs said craze for high-end salad places like Chopt and Sweetgreen is getting plenty of attention, and is likely to produce a public company at some point — although a fast-casual pizza business could come first. "After burgers, now, we're starting pizza," she said. "Then we'll start on freshly prepared healthy food, like salad, that's a bit healthier for you."
Last June, GoPro went public on the Nasdaq exchange. An earlier version of this story said it was listed on the NYSE.