Chipotle, But For Cheeseburgers? Shake Shack IPO Sets Expectations High
The "fine casual" burger chain will hold its initial public offering Friday, with the buzz swelling to the point of cultish fanfare. But how much will Shake Shack have to grow to live up to the hype?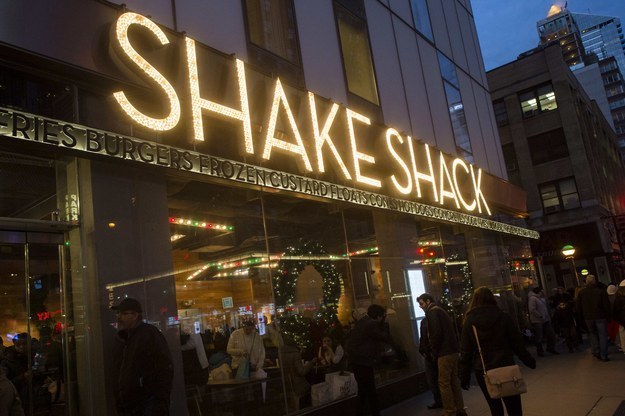 It's easy to see why the buzz around the initial public offering of Shake Shack, the New York-based upscale burger chain, is reaching the point of frenzy. Burgers have remained the most popular item ordered across all classes of restaurant in the United States, and in the booming fast-casual dining space where Chipotle is king, Shake Shack is the first to hit the public markets.
"It seems to be that our desire for and our love affair with burgers doesn't end," said Bonnie Riggs, a restaurant industry analyst at consultancy NPD Group. "We're ordering burgers at all types of restaurants for different reasons."
What's more, Shake Shack burgers are good. Really good. Just ask the analysts and prospective early investors who, according to sources, salivated over celebrated Manhattan chef Danny Meyer's masterpieces when Shake Shack served them on its road show to drum up potential interest in the IPO.
The strategy appears to have worked in charming the financial forces controlling investment in the earliest available shares of Shake Shack, those up for grabs before the company even begins its first public trade on the New York Stock Exchange Friday. The expected price range for the IPO has already increased by 50% from $14 to $16 per share to a price of $21 per share Thursday evening.
"This is going to be an extraordinarily well-attended IPO," said John Gordon, a restaurant industry analyst and founder of the Pacific Management Consulting Group. "Five Guys and Smash Brothers did not get an IPO done, so they beat the other burger chains. Shake Shack is the first real fast-casual burger operation to come to market."
Shake Shack's Manhattan beginnings have also worked in its favor, both to attract early investors, many of whom are familiar with its storied product, and to command a high average ticket per customer.
"They're based in New York City, and sales numbers per store are extremely large in Manhattan," Gordon said. "But there's only one Manhattan, and as you get further out, there's no way you can hit those numbers. Stores in other parts of the country aren't going to hit those sales numbers."
Kathleen Smith, an IPO expert and principal at ETF manager Renaissance Capital, agrees, adding that Shake Shack may not be able to cultivate the kind of following it has from New York investment industry types outside of the city.
"When Fairway went public, a lot of New Yorkers were familiar with it and it reached great heights, then it came back down to earth," Smith said. "They have high margins in their New York locations; the question is how do you hold up those margins, because it's a different kind of economy. New Yorkers will pay for it. [Another] question is, when do you add stores and what do the stores look like that you're adding?"
Shake Shack is already considering the answer to this question, and its filings surrounding the IPO, the company said it plans to have 450 locations across the U.S. in the long term. There are currently just 30 Shake Shacks in America.
According to Smith, the 450 figure doesn't seem too extravagant.
"We didn't question that number," she told BuzzFeed News. "It passed our sanity test."
But in Gordon's estimation, the average Shake Shack ticket is roughly $15 per person, higher than the $10 per person figure the company has ascribed to the average check. This, he said, will potentially make it difficult to find enough locations for Shake Shack to be able to scale its business and an IPO valuation of around $745 million.
"Generally what happens is every restaurant that IPOs says they can get to a certain number of units," Gordon said. "Whether restaurants work or not, it's a very complex situation of finding enough people, pricing appropriately, and finding the right locations, which has been difficult for a decade. The average ticket is about $15 per person, that is going to mean that it's not going to work for everyone everywhere. It will have to be in densely populated urban areas with a higher income bracket."
Another potential hurdle for Shake Shack is the issue of the fast-casual bubble. Call it the Chipotle effect: Fast-casual chains like Noodles & Company, The Habit, Potbelly, and others have boomed in recent years, experiencing huge pops on IPO day and then slowly but surely coming back down to earth in the following weeks and months as interest dies down.
"These IPOs have really gotten kind of out of hand," Gordon said. "There almost needs to be an asterisk that the first years, the price to earnings multiple is always high, because investors continue to chase the next Chipotle. Everyone wants to get in on the next Chipotle, but the world has changed a lot."
Gordon adds that there remains a general shortage of publicly traded restaurants, as many were delisted or bought out by private equity from 2008 to 2011, and the industry is struggling to recover.
"So there is demand and interest for restaurant IPOs," Gordon said, "but historically they IPO and then they cool off."
Smith remembers this very theory manifesting itself in the form of Potbelly and Noodles & Company, shares of which are currently down 37% and 27% from their respective IPOs in the last two years. She believes Shake Shack could be setting investors up for a similar disappointing return once the IPO hysteria dies down.
"It's going to be a hot deal on day one," Smith said of Shake Shack. "It's a bit of a cult stock. You could get a 50 times earnings multiple, which is a stress on the name. It's starting to defy fundamental logic. They have some things working in their favor, like a high ticket value, [but] what they're targeting is a huge jump from their current base."
Still, other industry experts believe as long as Shake Shack is serving burgers — the kind that are so good they're unlike anything else in this burger-loving nation — then it should be able to thrive.
"What fascinates me about Shake Shack is that when I started doing this 37 years ago, the most popular thing people ordered in a restaurant was a hamburger," said Harry Balzer, chief food industry analyst and vice president at NPD Group. "And the most popular item people ordered yesterday was a hamburger. It can't lose! As a consumer, we all have this desire to try new things we already know. In this case, I don't have to go far to find people saying I'll try a new hamburger."