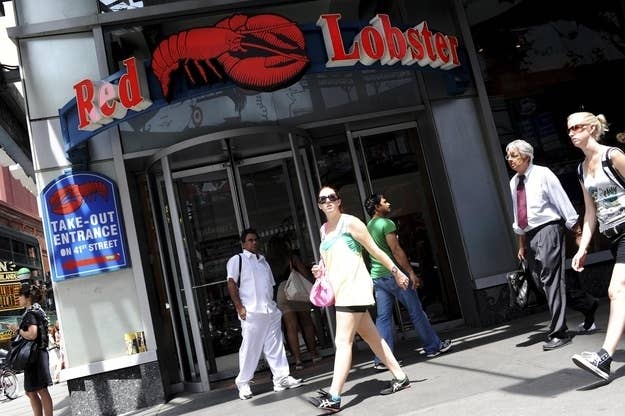 Activist hedge fund Starboard Value is turning up the heat in its battle with Red Lobster owner Darden Restaurants, releasing two detailed presentations calling the company's plans to spin off the seafood restaurant chain the "wrong spinoff of the wrong restaurant chain for the wrong reasons."
In the presentations obtained by BuzzFeed, which total 207 pages and are expected to be made public Tuesday morning, Starboard, the owner of a 5.6% stake in Darden, says the company's shareholders could lose up to $850 million in value if the spinoff goes ahead as planned — something the hedge fund, run by Jeffrey Smith and other activist investors, including 2% owner Barington Capital, are trying to stop. They've called for a special shareholder vote on the matter ahead of Darden's annual meeting, which is slated for September, months after the company's desired closing date for the deal of May 26. Thus far, Darden management has refused to call such a meeting, stating it would prefer to communicate directly with shareholders on the issue.
Only a few weeks ago, Darden posted its latest in a string of weak quarterly earnings. The company's history of poor results with the Olive Garden and Red Lobster brands led Barington to propose a division of the company into two units late last year, one consisting of its Olive Garden and Red Lobster brands and another its faster-growing restaurant chains such as The Capital Grille and LongHorn Steakhouse, as well as the creation of a publicly traded real estate investment trust for the property it owns.
Darden responded to Barington's proposal by saying it would pursue a sale or spinoff of the Red Lobster brand only. Both Barington and Starboard believe that move will rob shareholders of value and that keeping Red Lobster and Olive Garden together will ultimately make them both worth more.
Starboard also claims in its presentation that Darden's real estate is conservatively worth around $4 billion, and, if separated, could add another $1 to $2 billion in additional shareholder value. Starboard says that additional value would be jeopardized if Darden spins off Red Lobster on its own.
Starboard's presentation concludes with a reminder that Darden's entire board is up for reelection mere months after the proposed special shareholder vote. (For its part, Barington last week sent a letter to the independent directors of Darden's board saying they should consider finding a new CEO and appointing an independent chairman.)
"The Special Meeting will provide an alternative forum for shareholders to show the Board that Darden's shareholders will not stand to be silenced on this critical issue," Starboard says in its presentation. "Given their poor track record, management and the Board should not be trusted to rush this critical decision."