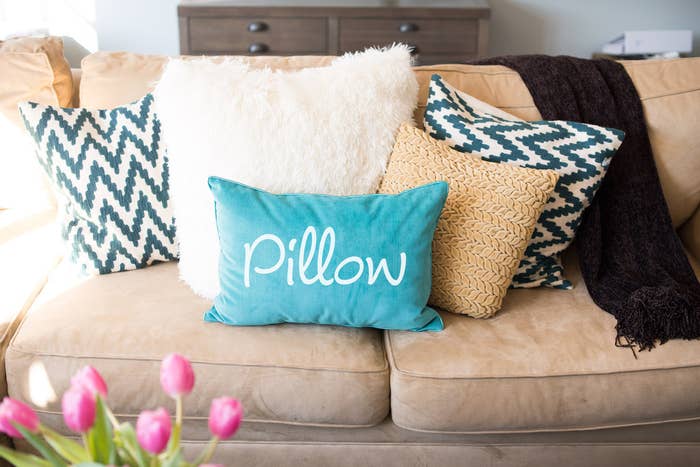 Say you're going away for a few weeks and want to make some money from your empty apartment. It's not just terrible guests you have to worry about (remember the Airbnb squatter?) — there's also the issue of booking the place out for the whole time, making arrangements for multiple guests, house cleanings, and key exchanges.
Or, you could just find a middleman to take the place off your hands for a bit less than the going rate, and let them rent it out themselves and pocket some of the difference.
That's the idea behind Pillow, a 17-month-old startup that offers users a guaranteed minimum income for their home upfront, regardless of whether the place gets booked out. The service is currently available in the Los Angeles and San Francisco areas, and has an average of 150 new users signing up each month. It plans to launch in Seattle this month, and further along the West Coast — first in San Diego, then in 10 additional cities, including on the East Coast, by the end of the year.
"The world would be better if everybody traveled," Pillow founder Sean Conway told BuzzFeed News, "and it's easier to travel if people aren't tied to their rent or mortgage."
The idea for Pillow came to Conway while spending a few months globetrotting after selling his education startup Notehall to Chegg. He hated being tethered to his rent while he traveled the world, and didn't want the hassle of managing Airbnb listings.
"It's an average of eight hours of work to make your listing appealing," Conway said. "We can put the listing process on autopilot. We create the listing, hire the cleaners, and do the locks and all of that stuff. We have a lot of knowledge in all of the neighborhoods, so we're able to see what a given place earns."
The model is similar to those used by online travel agencies (known as OTAs), like Expedia and Hotwire, which book a block of rooms and try to sell them for a higher price. It's also reminiscent of what tour operators used to do when they'd buy discounted rooms in bulk, betting they could sell them back at a higher price as part of a package tour.
The downside is, of course, that Airbnb users could be missing out on potential profits, but the time saved in managing the listing could be worth the cut Pillow takes. After a $250 upfront fee, which Pillow says goes, in part, to linens for the property, the service starts with a lump sum or "fixed-income" guarantee. If the listing makes more than that, Pillow takes a 15% cut of the extra earnings.
"If you're one of these Airbnb suppliers, the good news is you've got this notion of a guaranteed income and it's less risky," said Dan Connolly, a hospitality professor with a focus on technology at the University of Denver. "But the downside is could you have sold it for more on your own. It's an interesting approach, and I guess with some respects to a person renting his or her space on Airbnb, it sounds like it could be a great win."
While Pillow wouldn't disclose the average revenue from the properties they list, one investor and Pillow user said he gets roughly 20% more rental income from letting Pillow take over his Airbnb listing.
"I have seen approximately a 20% lift in rental revenue, over managing it myself, plus the consistent utilization through their platform; it's definitely is better than managing it myself," Chris Hubbell, principal at San Francisco venture capital firm Kindred Partners and an investor in Pillow, told BuzzFeed News.
Even though Airbnb users could be giving up potential profit, those who value time saved over money made are getting a pretty sweet deal, another hospitality expert told BuzzFeed News.
Pillow is capitalizing on the fact that the nightly booking price for most units, when added up over the course of 30 days, greatly surpasses a host's monthly overhead for rent, utilities, and supplies, while still coming in below the average room rate at a traditional hotel in the area. For example, using Pillow's calculator on its website, a $3,400 per month apartment in a desirable urban neighborhood could fetch upwards of $5,200 for a 30-day stay, or around $175 per night — a rate much cheaper than what hotels in the area are going for, but much higher than what the host pays each month in rent.
"It's a really interesting risk model," said Douglas Quinby, a hospitality analyst at travel consultancy PhocusWright. "Airbnb has created this incredible marketplace, but the typical owner on Airbnb, if they were to list their property, they don't know how to merchandise it. We've found that they've split into two very distinct categories. They want to vet each listing, they're home a lot, they want to take care of their stuff, they even like doing the taxes, that's how into it they are. On the other end of the spectrum there are people who are never home or have a second home so it really just depends on the host. The risk model is really a new approach, and it's really going to come down to the owner's perspective."
By paying up front, Pillow takes on the risk that a property may not get booked. But Conway says he rarely strikes out, and when Pillow does lose money — about 5% of the time — it's only a couple hundred dollars per listing. The reason? Pillow has targeted data that factors in neighborhood competition, supply trends, and seasonal and outlier demand indicators, like events, all while ensuring Pillow has vetted listings to ensure they're up to most Airbnb users' standards.
"We start with a commission model if you've never used Airbnb before," Conway said. "Then we'll set you on a guarantee, but really we just want to make sure that your water heater works, or there's not some weird light that stays on all night — qualitative stuff that we can't evaluate without a few reviews."
Once you get those reviews, Pillow's data comes into play.
"A lot of the data revolves around looking at other bookings that we have and we have partner sites that we look at what nightly prices usually go for," Conway said. "Then we look at event data. So for example, during the Salesforce conference, which is massively popular in San Francisco, prices go up 60% in the SoMa neighborhood. And in Phoenix for the Super Bowl, they went up more than 100%, and for the music festivals it's about a 70% increase. There's so much traffic coming through these sites that we're confident enough to give you a guarantee."
The model "kind of harkens back to the old-school tour operator model, a lot of tour operators don't do this anymore," Quinby said. "The risk model has really become far less common in the travel industry today, most companies do a commission model where you pay based on volume."
From Conway's perspective, the model is predicated on his belief that the home-sharing economy will only grow, and as eBay did with online auctions, power sellers — those with a high volume of listings — will eventually come out on top. He fancies himself and his Pillow colleagues as the power seller of the Airbnb age, able to command high prices for all of the listings that Pillow manages.
"It's like soccer moms selling Beanie Babies on eBay in the early 2000s — the powe sellers, they made up the bulk of the profits," Conway said. "And that same thing has transcended to Airbnb and we're the power sellers in the marketplace for people. This space is absolutely growing like crazy; there are 7 million second homes in the U.S. and only 1.2 million of them are being rented out. The more you see them rented out, the more affordable travel will be, and the more we will be able to be a very mobile society. There's no reason you should be tied down to your rent."