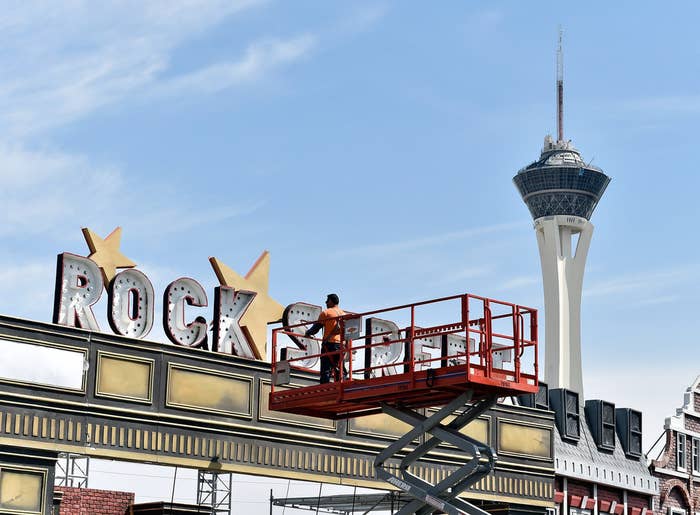 This weekend and next, throngs of young people will make their way to Las Vegas. But they won't be heading for the casinos or nightclubs — many of them will be too young to be let in to either. Instead, they'll be going to a giant outdoor concert park with elaborate stages depicting a replica skyline of a fictional "City of Rock," erected on the festival grounds of the MGM Grand.
The site is hosting North America's inaugural Rock in Rio festival, with acts like Taylor Swift, Bruno Mars, and Ed Sheeran. And for Las Vegas, where live music is more often a sideshow to entertain the gamblers and hedonists, outdoor festivals like Rock in Rio — at least three more will hit the city in the coming months — are emerging as a major new drawcard for visitors in their teens and twenties.
That age group hasn't typically been at the heart of the Vegas demographic, but it's growing fast. In 2010, just 10% of visitors to the city were aged 21 to 29, a number that steadily climbed to reach 17% last year, according to data from the Las Vegas Convention and Authority.
"It adds a lot to the city to see that energy come through there, that young spirit," Pasquale Rotella, founder and CEO of Electric Daisy Carnival producer Insomniac, told BuzzFeed News. "Walking down the strip on the EDC weekend, you can see a whole different energy."
The influx of music fans to Las Vegas has its origins in the late 1960s, when Elvis Presley would play sold-out residences there in a late-career revival effort that drew crowds of thousands to what Presley described as the "weird, freaky" International Hotel. The musical residency would continue to thrive through the late '90s and early 2000s, but on a smaller scale, luring die-hard fans of acts like Celine Dion and Bette Midler, and, more recently, Britney Spears and Mariah Carey.
But it wasn't until five years ago, with the launch of the Electric Daisy Carnival and the iHeartRadio Festival, that Vegas began luring younger music lovers in ernest, having the festivals serve as the primary driver of their Sin City pilgrimage.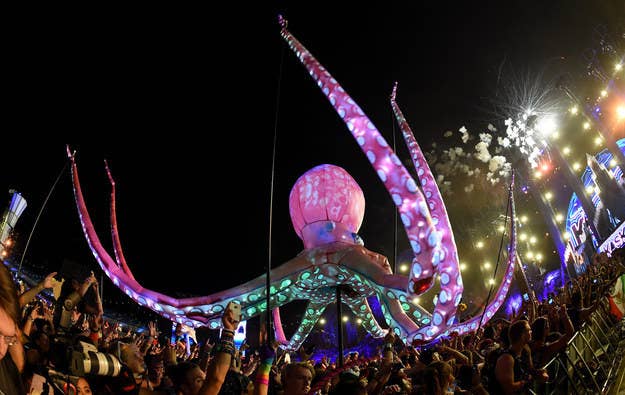 The Electric Daisy Carnival is widely credited with ushering in the music festival movement in Vegas. It's now in its fifth year in the city, and bills itself as the largest music festival in North America, drawing more than 400,000 fans. In 2012 they brought an estimated $207 million in revenue to the Las Vegas area, a number that rose to $339 million in 2014. The festival's owner, Insomniac, estimates it has brought nearly $1 billion in attendee revenue to Clark County, Nevada, in the five years it has been in operation there.
"Each year we've seen a more diverse, eclectic crowd coming to Las Vegas," John Sykes, iHeartMedia's president of entertainment enterprises, told BuzzFeed News. "It's a credit to the city of Las Vegas for bringing down the age of its demographic from those we've seen in previous decades. It has become a very cool destination for music, and that wasn't true 10 years ago."
Indeed, with the recent emergence of these and other Vegas music festivals like Life is Beautiful, which last year drew the likes of Kanye West, Outkast, and the Foo Fighters, Sin City is also seeing an uptick in visitors in the form of die-hard festivalgoers. They tend to be much younger than the typical bachelorette partiers, poker junkies, honeymooners, and business casual–clad conference and trade show attendees that dominate the Vegas tourism landscape.
"We understand that while people still come to Vegas for gambling and gaming and shows and spas, music has become a big part of that, and that's definitely been driven by the younger crowd and the festival movement of the last five years," Chris Baldizan, senior vice president of entertainment at MGM Resorts International, told BuzzFeed News.
Las Vegas is no stranger to reinventing its story. In the early days, gamblers made up the vast majority of visitors. Later, shows like Cirque du Soleil, celebrity magicians, and lounge acts with comedians and celebrity impersonators drew a new kind of crowd, which eventually gave way to the nightlife set willing to pay tens of thousands of dollars for a sparkler-topped bottle of vodka and a VIP cabana during a celebrity DJ set at one of the city's dozens of cavernous nightclubs.
Somewhere along the way in the 1990s, Vegas tried to appeal to even more tourists, billing itself as "family-friendly," a short-lived initiative that never really caught on. Now music festivals are emerging as the latest in the city's attempt to attract an even wider pool of tourists, and, at least in the younger dance music set, it appears to be working.
"It's exciting to see that the festival has grown and is growing," said Rotella, Insomniac's founder. "It's interesting to see [music festival] companies see the value and appeal of Las Vegas, and I'm happy to be able to be there from the beginning."