Millionaire Hedge Fund Manager Rents Out AT&T Park As Concession Workers Near Strike Over Low Wages
Mike Wilkins, a partner at Kingsford Capital Management, paid for about 100 of his hedge fund buddies to spend an afternoon at AT&T Park. Meanwhile, concession workers at the stadium are without contracts and facing a three-year wage freeze.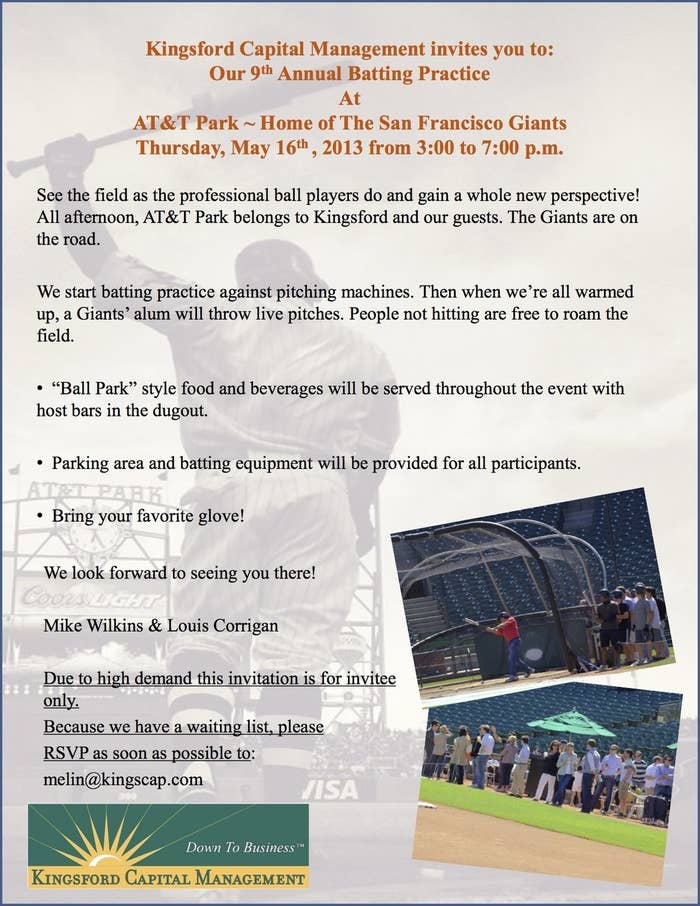 How's this for poor taste: millionaire hedge fund manager Mike Wilkins rented out AT&T Park, home of the World Series Champion San Francisco Giants, on Thursday afternoon, just as the stadium's concession workers are preparing to strike over low wages.
Wilkins, a partner at Kingsford Capital Management, which has more than $400 million under management, and his hedge fund buddies sipped drinks from a bar brought onto the field and took batting practice with a Giants bullpen pitcher, according to two sources with knowledge of the event, one of whom passed along the invitation from Wilkins.
One of the sources described the afternoon as "grown up boys fantasy time" for millionaire hedge fund managers.
"About 100 people go," said this source. "It's a who's who of the San Francisco hedge fund community."
Past attendees have included Jim Carruthers, Jr., former partner and analyst at Eastbourne Captial Management, and Marc Cohodes, who ran Copper River Fund before it imploded in the financial crisis.
Representatives for Wilkins, who co-wrote the movie The Independent starring Jerry Stiller and Janeane Garofalo, and AT&T Park declined comment.
According to the AT&T Park website, it costs $200,000 to rent out the stadium for a day. Batting practice costs $5,000 per person, or about $500,000 for 100 people without a bulk discount, and includes "use of batting tunnel and dugout with professionally trained staff." The price also helpfully includes "a paramedic stand-by," according to the website.
The hedge funders' afternoon of baseball comes amidst an impending strike by the park's concession workers, who are demanding employment contracts (they are currently working without contracts) and protesting a proposed three-year wage freeze and healthcare changes.
On Saturday, the workers voted 500 to 15 to allow their union, United Here Local 2, to use a possible strike as a bargaining tactic in negotiations with Centerplate, a South Carolina concession management firm hired to run AT&T Park's food and beverage operations.
Wilkins started Kingsford Capital Management in 2001, SEC records show, with then-partner David Scially. Scially retired at the end of last year, when the firm's Kingsford Capital Partners LP fund had raised more than $400 million in investor capital. Though the firm oversaw around $2 billion at one time, according to Reuters, its assets under management dipped to about $865 million in October of last year.
SEC documents filed in February showed that the firm's assets had dropped to $456 million and that Louis Corrigan replaced Scially as a portfolio manager alongside Wilkins.
The field is no stranger to the hedge fund set. It plays host to the Hedge Funds Care West Coast Committee of Hope's annual poker tournament in January, which costs around $200 a head—not including optional additional buy-ins, which are surely not in short supply—and benefits the prevention and treatment of child abuse.