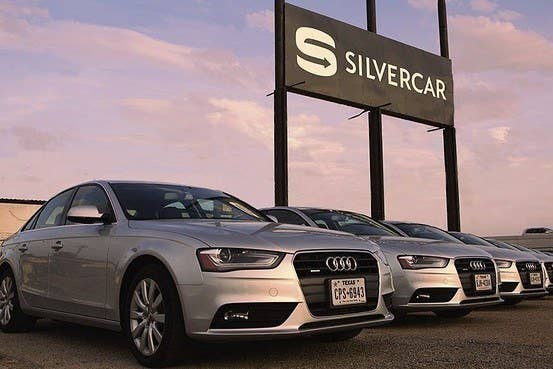 The idea came, as so many have, on the golf course. Or it might have been in the clubhouse, just after a round a few years back, when a group of friends on a golfing getaway looked out at the parking lot and spotted the white Dodge minivan their airport rental car company had "upgraded" them to.
"It was like, 'How did we draw the white minivan for our Cool Guy Golf Weekend?'" Luke Schneider told BuzzFeed News in his office in downtown Austin, a bright second-floor loft space a few blocks from the Texas State Capitol building. "The thought was, what if there was a car rental company where all the cars were the same, and it was a great car, not a crap car? This all started from just one too many bad experiences at the car rental counter."
The result is Silvercar, the nearly three-year-old airport car rental startup based in Austin, of which Schneider serves as CEO. With nearly 100 employees and operating in eight airports across the country, mostly in the sunbelt (places like San Francisco, Phoenix, Miami, Dallas, and Los Angeles), Silvercar uses a mobile app to allow customers to book, access, unlock, and pay for their rental car — always a brand-new silver Audi A4. Everything is done through the app, and always for a fixed price: $89 a day during the week, and $59 on weekends.
The business eliminates paperwork, rental counter lines, fees for add-ons — like an extra driver fee, which Silvercar does not charge — and the gratuitous charges for refilling gas tanks, which often run north of $9 a gallon. The service also ditches the need to catch a shuttle bus to the rental lot — users hit a button in the app when they're getting ready to leave the airport terminal, and a car and driver pick them up and drive them to the lot within minutes.
Perhaps most important for some, there's no risk of ending up with a minivan, or any other less-than-desirable ride.
"One of the things that really pisses people off is not knowing what car they're going to get. We call it PT Cruiser roulette," said Schneider, who was poached from his role as chief technology officer of Zipcar by Silvercar co-founders Todd Belveal and Bill Diffenderffer shortly after their lightbulb moment on the golf course. "The airport car rental industry hasn't innovated in probably 40 years. We thought we should do away with counters, lines, and do it all on a mobile device, and take the brain damage out of getting to your car."
Schneider was uniquely qualified to build the Silvercar technology from scratch — at Zipcar, he was responsible for conceptualizing and building the popular urban car sharing service's mobile app, before rental giant Avis Budget swooped in and bought Zipcar in early 2013. Earlier in his career, Schneider spent years at Ford, where he worked on bringing new technologies into cars and helped create the first online marketplace to sell Ford models.
In isolating the variables around booking, paying for, and easily accessing a rental car, all while ensuring it's the same vehicle each time, Silvercar has capitalized on what car rental experts say is one of the most critical factors to long-term success in the industry: differentiation.
"In this business, it's been argued that the car rental industry is a commodity business, that the customer looks at every rental company the same," Neil Abrams, founder of car rental industry consulting firm Abrams Consulting, told BuzzFeed News.
"It's a battle that the rental operators continue to fight: to create differentiation. What's unique? Why am I special? What does our company have that another company doesn't have? Silvercar is a unique model: It's all done through smart devices and they're renting the same car at the same price, meaning they have one vehicle that makes up their entire fleet. That's their differentiator."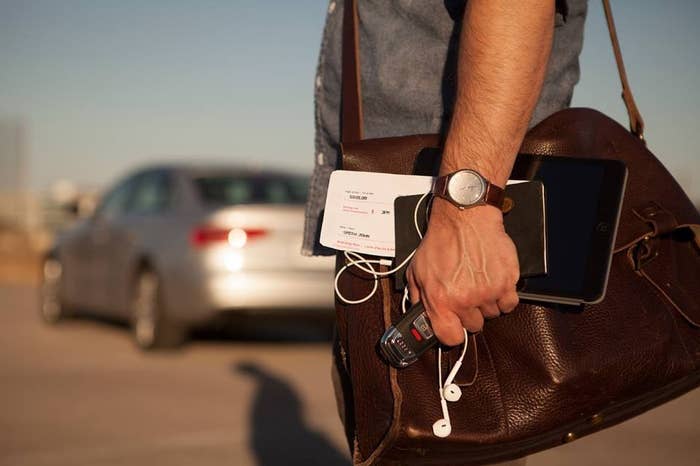 Late one recent Thursday evening, it took a BuzzFeed News reporter a little more than 10 minutes to exit the sliding doors of Austin International Airport's main terminal, catch a ride from a Silvercar concierge to the company's offsite lot, scan into a Silvercar with an iPhone, and hit Interstate 35 on the way into the city center. There were a few minutes of curbside waiting and a bit of fumbling with the windshield phone scanner, but the process certainly beat waiting for a rental car shuttle or standing in line at a fluorescent-lit counter as midnight approaches.
The Silvercar experience, as Schneider calls it, is certainly resonating with a number of frequent business travelers throughout the country. In the last year, Silvercar has experienced 30% growth month over month and an average of 1,000 of app downloads per day. The company is planning to expand "aggressively" into more markets this year, including Atlanta, Seattle, and Chicago.
At its current locations, Silvercar has managed to wrangle frequent car renters away from the upper echelons of loyalty programs at some of the biggest names in the industry.
"I've been a Hertz customer for years, in the Hertz President's Circle, so I always got upgraded," AnnaMarie Daniels, vice president of regulatory and clinical affairs at health care company ReVENT Medical, told BuzzFeed News. "At Hertz that means you want an economy car, and they give you a minivan. I would show up late, tired, wanting to go to sleep, and the car would be dirty and have literally roll-up windows, but there was no alternative."
One day in December 2013, as she stood in line for express security screening at Los Angeles International Airport, Daniels saw an ad for Silvercar and decided to give it a try when she got to San Francisco. "The cars are just brand new and they're clean; you get the same model every time so you don't have to figure out how to try a new model. They also have bluetooth for your phone. I'm really spoiled — it's just so nice that they pick you up smiling and everything is new."
Daniels, who was introduced to BuzzFeed News by Silvercar, said she now uses the company an average of three times per month on her frequent business trips to the Bay Area. "I just love them," Daniels said. "I can't imagine changing unless they do something stupid."
Because Silvercar is still young and growing fast, it doesn't face the same amount of pressure to maximize profitability as the three largest car rental companies that dominate the $20 billion a year market — Hertz, Avis Budget, and Enterprise.
Much like the commercial airline industry in the U.S., the airport car rental industry has been consolidating for decades with these three major companies controlling 98% of the market, stifling competition, and resulting in little investment in new fleets, bad service, arbitrary price gouging, and fee add-ons, and a lack of technological innovation, all to keep expenses low and profits high.
"The car rental companies are still pressed to maximize profitability, which comes down to taking a risk, meaning overbooking," said John Thomas, a partner in auto rental industry consultancy Wilkinson Thomas Consulting. "So not getting the size or the model that you reserved is always a challenge because car companies are pushing the envelope of utilization, meaning customers are able to book a midsize car, when only a small car comes back in time."
Silvercar's guaranteed consistency of getting an Audi A4 every time eliminated this exact kind of guess work for Craig Glee, a business development executive for an Atlanta financial services company, on his bimonthly airport car rental endeavors.
"I travel to Dallas a lot for work, and that's where they were, so I gave it a shot," Glee, a Hertz and National veteran, told BuzzFeed News. "It's really more about, for me, just enjoying the Audi and the comfort and the convenience of getting into a car and getting moving, and I actually save time. It's mindless and I have the car that I want."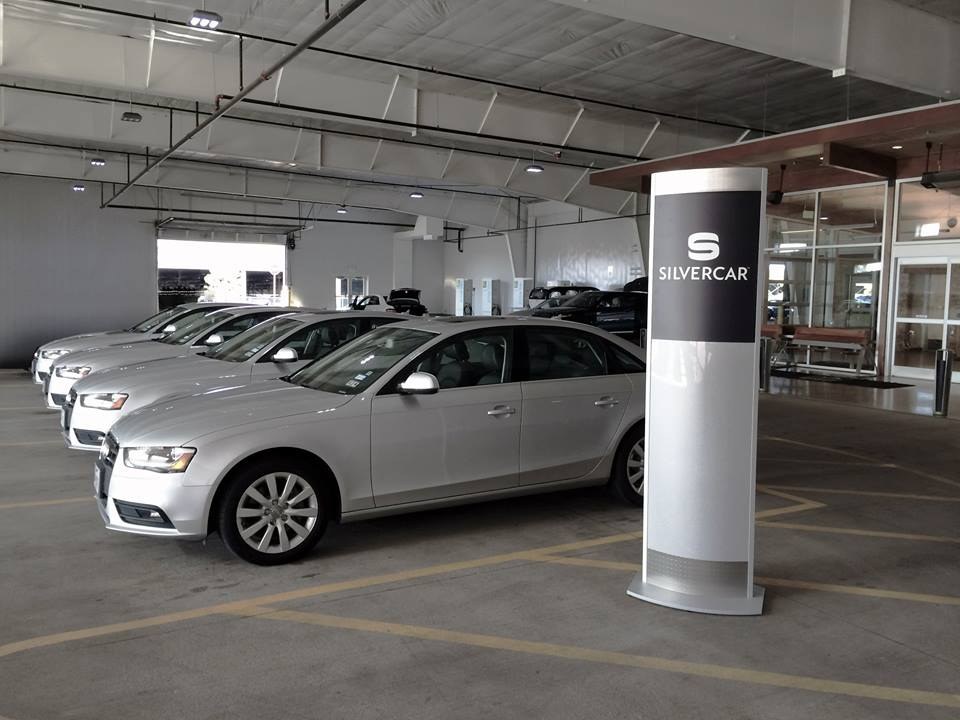 Although Silvercar did some early-stage targeted advertising and has a handful of marketing events in the works this year, Schneider said the company is largely relying on word of mouth and consumer loyalty to grow.
And according to Sharon Faulkner, executive director of the American Car Rental Association, Silvercar's word-of-mouth tactic appears to be resonating, generating repeat customers, especially in the business travel world.
"I was skeptical at first," Faulkner said. "I thought, Why would someone always want a silver car? But then following them, seeing the financing they've been able to procure and the airports they're opening up in, I thought, People like this. It isn't just the millennials with the app; it's the business customer, and it's the ones that have tried it and are hooked and love it. Believe it or not, the rental car business is still really word of mouth, and you're really not seeing complaints about Silvercar."
Faulkner adds that Silvercar's pricing is competitive with the higher end of the average rental car company's rates, and that it is part of the "premium" experience Silvercar offers. Because of this, Silvercar is going after a specific customer base that seems to appreciate the added quality.
"Of course, in comparison to the three majors, they're very small, but I think that they're a pretty impressive company because of the service that they offer to more of the corporate customer," Faulkner said. "I think they're going to get their market share that they're looking for because people aren't always looking for a bargain, and I think they should go ahead and continue to be the quality car rental company that they're offering to the consumer. Sometimes in our industry it's better to have a small part of the industry and be profitable, rather than trying to go after a large part of the industry and perhaps not be so profitable. It's better to grow carefully."
Schneider said Silvercar's pricing is part of its strategy to take around 5% of the car rental market — a meaningful enough piece to make good money in the process. While the company declined to share financial results, he said it already making money outside of its venture funding and is poised to continue its profitability in the long run.
"This business is unbelievably profitable, and it's profitable at small scale," Schneider said. "We will kick off pretty serious EBITDAs that will make the entire rental car industry look tame. It's not one of those things that only makes money on the exit. Plus, I'm old school, and its just anathema to not try and make a profit."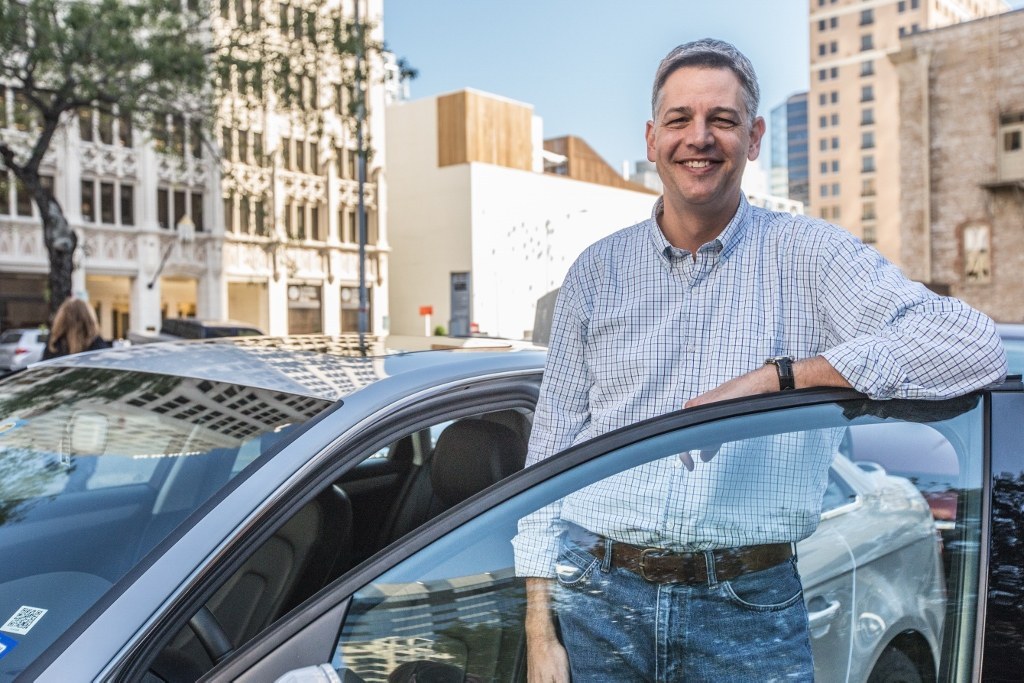 While Silvercar continues to chip away at a significant piece of the the airport rental car market, the company is still facing an uphill battle, namely in the form of a semi-monopolized industry run just as much by three major companies as it is by municipal leases on airport real estate.
The rental car counters at every airport in the country operate on a leased parcel of municipal property known as a CONRAC, or a Consolidated Rental Car Facility. This means that in order to occupy prime — or any — space in an airport's CONRAC, rental car companies must have a long-standing relationship with the regulatory body handing out a limited number of leases when they become available.
"This oligopoly of car rental companies, it's created a barrier to entry," Schneider said, noting that Silvercar does not operate inside any airport CONRAC and has no plans to do so, which is part of its strategy to democratize airport car rental. The company keeps its cars at sites outside the airports it operates at.
"It's pretty much impossible to get into a CONRAC in a major airport," he said. "So the challenge is now working on how to deliver the next generation of car rental experience at the airport in a system that was designed 20 or 30 years ago with an incredibly powerful car rental lobby that essentially dictates the terms of those CONRACs."
Just as Uber has rattled the medallion system for the taxi industry, Schneider says Silvercar wants to shake up the airport rental car industry's status quo. And as is the fashion with those looking to disrupt an ages-old industry, Silvercar sees much of that shake-up happening thanks to better technology and companies whose business is native to mobile apps.
Schneider built the technology from scratch, taking apart the very first Silvercar himself in his garage and wiring it up, synching mobile and vehicle all through the cloud. After a lot of time perfecting the technology, the end product allows Silvercar's systems to remember everything about the user-controlled features of a car, down to a driver's seat position preferences. Schneider claims Silvercar technology can have a new car wired on the company's network in under five minutes.
"This is the third time I've had to either build or license this kind of technology, and this time I built it from the ground up," he said. "We spent a great deal of time and energy getting the product right, connecting mobile, car, cloud. The A4 allows us to tap into the network and control functions of the car, so we can store preferences in the cloud, and control seat position, door locks, trunk pops, windshield wiper fluids, everything."
As for its model to acquire and resell its physical vehicle assets, Silvercar uses debt financing to purchase its fleet of A4s through a partnership with Audi. The startup knew it wanted a car brand with a "premium connotation" among consumers, and BMW tested too masculine, while Mercedes felt too rich to focus groups. Audi landed somewhere perfectly in the middle, and Silvercar soon became its biggest fleet customer in North America.
"We buy hundreds of cars per month, then build software, hardware, run the actual airport location; we are all completely vertically integrated," Schenider said. "We then dispose of them at auction, we make money off them, and so we kind of do this thing from soup to nuts."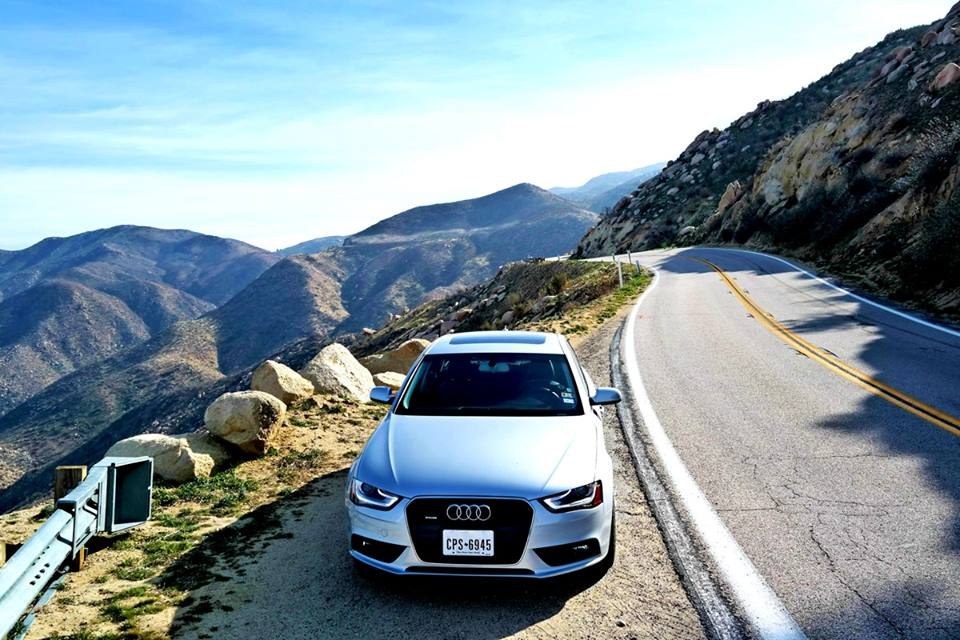 In the last few months, Silvercar's technology and operational model has grown increasingly appealing to the venture capital community, a group of people who tend to feel the same way as Schneider does about a company's profitability goals. In October, the company made headlines for attracting investment from Facebook co-founder Eduardo Saverin and his Velos Partners during its $14 million Series B funding round. Saverin joined Silvercar's other high-profile investors like Path founder Dave Morin and Chris Dixon of Andreessen Horowitz. (Andreessen Horowitz is also an investor in BuzzFeed.)
One of Silvercar's earliest investors, Tom Ball of Austin Ventures, sees nearly limitless potential for Silvercar's proprietary technology and operational systems, and how they could contribute to the future of car rental.
"I think it's a technology company first because much like Uber, our technology has a bunch of applications outside of just car rental," Ball told BuzzFeed News. "That said, car rental is a huge industry that's had no innovation in years so we can start there, but I do see a bunch of other implementations of the technology. If this becomes the Silvercar platform for a bunch of other stuff, that's an investor's dream. So if we're able to call this a platform in five years that changed the way consumers interact with old school, sucky experiences, that's great. That's legacy appeal."
For now, Silvercar is keeping the potential future uses for its technology under wraps, but Schneider is willing to give a few hints.
For example, this month marks the first time Silvercar will license only its technology and operational model, moving its systems beyond its standalone car rental business and into a partnership with the larger auto industry. This is a result of what Schneider believes will be a surge in car sharing.
"Owned personal transportation is declining, livery is surging, and shared or anytime use of a car as a fractional asset, that's going to increase pretty dramatically," Schneider said. "Whether its car delivery, or walk down the street street to pick it up, or four people able to go in and share a car in between friends, this technology will help you schedule it. The idea is that you're not buying an Audi, you're buying Audi for a flexible amount of time. I know this sounds kind of cheesy, but it's really about changing the way the world hits the road."
An earlier version of this story misspelled the last name of frequent Silvercar customer Craig Glee.