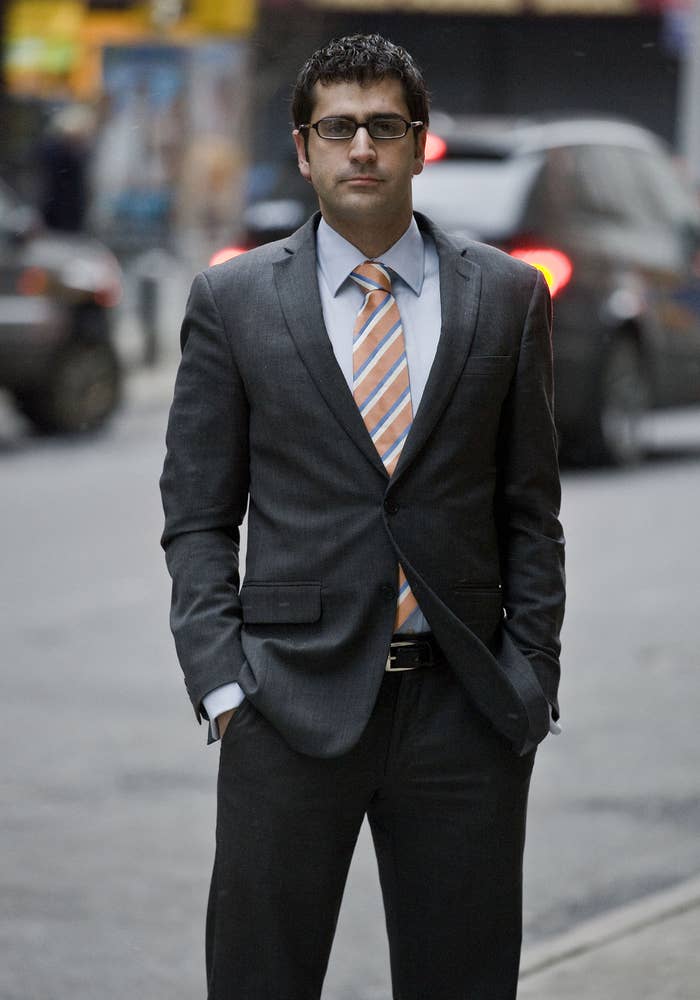 At age 32, Sahm Adrangi possesses all the traits of a seasoned hedge fund veteran. Sharp suits, check. Hundreds of millions of dollars in investment gains, check. Love of publicity, double check.
Looking at Adrangi now, it's hard to fathom that at one point he coveted a career in journalism, and even got a job offer from The Wall Street Journal. In retrospect, the visa issues that prevented the Canadian-born Adrangi from accepting the Journal's offer may have been the best thing to ever happen to him.
The Yale alum now leads New York-based Kerrisdale Capital, a $300 million hedge fund birthed in 2009 largely from prescient short bets against Chinese companies he believed had shady business tactics that went unnoticed by the country's weak financial regulatory system.
Adrangi spoke with BuzzFeed about his hedge fund beginnings, the outlook for the industry, and some activist investor campaigns currently being waged.
I got an internship at The Wall Street Journal, but I'm Canadian and had visa issues. They gave me an offer and it was just that I needed a card that hadn't come in yet, and they didn't want to deal with the immigration around it. I wanted to be a journalist — I had a summer position at the The Globe and Mail and it didn't get extended to full-time work, so it was time to cash in that chip and go into finance.I went into investment banking at Deutsche Bank, and I had another offer from Credit Suisse. When you're an analyst, you usually go to private equity or a hedge fund after a couple years of investment banking, or maybe b-school. I always wanted to go onto the hedge fund side of things, so I went to Long Acre, a relatively traditional hedge fund with great guys, well known within the distressed assets community.
Taking research and publishing it, that trend is going to grow. You [recently] saw Citron Research

release

their report, and I think the trend of buy-side firms publishing research on the short side is going to grow. It's a good way of generating returns to the extent that certain stocks are mispriced, and firms are using the credibility they've built to correct those valuations as an investment strategy. You've also seen a big discrepancy between developed market valuations and emerging market valuations, with the former up and the latter down. As interest rates are set to increase, money is moving into developed markets, usually it's the opposite. Regarding activist investing, in terms of the U.S., it will probably continue to accelerate. I don't know if it will really change in any fundamental way, just more activist firms and dedicated hedge funds will participate.
The company is overcapitalized, too much cash on the balance sheet. I think a lot of companies can benefit from shareholder-appointed directors. When they're appointed by management or other directors, they can generate a bit more of a free-flowing discussion.
I think Apple has too much cash on the balance sheet, and I think Icahn is one of the most competent investors out there in terms of getting management teams to allocate capital better.
We're long on Herbalife. We have a fairly moderate investment. We think Ackman's wrong about Herbalife based on the research that we've done. We think that Herbalife's valuation could be materially higher than what it's trading at today.
Eminence [Capital] is a great firm. It's not fully clear exactly how it's going to play out —there are synergies between the two companies merging in one way or another. While there's still potentially a fair amount of upside, it's not a slam dunk. I think it makes a lot of sense for both companies to find some sort of solution to merge, so my guess is that something will happen. With Eminence owning large stakes in both companies, investors couldn't ask for a better firm watching over the process.
What people don't realize about him is how he's built up his firm, the staff that he's hired. Third Point has very talented personnel, and he's creative. Their returns demonstrate the success you can have if you have a robust investment process and are willing to be opportunistic and creative. That was true of us for the Chinese companies. You have to take basic principles and apply them to emerging industries.
[Ed.: Loeb's hedge fund had big successes recently with Yahoo.]