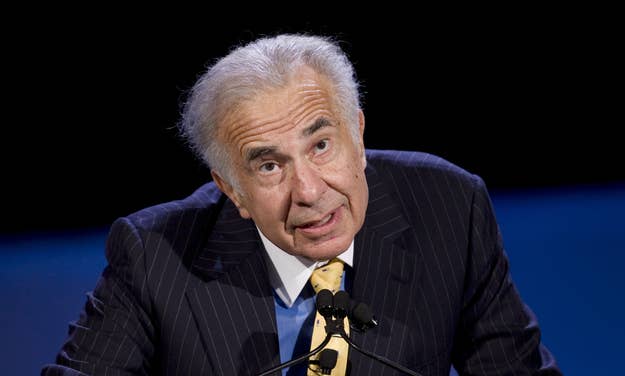 Along with immense wealth often comes a big personality and fiery temper. Carl Icahn possesses all three of those attributes. A formidable billionaire hedge fund manager, activist investor, and general tough guy from a "rough neighborhood in Queens," Icahn is without question the loudest and most entertaining mouth on Wall Street.
Icahn, 77, made his billions after founding investment firm Icahn & Co., later Icahn Enterprises, in 1968. After focusing on risk arbitrage and options trading, he turned his attention to activist investing — taking minority positions in large corporations and forcing changes in leadership, strategic direction, or just outright hostile takeovers.
Icahn's ruthless corporate persona is matched only by his quirky sense of humor. He is known to ham it up for CNBC cameras, or even a late night audience at comedy clubs throughout Manhattan. Here's a handy guide to some of Icahn's most memorable fights, enemies, and zingers.
Biggest Corporate Feuds
Dell: Icahn's most recent activist fight is over the tech giant's decision to go private. Not only does Icahn want to dismantle Dell's board, he also wants to keep the company public. He believes the $13.65 per share buyout offer from founder Michael Dell and private equity firm Silverlake Partners shortchanges shareholders and massively undervalues the company. Icahn has been ramping up his efforts to derail Dell's crusade, increasing his bid to allow Dell investors to buy a share at $20 per every four shares held. The battle culminates Wednesday with a delayed shareholder vote to either approve or reject the Dell/Silverlake bid.
Lions Gate: Back in 2010, Icahn and his son Brett attempted to increase his stake in the entertainment company to 30%, a move Lions Gate promptly dismissed and called an attempt to take control of the company. After nearly 18 months of litigation and on-air fighting with the film studio's executives, Icahn agreed to sell off his shares of Lions Gate and end his fight to increase his stake in the company.
Yahoo: When Yahoo turned down a chance to sell to Microsoft for $33 per share in 2008, Icahn ripped into co-founder Jerry Yang and launched a crusade to join the tech giant's board, a wish that was ultimately granted. A year later, Icahn stepped down on amicable terms with the board — a rarity for the notorious activist investor.
Time Warner: In 2006, Icahn launched an attempt to break Time Warner up into four pieces and oust many of its board members. Icahn ultimately dropped his bid at a hostile takeover, conceding he might have been wrong about what was best for the company. Ironically, Time Warner eventually did proceed with a breakup almost exactly like the one Icahn proposed, spinning off AOL, Time Warner Cable, and in the coming months Time Inc, leaving the core company to consists of just a movie studio and cable networks.
Included among Icahn's other high-profile feuds are, in no particular order: TWA, Imclone, Blockbuster, Motorola, Genzyme, and many, many others.
Years of proxy battles and attempts to replace corporate management has made Icahn his fair share of enemies. Calling the Dell board one of the worst he's ever seen, and angling to replace them isn't likely to get him a birthday card, for instance.
But that's nothing compares to how he feels about fellow hedge fund billionaire Bill Ackman. While Ackman believes supplement company Herbalife is essentially a pyramid scheme that deserves to be shorted, Icahn has been long on Herbalife, buying up shares to the tune of a reported $250 million in profit. The two publicly feuded over the matter on CNBC, trading personal jabs after a decade of tension and investment competition.
In 2010, Icahn again did battle on CNBC, this time with Lionsgate vice chairman Michael Burns during a heated hostile takeover attempt by Icahn that eventually failed.
Icahn is well known among both hedge fund industry insiders and the financial services industry for saying precisely what is on his mind, with little if any self-censoring. A few of his greatest one-liners have been compiled over the years, but the insults keep on coming. At a recent CNBC conference, for instance, Icahn tossed off this barb at his enemy Ackman, who owns Canadian Pacific Railway: "Well, if he runs the railroad, I wouldn't want to be on it."
Prior to that comment, in possibly his most famous public spat, Icahn called Ackman a "cry baby in the school yard" when the two brawled on CNBC earlier this year. In a follow-up interview on the network, Icahn clearly hadn't lost his abrasive, no holds barred attitude, saying "I don't like Ackman. Everybody knows that. I don't respect him. Everybody knows that."
Rival billionaire hedge fund manager Jim Chanos has also been on the receiving end of an Icahn barb. When asked recently about Chanos' support for the Dell/Silverlake bid, Icahn said, "I like Chanos, he's a smart guy, but he's missing something. In all honesty, I have a better record."
Not all of Icahn's quips are insults, however. Take, for instance, his recent comment about Netflix CEO Reed Hastings. While Icahn bought into Netflix with the aim of instigating, the company's recent stock run up has quieted Icahn down and kept him on the sidelines. Or, as Icahn told Forbes, "We like Reed Hastings. I told him when a guy makes me $800 million, I don't punch him in the mouth."
Ichan clearly loves media attention and seems to know how to have a little fun here and there — he drinks vodka "straight up with a twist" at cocktail parties. Indeed, he's been known to drop in with a surprise performance at comedy clubs over the years. (see the clip above)
A champion of shareholder rights, he recently made his wife the butt of a joke. After she complained about his fund's performance, he told her, "It's 2 in the morning, I'm going to write you a letter tomorrow and you are out of the fund."