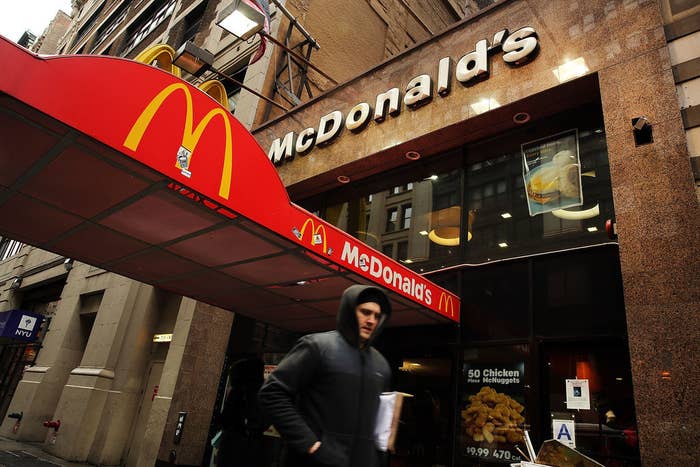 McDonald's delivered some grim news on the state of its business on Wednesday, when it released a dismal first-quarter earnings report. Profit fell 33% in the quarter, and U.S. same-store sales were down 2.6%, while global sales fell 3.3% due to declining traffic in its stores around the world. Things don't appear to be getting much better, with new CEO Steve Easterbook saying on the call that global comparative sales for April are expected to be negative.
But fear not. Easterbook and other executives said on the call that the company would unveil a "turnaround plan" on May 4 detailing how it plans to "sell more burgers to more people" in the future.
"Turnarounds are a little bumpy by nature and can on occasion lead to a few friction points," Easterbook said when pressed on whether franchisees are pushing back on the plan's specifics. "The ultimate objective with this is that our supply partners, our owners, and the company succeed."
Easterbook and others offered virtually no details on what the plan would entail, saying only that it will go beyond the measures McDonald's has taken in recent weeks to combat its sales and profit struggles. The burger giant has been pulling out all of the stops lately to try to revamp its corporate image, with all-day breakfast tests, appealing to lovers of the only segment of its menu that has continually shown revenue growth. Next there was the announcement McDonald's was adding a a fancy, and pricey, all-sirloin burger to its menu, an attempt to answer its many food quality critics.
On the marketing front, McDonald's last month launched its 24 hours of joy campaign, "I'm Lovin' It 24," spending millions on pop-up experiential marketing events around the world. On Wednesday's earnings call, McDonald's executives lauded the effort, and said it is part of the company's push toward personalization in its relationship with its customers.
Slumping sales are nothing new for McDonald's. After reporting revenue losses in the fourth quarter of last year in every market around the world, CEO Don Thompson resigned, and the company installed Easterbook as his replacement.
The stakes are high. In February, just a few weeks into Easterbook's tenure, Larry Robbins, founder of the activist hedge fund Glenview Capital, told investors at a conference in New York that he expects McDonald's to become the target of an activist investor in the near future.
Whether it's fear of an activist investor, embarrassment over its continued sales slump, pressure from increasingly critical franchisees, or Easterbook's desire to make his mark as a new CEO, it seems the McDonald's turnaround plan announcement on May 4 can't come soon enough.
"I think there's a hunger and an interest in our business to embrace change," Easterbook said on the call. "And I think there is a pull and a hunger in the field for, what are we going to stand for, where are we heading, and how are we going to get there?"