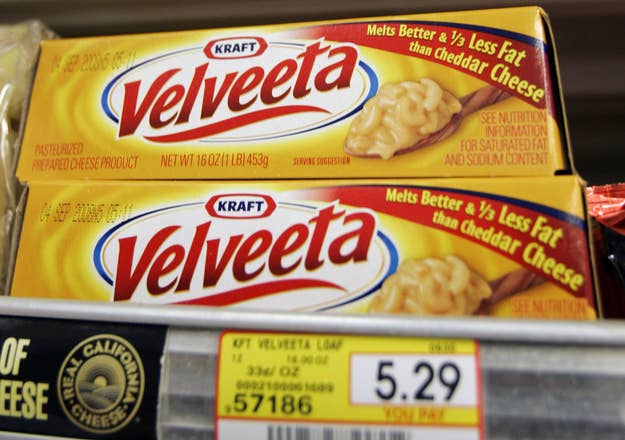 What's being called Cheesepocalypse — a nationwide shortage of Velveeta cheese product — could have larger implications for Kraft, whose stock dropped by nearly $1 per share after news of the low supply broke Tuesday.
The company has called early January its busiest time of the year, citing New Year's Eve and post-season football as factors contributing to the recent surge in demand for Velveeta's cheese product. But with the gooey dip staple not expected back on grocery store shelves until February, the company's first quarter earnings and its stock may be in trouble.
As a whole, cheese makes up about 20% of Kraft Foods. According to analyst estimates, Velveeta represents 5% to 8% of the company's revenue, a big enough chunk to potentially move the needle come earnings season.
"If you're Kraft, you wish you could fill the demand," said Brian Yarbrough, an analyst covering Kraft at Edward Jones. "They hate it because there are some private labels that may knock out demand for Velveeta, but the customers don't think it tastes as good."
Still, Yarbrough said the shortage could affect sales by as much as a half percent. While that doesn't sound like much, it could very well be to Kraft, which is already suffering from consumers cutting back on some of its other packaged food products like Mac 'N' Cheese in recent months.
A lot of the Velveeta shortage's impact on Kraft's earnings will come down to how long it lasts. And with the company likely to supply larger retail customers first, some smaller grocery stores will be left guessing for at least a couple of months as to when their shipments will come in, Yarbrough said, adding that it remains to be seen just what financial ramifications will be for the quarter.
"It may impact first quarter results just slightly," Yarbrough said. "Recalls are bigger deals and sometimes don't move the market."