JoS. A. Bank's Deal With Eddie Bauer Is Either An Act Of Brilliance Or Desperation
It depends on which side of the bitter takeover feud with Men's Wearhouse one stands.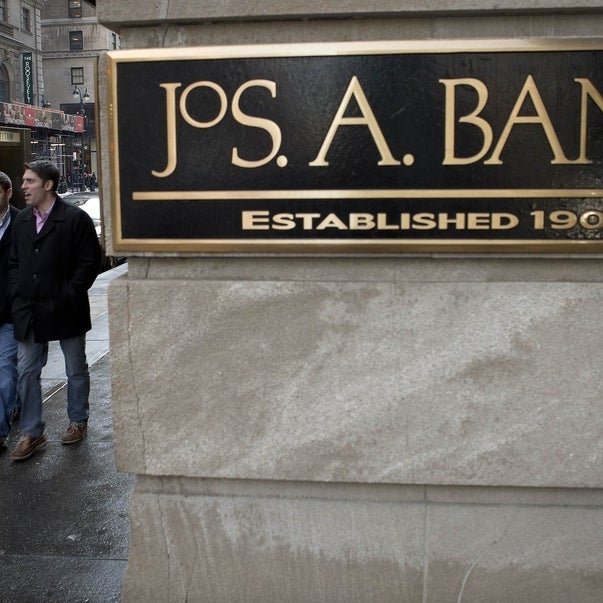 When suit retailer JoS. A. Bank announced Friday it would purchase Eddie Bauer, it didn't just catch Men's Wearhouse — the company attempting to buy it — flat-footed, but also hedge fund investors, retail analysts and industry observers.
The move is considered either an act of brilliance or desperation, depending on which side of the bitter takeover feud between JoS. A. Bank and Men's Wearhouse one stands. By acquiring Eddie Bauer, JoS. A. Bank forced Men's Wearhouse to either abandon its bid or raise it, both of which would be acceptable outcomes. For Eddie Bauer's part, the company is happy to play spoiler since it gets paid no matter what — it either collects the $825 million sale price or, in the event the purchase is called off, JoS. A. Bank agreed to pay a $48 million breakup fee to private equity owners Golden Gate Capital.
In a takeover battle characterized by acrimony and gain-the-upper-hand-at-all-costs tactics — Men's Wearhouse first rejected JoS. A. Bank's takeover offer and then employed the rare "Pac-Man" defense to turn around and try to buy the company — the move is JoS. A. Bank's checkmate.
Small wonder, then, that participants on the Men's Wearhouse side of the divide are furious. Today, hedge fund Eminence Capital, which owns stakes in both JoS. A. Bank and Men's Wearhouse and is working with the latter to get a deal done, sent its second threatening letter in just over a month to the board of JoS. A. Bank blasting the Eddie Bauer deal.
"You have confirmed the suspicions we feared most and laid out in our recent lawsuit: the management team and board of Jos. A. Bank are willing to engage in desperate tactics in an effort to protect their jobs and paychecks in blatant disregard for the best interests of shareholders," Eminence Capital CEO Ricky Sandler wrote, adding that the company was turning its back on the substantial premium Men's Wearhouse is willing to pay and vowing to seek remedies through a proxy vote and the legal system.
Contrast that view with the one articulated by research firm Stifel, Nicolaus in a note released Friday.
"We believe that Men's Wearhouse, if it wishes to stay in the game and pursue the acquisition of JoS. A. Bank must make an increased offer (greater than MW's current offer of $57.50 per share) particularly in light of the Eddie Bauer deal and the improved performance year-over-year at JoS. A. Bank in 4Q," read the note. "The challenge for Men's Wearhouse becomes valuation; a judgment call regarding how much synergy and improved performance could be achieved to justify what we believe would be a premium valuation on recent [JoS. A. Bank] earnings."
The strangest part of the increasingly hostile takeover battle is that most people believe that merging JoS. A. Bank and Men's Wearhouse is the best thing for both companies and that the strategic benefits of being together far outweigh their shaky future outlook as independent companies.
Indeed, if there is one flaw in JoS. A. Bank's move to acquire Eddie Bauer it is that its decision to buyback its own stock as part of the deal undermines the argument that its share price is currently undervalued.
"It seems odds that JoS. A. Bank is acquiring its own shares at $65, a price that most would argue is temporarily inflated by the outstanding Men's Wearhouse bid," said Sahm Adrangi, founder of the hedge fund Kerrisdale Capital. "If JoS. A. Bank thought their own shares were undervalued, why weren't they redeploying their cash hoard in the middle of 2013 when shares were at $40?"