High Cost Of Shrimp And Lack Of Customers Lead To 18% Earnings Drop For Red Lobster Owner
The company said in an earnings call Friday morning that the quarter was "challenging," especially at Red Lobster, which the company is trying to spin off. Darden's CEO also urged shareholders to communicate with the company instead of holding a special vote on the spin-off or sale that an activist hedge fund has been fighting for in recent months.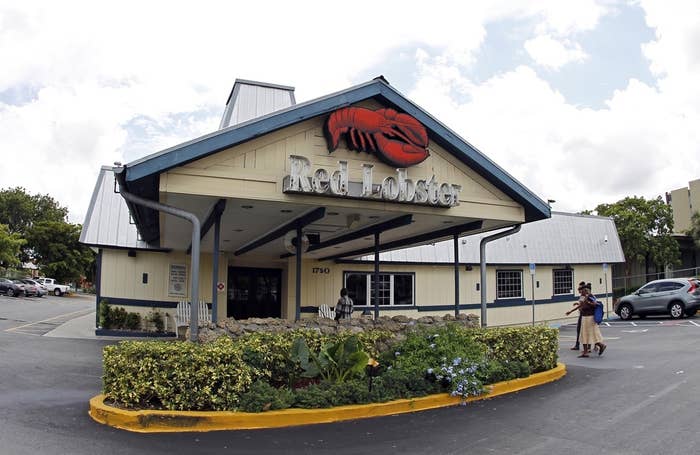 Darden Restaurants, owner of Olive Garden, Red Lobster, and a number of other chains, said Friday that its third quarter earnings dropped 18%, due, in part, to the poor performance of its Red Lobster brand, which it is currently trying to spin off or sell.
Inflated shrimp prices, botched promotions, and three months of double-digit traffic decline contributed to Red Lobster's drag on the overall company's earnings, executives said on the call. Specifically, Darden said its promotional efforts perhaps displaced customers who were coming in at full price and it didn't want to dilute the "special occasion experience" nature of many of customers' trips to Red Lobster.
"We think we've gotten out of balance in terms of having a few too many discounts," said Darden President and Chief Operating Officer Brad Richmond.
Darden also announced it had made "a conscious decision" to cut its media spending for the brand in the winter months, saying it had become too inflated.
Adding to the weak performance of the Red Lobster brand, executives on the call, which included CEO Clarence Otis, said, were costs associated with the proposed spin-off, which activist hedge fund Starboard Value is advocating for a special shareholder vote to determine the matter, before the company goes ahead with the deal.
To that end, Otis was adamant that the company preferred that shareholders continue to communicate "directly" with the company as opposed to going ahead with the vote, but added that it was ultimately the shareholders' decision.
"Given the significance of the initiatives underway at Darden, we believe it's important that we continue engaging with our shareholders directly and individually so that receive input in a productive and nuance manner," Otis said on the call. "We look forward to continuing to speak to our shareholders and our investment committee."
A company spokesman would not comment further on why Otis and the company were against such a vote.
Shares of Darden dropped more than 50 cents each after opening the day at $50.15, but by midday had climbed to more than $50.80 per share.