Hedge Funds Drop Men's Wearhouse As Sale Hopes Dim
The embattled company's latest leadership stumbles are beginning to trickle into the hedge fund world, which pulled millions in the quarter ending Sept. 30.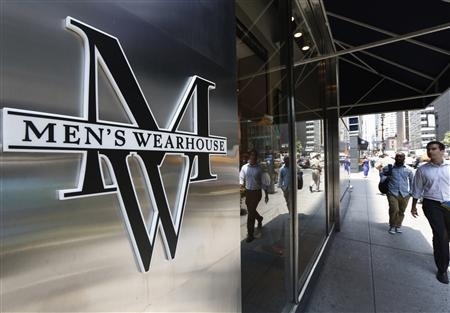 The hedge fund world lost patience with Men's Wearhouse last quarter, as the company struggled to rebound from a rocky summer that saw its founder George Zimmer depart.
Part of post-Zimmer landscape at Men's Wearhouse appeared to be a potential takeover by menswear rival Jos. A Bank, which yesterday dropped its $2.3 billion bid for the company, saying it would seek other acquisition targets.
They weren't the only ones dumping Men's Wearhouse. According to hedge fund data analysis site Insider Monkey, hedge funds, growing disenchanted with the turmoil at the retailer sold off millions of shares in the quarter ending Sept. 30.
According to Insider Monkey's Meena Krishnamsetty, there were 20 hedge funds with a total investment of $170 million at the end of second quarter. That number droped to 16, and the value of their holdings declined to $104 million by the end of the third quarter.
As for who was selling off shares, Krishnamsetty said that Glenhill Advisors sold out its $31 million position, while billionaire Ken Griffin's Citadel reduced its $30 million position down below $2 million.
Still, Men's Wearhouse had its believers: "Ricky Sandler's Eminence Capital recently disclosed a $200+ million position in a 13D filing, though the fund had zero shares at the end of last quarter.