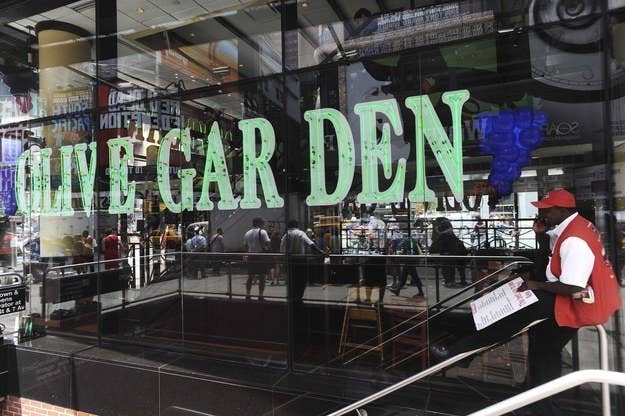 ORLANDO, Florida — It was an annual shareholder meeting that was essentially over before it began, as the activist hedge fund Starboard Value replaced all 12 board members of Darden Restaurants, owner of Olive Garden, Bahama Breeze, and other casual dining chains.
At the JW Marriott here, just a few miles from Darden's headquarters, Starboard representatives, proxy solicitors, and about 60 Darden shareholders began filing into a small ground-level conference room just before the meeting's 9 a.m. start time. Voting on all 12 open board seats began at 9:03 a.m. and closed less than a half an hour later. By 9:40 a.m., preliminary votes showed that Starboard had prevailed, unseating the entire Darden board — a conclusion to a nearly 10-month saga between the activist hedge fund and Darden that had seemed increasingly likely in recent weeks.
For many of the Starboard and Darden representatives present, the board vote's results were a foregone conclusion. Multiple members of both sides expressed a complete lack of surprise, with some insinuating they had known since late last week that Starboard would prevail. Around the lounges and restaurants of the JW and adjoining Ritz Carlton, those with knowledge of the voting said the meeting shouldn't take long, and that Starboard founder Jeff Smith was in negotiations with Darden on the extent of his remarks at the meeting the next morning.
Those remarks Smith kept short and light, introducing the "new board of Darden restaurants" while voting was still open, after opening with a comedic nod to his now-famous 300-slide presentation on Olive Garden and other Darden brands.
"Hello, I'm Jeff Smith, I'm the CEO of Starboard Value, and I love Olive Garden unlimited breadsticks," Smith said to laughter and light applause. "I also like the unlimited salad and the soup."
After a number of shareholder comments and proposals on issues like server pay, lobbying disclosures and political contribution transparency, the voting was closed and Darden's corporate secretary Teresa Sebastian announced the preliminary results that Smith had won.
One pair of words not uttered by Starboard or Darden representatives throughout their prepared remarks at the meeting: "Red Lobster." It seems the seafood chain, sold in controversial circumstances earlier this year, was off-limits.
For their part, Darden representatives appeared resigned to the election results before the meeting even started. The only member of the outgoing board that was present was its interim chairman Charles Ledsinger Jr., who was not standing for reelection. Notably absent was outgoing CEO and former Chairman Clarence Otis Jr. None of the four board members who Darden had nominated for election even showed up.
Upon the formal announcement of the results, Darden had already prepared a statement, issued before the meeting even came to a close around 9:50 a.m., with remarks from "Jeffrey Smith, speaking on behalf of a newly elected board" who said, in part, "Darden has all the right ingredients to regain the strength and prominence it once enjoyed. The new board is incredibly excited by the opportunity at hand. We look forward to continuing our hard work from inside the boardroom and working with management on a shared goal of excellence for Darden."
According to those familiar with the situation, the statement had been prepared the evening before, a sign that Darden knew what was coming.
As members of the Starboard team exited the meeting room, Bruce Goldfarb, president and CEO of Okapi Partners, Starboard's proxy solicitor, called the results "just a huge, monumental victory" and said that Smith and the new board had already set to work on improving things at Darden Restaurants.
As Smith walked down the corridor of the JW's conference center, two police officers and what appeared to be a security guard following, he smiled wide. When asked where he was going, a member of the Darden team remarked that the Starboard delegation was on its way to Darden headquarters.
"It's time to get to work," he said.