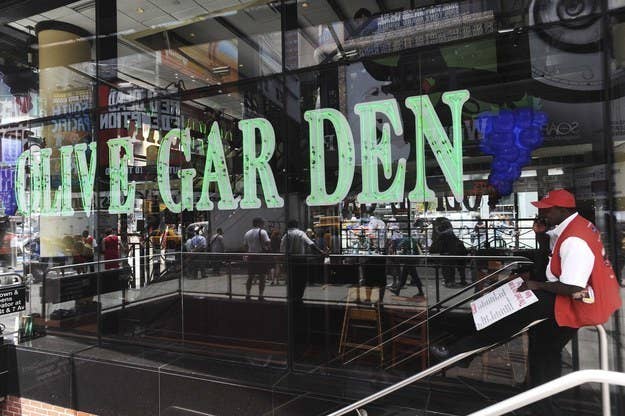 The executive management of Darden Restaurants will not remember September 2014 fondly.
The parent company of Olive Garden and other casual dining chains has taken blow after blow from the activist hedge fund Starboard Value with its 300-slide PowerPoint evisceration of the Italian chain, the media that loved said presentation, late-night talk show hosts who mocked it, and even its own employees, who threatened to take direct action ahead of the company's annual meeting next month.
In fact, October is the only month Darden's board members may find more painful than this one, as Starboard, an 8.8% Darden shareholder, is out to replace every single one of them with its own slate of 12 nominees. And today the onslaught of bad news continues for Darden, as Glass Lewis, a leading independent proxy adviser, agrees with Starboard's plan to replace the entire Darden board.
"Ultimately, we believe that the need for change at Darden has been well-established and that this contest boils down to determining which slate of directors is best-suited to oversee Darden through this transformational period," Glass Lewis' statement reads. "In light of the Company's long term loss of shareholder value and the board's governance practices and irresponsiveness to shareholders, we believe Starboard has made a compelling case that election of all of its nominees is warranted. Overall, we believe the Dissident slate as a whole and the nominees individually are significantly better-suited for board service at Darden and are fully capable of overseeing efforts to address the issues that have plagued the Company and board in recent years through the implementation of its detailed comprehensive strategic plan."
The Glass Lewis decision to replace the entire board of a company with an activist investor's nominees is rare, if unprecedented, and one source believes it highlights just how dire things at Darden have gotten recently.
"It very unusual to get that level of support from Glass Lewis; they have a pretty high standard to vote against management," said the source, who is involved in the proxy contest between Darden and Starboard and wished to remain anonymous due to the ongoing nature of the fight. The source added that Glass Lewis's decision indicates that many of their clients likely had concerns over Darden's current leadership and felt that change was necessary at the company.
Next to offer its opinion will be Institutional Shareholder Services (ISS), the other leading proxy advisor, which the source believes will vote for a majority, if not all, of Starboard's nominees. The ISS decision is expected sometime this week or early next, and the source said it should look similar to Glass Lewis', and that the former is likely upset that the latter got its recommendation out first.
In response to the Glass Lewis decision, Darden issued a statement defending its own plans for change at Olive Garden and calling on shareholders to vote for its slate, which has earned the moniker "the 4-4-4 plan," as it includes four sitting Darden board members, four of Starboard's nominees, and four new independent director nominees.
"Turning to the Comapny's [sic] comprehensive plan and Olive Garden turnaround plan, we see many of the same objectives and elements that are included in the Dissident's plan," Darden said in the statement. "Still, there are critical and value-impacting decisions facing Darden — including the selection of Darden's next Chief Executive Officer and strategic decisions regarding our brands, cost structure and operating initiatives. We believe these decisions are best made by an independent Board that is comprised of directors who represent the interests of ALL Darden shareholders, not just Starboard's interests. We believe it would be a mistake to entrust these decisions to one minority shareholder and its handpicked nominees."
As for Starboard, which did not return a request for comment, the hedge fund and its founder Jeff Smith said they would meet with a Darden employee group that calls itself "Dignity at Darden" and is demanding an audience with both Starboard and Darden leadership before the Oct. 10 annual meeting in Orlando.