Did Goldman Sachs Twice Cook This Pork Deal?
Goldman Sachs Group Inc's fingerprints are all over the deal by Chinese pork processor Shuanghui to buy Virginia-based Smithfield Foods.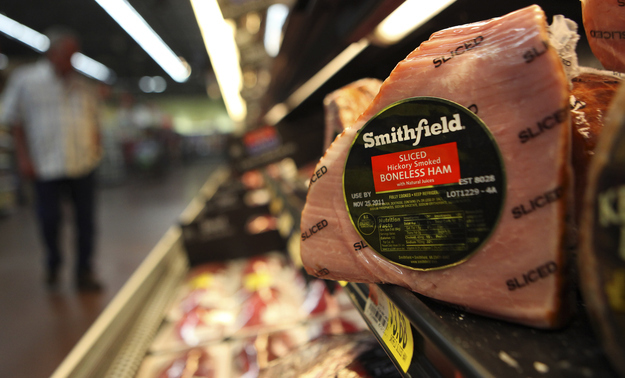 Goldman Sachs has tried to shake its reputation as a giant vampire squid for years, but its tentacles seem to be all over today's $4.7 billion deal by Chinese pork company Shuanghui to purchase Virginia-based meat processor Smithfield Foods.
Through a joint venture with private equity firm CDH Investments, Goldman Sachs Group Inc. purchased a majority position in Shuanghui, which the Chinese government approved in 2007. Over the years, the Goldman-CDH venture has financed slaughterhouses and made other investments in China's largest pork company, which in 2011 found itself at the center of a meat scandal in which farmers fed a chemical harmful to humans to its livestock. The Goldman fund's current direct stake in Shuanghui is 5.2 percent.
In March of this year, Goldman advised Smithfield on a potential breakup after a major shareholder, Continental Grain, called for the company to split. After the Continental Grain letter and a Reuters report that Smithfield retained Goldman, the stock shot up nearly 20 percent. However, a week later, Smithfield told investors that it was not planning on splitting.
Around this time, Goldman purchased about 700,000 shares of Smithfield according to filings with the Securities and Exchange Commission. Moreover, Goldman Sachs bought $25 million of Smithfield's debt, roughly double the next largest purchase of the company's debt by Wells Fargo, according to SEC filings.
Goldman did not advise on the Shuanghui-Smithfield deal; Barclays and Morgan Stanley did.
Representatives for Goldman Sachs did not respond to request for comments.
China is a growing market for U.S. pork exports. According to the U.S. Meat Export Federation,U.S. pork exports hit $886 million in 2012 compared to $271 million in 2007 and $60 million in 2003.
The Chinese pork industry has came under fire in March when thousands of dead pigs were found floating in a river near Shanghai. China represents just less than half of the world's pork market and slaughters over 600 million hogs every year according to Chinese government statistics.
Update - 5:40 p.m.: A Goldman Sachs spokesperson said that the Smithfield stock purchases were made in the normal course of client facilitation and market making.